"Recent discussions about science and mātauranga Māori have highlighted the need for IRANZ members to note our collective support for not only our Māori colleagues but also mātauranga Māori. As a collective, we aim to develop sustainable solutions to the challenges we all face, with an open-minded, inclusive, and bold approach that incorporates values beyond traditional science. In many research facilities, including our members, indigenous and non-indigenous researchers are working in partnership to solve some of these significant challenges. We are committed to upholding the value of mātauranga Māori, and the mana of our Māori colleagues and their marae communities." - Dr John McDermott, IRANZ Chair.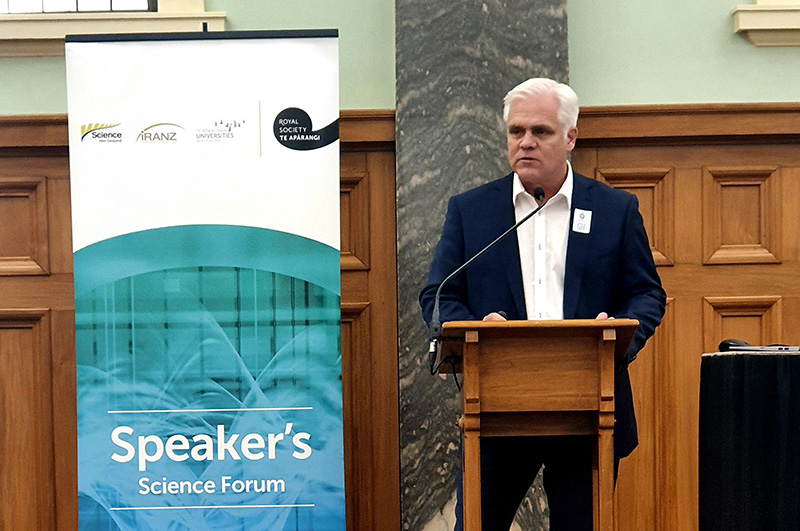 Speaker's Science Forum - Science for Sustainable Fisheries
May 2022: The Speaker's Science Forum series, supported by IRANZ, Science New Zealand, Universities New Zealand, and the Royal Society Te Apārangi, has now resumed, the first for 2022 was held earlier this month at Parliament. The central focus of the forum was how science can improve the sustainability of fisheries in Aotearoa New Zealand.
Associate Professor Maren Wellenreuther, University of Auckland, discussed the potential of DNA technology to help us understand more about past and present fish stocks, while Dr Chris Cornelisen, Cawthron Institute, provided a broad overview of sustainability challenges facing fisheries in Aotearoa New Zealand. Both speakers emphasised the importance of new technologies to support ecosystem-focused fisheries management and the overall health of our oceans/moana.
Dr Chris Cornelisen, Chief Science Capability Officer at the Cawthron Institute, delivers his talk at Parliament. Photo: Royal Society Te Apārangi.
MRINZ: Asthma study offers world-first results on 2-in-1 'rescue' inhaler
May 2022: A fixed-dose 2-in-1 combination of salbutamol and budesonide, used as an as-needed rescue medicine, has been shown for the first time to significantly reduce the risk of severe asthma attacks.
In the MANDALA trial, patients using the investigational AstraZeneca and Avillion product PT027, which combines salbutamol (marketed as albuterol within the U.S.) with budesonide, were 26% less likely to experience severe asthma attacks than those using albuterol alone.
These findings were reported by lead author Professor Alberto Papi, of the University of Ferrara in Italy, and colleagues, including Professor Richard Beasley, director of the Medical Research Institute of New Zealand (MRINZ), published in the New England Journal of Medicine on Sunday 15 May, and presented this week at the American Thoracic Society (ATS) 2022 International Conference.
Photo: MRINZ.
Welcome to the Independent Research Association of New Zealand
IRANZ is an association of independent research organisations. IRANZ represents the collective interests of members by undertaking activities aimed at creating a positive operating environment for Independent Research Organisations in New Zealand.
IRANZ member organisations make vital contributions to a broad range of scientific fields, and offer an important complement to university-based and Crown Research Institute research. Our smaller sizes and greater flexibility provide an environment that is particularly conducive to innovation and end-user engagement.
IRANZ member organisations:
Are 'independent' (non-government owned);
Carry out high-quality scientific research, development or technology transfer;
Have strong linkages with end-users;
Work in a diverse range of settings and subject specialities;
Derive a significant portion of their work from Government research contracts;
Collaborate with universities, Crown Research Institutes and research departments of industrial organisations; and
Having varying governance and ownership arrangements.
Find out more about IRANZ and our members by checking out our News page.