Bragato: Ground wētā in the Awatere
January 2023: The endemic ground wētā, Hemiandrus bilobatus, lives in burrows in the soil, but its presence can negatively affect wine grape production. This is especially so in vineyards in the Awatere region in Marlborough. Vine growth in early spring provides the ground wētā with a buffet of fresh buds to feed upon, which causes damage detrimental to vine growth and fruit yield.
The current ground wētā management tool sees plastic sleeves wrapped around vine trunks in an attempt to prevent wētā from accessing the cordon. However, the sleeves are costly to install and maintain, resulting in a significant waste-management issue.
The research team are hoping to develop an environmentally and economically sustainable solution to the growing problem of ground wētā. Among the issues they write about are identifying wētā burrows during the day. It is not straightforward because the wētā make soil plugs or doors to close their burrow entrances, so they are hidden from view.
Installing pitfall traps in a vineyard to catch walking/jumping insects. Photo: Bragato Research Institute.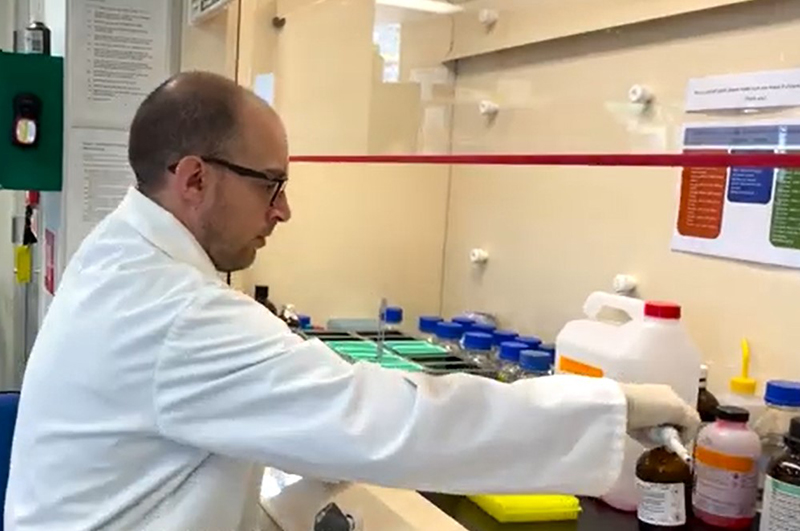 Malaghan: Gene-editing tech pushes boundaries of immune system exploration
January 2023: CRISPR-Cas9 is an exciting new addition to the Malaghan Institute's repertoire of tools to investigate the immune system.
"There will always be new technologies that allow you to expand your research or even unlock knowledge that we had no way of accessing previously. CRISPR-Cas9 is one of those technologies," says Dr Olivier Lamiable.
Olivier, a member of the Ronchese Lab at the Malaghan Institute, is a team leader using revolutionary CRISPR-Cas9 technology to understand how allergic diseases develop on a cellular and molecular level.
"It allows us to precisely modify, add or remove specific parts of the DNA of live cells in a way that is faster and easier than any method before."
Dr Olivier Lamiable is working to understand which genes are involved in the function of a molecule that might be involved in conditioning T‑cells to react and drive allergic responses. Photo: Malaghan Video.
Welcome to the Independent Research Association of New Zealand
IRANZ is an association of independent research organisations. IRANZ represents the collective interests of members by undertaking activities aimed at creating a positive operating environment for Independent Research Organisations in New Zealand.
IRANZ member organisations make vital contributions to a broad range of scientific fields, and offer an important complement to university-based and Crown Research Institute research. Our smaller sizes and greater flexibility provide an environment that is particularly conducive to innovation and end-user engagement.
IRANZ member organisations:
Are 'independent' (non-government owned);
Carry out high-quality scientific research, development or technology transfer;
Have strong linkages with end-users;
Work in a diverse range of settings and subject specialities;
Derive a significant portion of their work from Government research contracts;
Collaborate with universities, Crown Research Institutes and research departments of industrial organisations; and
Having varying governance and ownership arrangements.
Find out more about IRANZ and our members by checking out our News page.