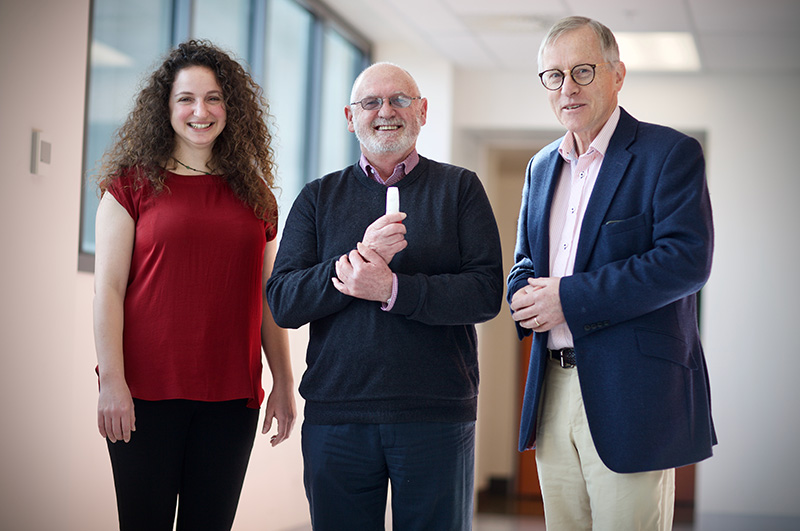 MRINZ explores ground-breaking way of treating asthma
July 2021: A new 'AIR Algorithm Study' of 100 New Zealand volunteers, led by the Medical Research Institute of New Zealand (MRINZ) in Wellington, is looking deeper into the implementation of AIR therapy, across the spectrum of mild to severe asthma, using just one combination inhaler for both regular scheduled maintenance and as-needed reliever use.
MRINZ has dedicated much of its research focus over the last two decades to the prevention and management of asthma, both here at home in Aotearoa New Zealand and around the world.
MRINZ's asthma research has included three landmark studies which have shown that a 2 in 1 inhaler, containing both a preventer and reliever medication, is far more effective than the traditional single reliever inhaler, which has been the basis of asthma management for over 60 years.
Dr Pepa Bruce, MRINZ clinical research fellow, Graeme Hansen, AIR therapy study volunteer, and Professor Richard Beasley, MRINZ director Photo: Rob Sarkies.
Mātai: Effects of meth addiction on the brain - pilot study
July 2021: Meth addiction is a major issue in our community, with meth use disproportionately high among the poor and disadvantaged. MRI has shown that methamphetamine addiction physically changes the anatomy, blood flow, and chemical make-up of the brain, but using MRI to study the effects of meth addiction and treatment efficacy is in the early stages of development.
New MRI techniques and applications to study the brain are continually improving. And while MRI has demonstrated that methamphetamine addiction physically damages the brain, some of these changes are potentially reversible.
At present, Mātai is undertaking a pilot study into using MRI in the study of meth addition. Following the pilot, the goal is to expand into a long-term programme that will assess the efficacy of various new and existing approaches to treatment.
Meth addiction is a major issue in our community. Image: Mart Production, Pexels.
Welcome to the Independent Research Association of New Zealand
IRANZ is an association of independent research organisations. IRANZ represents the collective interests of members by undertaking activities aimed at creating a positive operating environment for Independent Research Organisations in New Zealand.
IRANZ member organisations make vital contributions to a broad range of scientific fields, and offer an important complement to university-based and Crown Research Institute research. Our smaller sizes and greater flexibility provide an environment that is particularly conducive to innovation and end-user engagement.
IRANZ member organisations:
Are 'independent' (non-government owned);
Carry out high-quality scientific research, development or technology transfer;
Have strong linkages with end-users;
Work in a diverse range of settings and subject specialities;
Derive a significant portion of their work from Government research contracts;
Collaborate with universities, Crown Research Institutes and research departments of industrial organisations; and
Having varying governance and ownership arrangements.
Find out more about IRANZ and our members by checking out our News page.