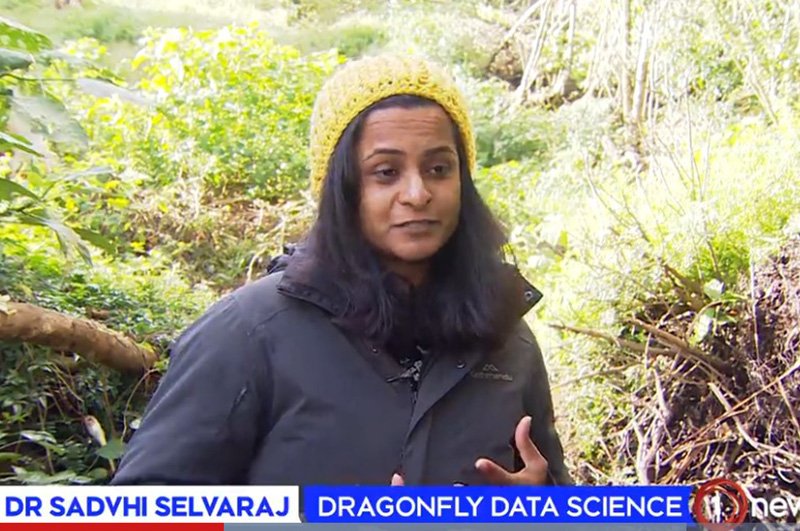 Dragonfly Data Science: New mapping tool to aid equitable disaster response
May 2023: Work by Dragonfly Data Science featured on TVNZ's One News on Sunday 28 May.
"A new mapping tool that combines satellite data with demographic and infrastructure information has been launched in New Zealand.
"The tool, created by Dragonfly Data Science, could help with the response to future natural disasters.
"The map uses satellite imagery to show areas affected by flooding, slips and silt, and pairs it with detailed information about the communities in those areas.
"It provides information about schools, hospitals, supermarkets, farmlands and roads affected by disasters.
"Sadhvi Selvaraj, a data scientist at Dragonfly, told 1News that the tool provides timely and relevant information for decision-makers to support response and recovery in an equitable way."
Dr Sadhvi Selvaraj was interviewed on TVNZ 1News.
Verum Group: Upgrade at National Lab
May 2023: Verum Group's National Laboratory has something new and glowing. Mike Young, Verum Group's National Laboratory Manager, has recently overseen the installation of a LECO 828 Series Combustion Analyser for detecting carbon, hydrogen, and nitrogen, with an S832 add-on for independent sulfur determination.
Mike says the new equipment replaces an old instrument that needed continual maintenance.
"We've always produced quality results - Verum is trusted for it, but it's now a lot easier. I've also seen a significant improvement in throughput."
Materials the team can analyse include woodchip, pellets, biochars, coals, mineral samples, soils, sediments, fertilisers, and waste streams such as plastics, rubbers, and oils.
"In the past we have looked at paunch grass, DAF solids, peat, and plant waste from greenhouse growing operations as well as the more normal fuel materials."
Verum Group Fuels Chemist John Cameron tests a sample in the new LECO combustion analyser. Photo: Mike Young, Verum Group
Welcome to the Independent Research Association of New Zealand
IRANZ is an association of independent research organisations. IRANZ represents the collective interests of members by undertaking activities aimed at creating a positive operating environment for Independent Research Organisations in New Zealand.
IRANZ member organisations make vital contributions to a broad range of scientific fields, and offer an important complement to university-based and Crown Research Institute research. Our smaller sizes and greater flexibility provide an environment that is particularly conducive to innovation and end-user engagement.
IRANZ member organisations:
Are 'independent' (non-government owned);
Carry out high-quality scientific research, development or technology transfer;
Have strong linkages with end-users;
Work in a diverse range of settings and subject specialities;
Derive a significant portion of their work from Government research contracts;
Collaborate with universities, Crown Research Institutes and research departments of industrial organisations; and
Having varying governance and ownership arrangements.
Find out more about IRANZ and our members by checking out our News page.