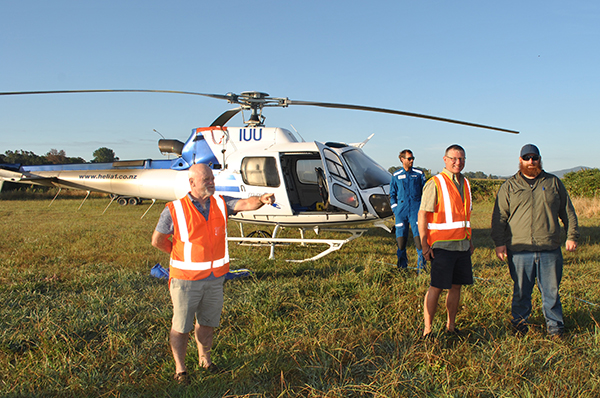 SkyTEM airborne electromagnetic surveys a first for NZ
September 2019: In February this year, the Critical Pathways Programme (CPP) team, including researchers from Lincoln Agritech and Aqualinc Research, introduced the world-leading SkyTEM system for airborne electromagnetic surveys to New Zealand.
The electromagnetic surveys captured at high spatial resolution characteristics of the subsurface environment so that researchers can study the flow of water, and contaminants transported by it, from a parcel of land to a surface water body.
Specifically targeting the relatively shallow and short transfer pathways operating at the sub-catchment scale (tens of km2) will allow researchers to create models capable of describing water flow and contaminant transfer at this important scale.
The team prepare to take up the SkyTEM system for airborne electromagnetic survey of the Piako River headwater catchment, February 2019. Photo: Aldrin Rivas, Lincoln Agritech.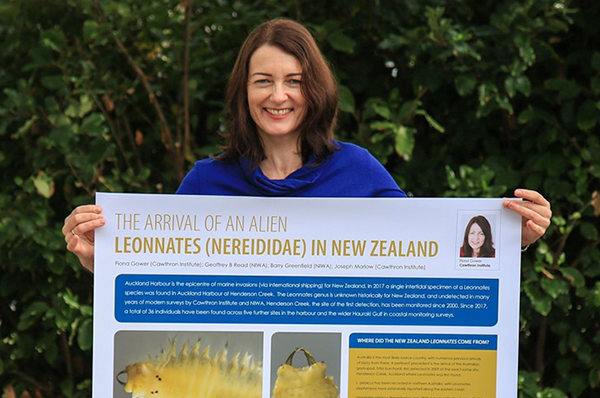 The arrival of an alien
September 2019: Cawthron Institute Taxonomist Fiona Gower represented her team's research at a conference with a difference in early August. Fiona attended the 13th International Polychaete Conference on board The Queen Mary Ship, Long Beach, California, where she presented a poster, made in collaboration with researchers at NIWA New Zealand, about the arrival of an alien species of Polychaete in New Zealand.
Fiona writes that the new alien nereidid worm has progressively established itself in New Zealand waters since it was first detected in 2017.
Cawthron Institute Taxonomist Fiona Gower. Photo: Cawthron Institute.
Welcome to the Independent Research Association of New Zealand
IRANZ is an association of independent research organisations. IRANZ represents the collective interests of members by undertaking activities aimed at creating a positive operating environment for Independent Research Organisations in New Zealand.
IRANZ member organisations make vital contributions to a broad range of scientific fields, and offer an important complement to university-based and Crown Research Institute research. Our smaller sizes and greater flexibility provide an environment that is particularly conducive to innovation and end-user engagement.
IRANZ member organisations:
Are 'independent' (non-government owned);
Carry out high-quality scientific research, development or technology transfer;
Have strong linkages with end-users;
Work in a diverse range of settings and subject specialities;
Derive a significant portion of their work from Government research contracts;
Collaborate with universities, Crown Research Institutes and research departments of industrial organisations; and
Having varying governance and ownership arrangements.
Find out more about IRANZ and our members by checking out our News page.