| | |
| --- | --- |
| | Greenshell mussel embryos. Cawthron's Aquaculture Park is the national centre of excellence for shellfish aquaculture research, development, and production. Image: Cawthron Institute. |

IRANZ welcomes the reappointment of the Hon. Dr Megan Woods as Minister of Research, Science and Innovation and the appointment of the Hon. Dr Ayesha Verrall as Associate Minister of Research, Science and Innovation following the 2020 election.

IRANZ Chair, Dr John Bright says that Independent Research Organisations (IROs) are looking forward to continuing to work with the Minister on strategies, policies, and investment portfolio directions which affect IROs. "This will be particularly important with initiatives and changes arising from Te Pae Kahurangi (CRI Review), and a new Research, Science and Innovation Strategy."

John says the Government recognises that IROs provide important targeted research and expertise in specific economic, environmental, and social areas not adequately covered by CRIs and universities. "IROs are frequently part of 'the best teams' required for important research programmes. In addition, with our connections to industry, we play a vital role in what business expenditure on research and development the country does have."

But he warns that New Zealand's science system does need some tweaking. "The Endeavour Fund has highlighted valuable research opportunities for New Zealand that are being missed due to insufficient investment being available. A wide, rather than academic, assessment of 'Research Excellence', alongside increased funding, will reduce the waste of high impact RSI opportunities."
Welcome to the incoming Minister and Associate Minister
Prof Charles Eason looking forward to new science governance opportunities
BRANZ's Anna Walsh wins RSNZ's Early Career Researchers Ataata Video Competition
Freemasons New Zealand continue to back CAR T-cell research
Cawthron Institute supports report calling for consistent & robust monitoring of estuaries
Water quality of rivers and streams not improving study shows
Motu's John McDermott on monetary policy and other COVID-era economic issues
TiDA's Mike Fry presenting a seminar at EMEX in Feb 2021
Mohammad Dehghan-Shoar and Istvan Hajdu join PlantTech
PlantTech seeking tertiary students for summer internships
Dr Dianne McCarthy has joined Bragato Research Institute as an independent director
Follow the link for more details on the November 2020 news briefs from our Independent Research Organisations.
The Malaghan Institute of Medical Research and partners at the University of Otago and Victoria University of Wellington are helping lead efforts to secure a COVID-19 vaccine for New Zealand as part of Vaccine Alliance Aotearoa New Zealand – Ohu Kaupare Huaketo.

Vaccine Alliance Aotearoa New Zealand – Ohu Kaupare Huaketo (VAANZ) brings together a multidisciplinary team of local and international collaborators with proven capability in vaccine research, development, and scale-up manufacturing.

As part of the Government's COVID-19 vaccine strategy, VAANZ has been tasked with establishing a national COVID-19 vaccine evaluation and development platform to screen, trial, and accelerate the development of potential domestic and international COVID-19 vaccines.

Dr Frances Priddy, former Chief Medical Officer and Vice President of Clinical Development at the International AIDS Vaccine Initiative in New York, has recently joined the Malaghan Institute to further work on a NZ COVID-19 vaccine solution. Image: Malaghan Institute.
| | |
| --- | --- |
| | The Mediterranean fanworm in soft sediment at Waitemata Harbour. Photo: Cawthron Institute. |

This year, Cawthron continues its tradition of ground-breaking science, despite the hiccups introduced by the COVID-19 pandemic. A recently published research report has documented the progression of cryopreservation for greenshell mussels and another has examined the impact of invasive Mediterranean fanworm.

In the future it is likely that cryopreservation will form an integral part of selective breeding programmes for mussels - providing a back-up of material year-round should breeding stocks be lost due to disease or severe weather events, as well as the creation of reference lines.

Meanwhile, a Cawthron study has found evidence of subtle negative impacts from invasive fanworms. More research is needed, but this knowledge would enable an assessment of the threat widespread incursions might represent for New Zealand's ocean economy and environment.
There is a substantial global burden of asthma in terms of prevalence, morbidity, mortality, and cost. It has been estimated that there are over 300 million people with asthma worldwide, most of whom do not have well controlled symptoms.

The global mortality from asthma has not changed much since 2006. In a new editorial for The Lancet, Medical Research Institute of New Zealand (MRINZ) Director Professor Richard Beasley and Professor Robert Hancox, Department of Preventive and Social Medicine, University of Otago, lay out research and clinical priorities for pushing past this plateau, and further reducing the global burden of asthma.

Professor Richard Beasley. Photo: University of Otago.
COVID-19 has changed many facets of people's lives in Aotearoa New Zealand. Although kiwis have enjoyed relative freedom in recent months, maintaining vigilance at New Zealand's maritime borders whilst minimising disruptions to trade is a challenging endeavour.
Xerra Earth Observation Institute, an independent research institute with expertise in satellite data, has been awarded $850,000 through the Ministry of Business, Innovation and Employment's (MBIE's) COVID-19 Innovation Acceleration Fund to support border security efforts in New Zealand and the Pacific Islands. The funding will be used to accelerate the delivery of two maritime border security tools in their Starboard Maritime Intelligence platform.
Xerra's Starboard Maritime Intelligence program to monitor vessels entering New Zealand's waters. Image: Xerra.
The Bragato Research Institute opened its state-of-the-art research winery in February 2020 on the Nelson Marlborough Institute of Technology campus in Blenheim. The winery was cranking its research programmes into gear when the response to the global COVID-19 pandemic hit, forcing them to shut and temporarily shelve many programmes. However, you can't keep a good thing down for long and the research winery is back up and running at full capacity on several exciting programmes that have already returned a substantial wind-fall for the wine industry.

Two recent research programmes have seen trials of pulse cooling, which has the potential to save energy in wineries, and research into offering mealybugs a tasty alternative to grapevines - potentially reducing the need for pesticides.

Researchers have found that some undervine ground cover plants do preferentially support mealybugs, in particular, white clover. Other plant species commonly found with mealybugs are hawksbeard, and, to a lesser extent, subterranean clover and dove's foot. Image: Bragato Research Institute.
| | |
| --- | --- |
| | Dr Kim Eccleston displays the completed microwave metamaterial lens - an important component of a hand-held medical scanner set to revolutionise field medicine. Photo: Lincoln Agritech. |

Dr Kim Eccleston from Lincoln Agritech took advantage of the peace offered by lockdown to assemble a microwave metamaterial lens from 1900 intricate components. The lens is one of the major elements of a new medical scanner that the Electromagnetics team is developing.

Two years ago, Lincoln Agritech was awarded $6m from the Ministry of Business, Innovation and Employment (MBIE) Endeavour Investment fund to develop a hand-held, non-contact medical scanner that images bone and tissue with sub-millimetre resolution. The Electromagnetics team is leading the programme and is collaborating with researchers from Waikato and Auckland Universities, the Auckland Biomedical Institute, and the University of Nice-Sophia Antipolis (France). The proposed technology will use the unique focusing properties and imaging potential of evanescent waves, which are components of microwaves and can safely penetrate the body, to construct three-dimensional images.
Aqualinc Research's new project "Agile, Adaptive Water Allocation Policy" will investigate water allocation methods that enable timely adaptation to climate change, with a low transition cost, while delivering a 'values-balance'. The project is one of two by the research company in the 2020 funding round of the Ministry for Primary Industries (MPI)'s Sustainable Land Management and Climate Change (SLMACC) programme.

Partnering with NIWA and Environment Canterbury, scientists at Aqualinc will use existing climate projections with new modelling of river flows, irrigation demand, drainage fluxes, groundwater levels, and lowland stream flows in Central Canterbury to improve understanding of the effects of climate change on flow regimes and water levels.

The research will simulate the effects of climate and water allocation approaches on water demand, surface-water flows and ground water levels in representative case-study areas, then iteratively re-design and test potential water allocation policies to achieve the level of policy agility required to successfully adapt to climate change. Photo: Aqualinc.
Meet Bart, WSP's next-generation instrumented bicycle that's helping provide a better understanding of the factors affecting cyclists' experiences on New Zealand's roads.
At WSP's Research & Innovation centre in Petone, a world-first instrumented bicycle is helping provide a better understanding of the factors affecting cyclists' experiences on New Zealand's roads.
A team of behavioural scientists, sustainable transport experts and instrumentation engineers have undertaken innovative research for Waka Kotahi – the NZ Transport Agency, providing them with a solid scientific basis to inform their goal of improving levels of cycling throughout the country.
Jared Thomas is a leading expert in the research and design of spaces for vulnerable road users. He says that although it's currently the most repressed mode of transport, there is potential for cycling to become the largest demand growth area.
Bart the Bike. Photo: WSP Research.
Scientists from Cawthron Institute and the University of Auckland have successfully attached satellite tracking tags to six New Zealand tohorā (southern right whales), and are inviting the public to follow the travels of the whales online.
The tracking expedition was part of a major research project monitoring tohorā in the sub-Antarctic where each winter they gather in the sheltered harbour of Port Ross on Auckland Island which serves as a nursery and socialising destination.
Cawthron scientist Dr Simon Childerhouse was also recently interviewed by Stuff reporter Skara Bohny about the expedition.
Tohorā/Southern right whale, Auckland Islands. Photo: Department of Conservation.
| | |
| --- | --- |
| | A new research paper by Motu Economic and Public Policy Research presents the array of different policy instruments available for managing freshwater quality and quantity. Fresh water is an important resource across the whole environmental spectrum. Photo: Louise Thomas. |

Motu, New Zealand's leading economic research institute, continues to pursue its mandate to promote well-informed and reasoned debate on public policy issues relevant to New Zealand decision making. Their researchers have recently released three Working Papers analysing a broad range of current public policy instruments from the management of freshwater resources to the Reserve Bank's function in promoting "the prosperity and well-being of New Zealanders". They have found a range of policies that are either underutilised or poorly defined.
The Malaghan Institute of Medical Research is not only spear-heading the Vaccine Alliance Aotearoa New Zealand – Ohu Kaupare Huaketo, New Zealand's COVID-19 vaccine programme, but their researchers have also recently published a slew of research results across a broad spectrum of programmes.

In allergy research, new findings about how the immune system responds to threats moves us closer to more targeted treatments for allergies and autoimmune disorders and more effective vaccines; also in allergy and autoimmune research another group has been investigating the therapeutic potential of human hookworms – which subdue the immune system (inflammatory and autoimmune diseases are characterised by an overactive immune system); new PhD research into cancer drugs could provide the means to deliver higher doses of anti-cancer drugs in oxygen-poor environments; and in immunology research a team have uncovered a novel way Mānuka honey helps stimulate the immune system to fight bacteria.

Dr Regan Fu recently completed his doctoral thesis with Professor Ian Hermans. He is assessing immunotherapies in combination with the hypoxia-activated drug tarloxotinib. Through adding a hypoxic trigger that activates in the oxygen-poor intratumoral environments, higher doses of anti-cancer drugs can be delivered. Photo: Malaghan Institute.
In a letter published in The Lancet medical journal on 23 October, researchers from the Medical Research Institute of New Zealand (MRINZ) described historically low levels of influenza (the flu) this winter in the Southern Hemisphere. This was confirmed by data from the World Health Organization's Global Influenza Surveillance and Response System (FluNet), and the Institute of Environmental Science and Research (ESR). They think this is due to the community measures used to prevent the spread of COVID-19, such as social distancing, mask use, and travel restrictions. They suggest that some of these measures may help to mitigate the burden of annual influenza epidemics. If this was the case, it would mean that some of the death, sickness, and impact on healthcare systems could be avoided.
Meanwhile, MRINZ Senior Research Fellow and medical illustrator Dr Ciléin Kearns has turned his hand to explaining 'the curious case of influenza in the Southern Hemisphere' as a graphic narrative.
FluNet data showing almost no reported cases of influenza over the Southern Hemisphere 2020 winter season. Image: MRINZ.
Two IRANZ members, Xerra Earth Observation Institute and the Cawthron Institute, are teaming up the University of Waikato as early adopters on the NASA - National Aeronautics and Space Administration PACE science mission.
Xerra senior scientist Dr Moritz Lehmann will work on the NASA PACE early adopter programme, along with scientists from across the globe, in order to advance research of global ocean colour, biogeochemistry, and ecology. Using data from the PACE mission, Dr Lehmann will be able to determine the extent and duration of harmful algal blooms in Aotearoa's coastal waters and large lakes, in ways that have previously not been possible.
PACE is NASA's Plankton, Aerosol, Cloud, ocean Ecosystem mission, currently in the design phase of mission development. It is scheduled to launch in 2022, extending and improving NASA's over 20-year record of satellite observations of global ocean biology, aerosols (tiny particles suspended in the atmosphere), and clouds. Image: NASA GSFC.
Although COVID-19 may negatively impact the popularity of mid-rise housing in the near future, this form of townhouses and apartments has been growing in popularity, accounting for over 40% of new residential consents last year.
Mid-rise housing has almost become synonymous with medium-density housing as the push for densification of our cities continues. This is aided by the lack of information around the growing trends of midrise housing. Storey information is lacking at best and unavailable in many cases.
Read the article by BRANZ Senior Research Analyst, Matthew Curtis.
Growth in townhouse and apartment consents between 2010 and 2019. Image: build magazine.
BRANZ structural engineer Dr David Carradine checks a SIPs panel undergoing laboratory testing for earthquake resilience. Photo: Niall Harkin, BRANZ.

With the quality, speed, and cost of New Zealand construction under the spotlight, a building system claiming to deliver on all three deserves a close look, according to researchers at BRANZ.

BRANZ materials scientist Anna Walsh has set up a project to look at the system, which is based on structural insulated panels, or SIPs. "SIPs are sandwich panels made of two face layers and an insulating inner core," explains Anna. She says the panels can be prefabricated and assembled on site, potentially increasing construction speed and reducing building costs.

SIPs have been widely used overseas for several decades but are relatively new to the market here. "We want to know more about their performance in New Zealand," says Anna. "We will look at how the panels stand up to our climate and how they perform in the event of an earthquake or fire."
PlantTech has signed on as a long-term research partner with Zespri, following successfully completing two research projects for the kiwifruit giant. The projects demonstrated applying AI technology to challenges relating to crop estimation and factors that affect the performance of fruit post-harvest as it moves through the supply chain.
The digital crop estimation project, in particular, proved PlantTech's worth, says Zespri Innovation Manager Dr Juliet Ansell.
The challenge was to develop computer vision algorithms to perform a sample crop estimation using Zespri's existing camera technology, which is already in use for collecting fruit count data.
"It was a competitive process; lots of people had a go at doing the same thing but PlantTech's results were outstanding."
The project, involving state-of-the-art deep learning approaches and machine learning techniques, was also valuable in demonstrating how it could quickly process large volumes of Zespri data collected from an orchard.
Zespri is a grower-owned company and the world's largest marketer of kiwifruit. Photo: Louise Thomas.
Aqualinc has been awarded the Irrigation New Zealand Innovation in Irrigation Award for 2020, in recognition of their work for the Fertiliser Association of New Zealand on N-Wise irrigation strategies. This work demonstrated that by changing irrigation management practices an average 27% reduction in modelled nitrogen loss to water is achievable, with minimal impacts on average annual pasture production.
Award sponsor Ballance Agri-Nutrients Ltd presented the trophy and plaque to project leader Dr John Bright at the Irrigation NZ AGM last week. Ian McIndoe and Birendra KC were also part of the project team.
Aqualinc researchers are currently establishing a field trial site for further work, funded by Ministry for Primary Industries (MPI)'s Sustainable Land Management and Climate Change programme, to test N-Wise irrigation strategies on a commercial dairy farm under realistic conditions of water-supply uncertainty. The project is also supported by DairyNZ, Waterforce, and Central Plains Water Ltd.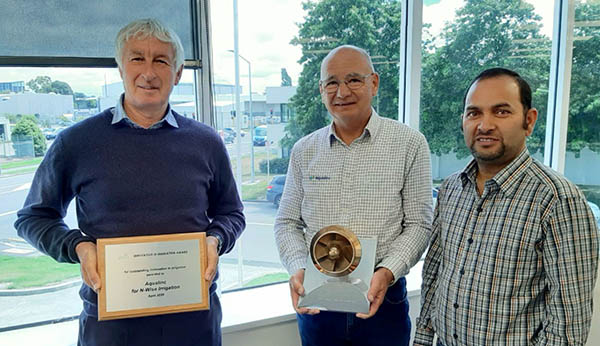 The Aqualinc team winning the Innovation in Irrigation Award, from left Ian McIndoe, John Bright, and Birendra KC.
Every day, specks of gold which have been highly flattened or are too small to see pass through the screens of alluvial gold mines uncaptured. NZIMMR is working on improving the recovery of this gold. With around 25,000-30,000 ounces of gold mined every year on the West Coast, the size of the prize is significant.

Processing methods continue to improve, however, NZIMMR research into gold recovery (and losses, as much as 30%) from Westland's beaches shows that the finest gold size fractions and the more highly flattened gold grains continue to elude the miners' grasp. The enhancing gold recovery project started with sampling West Coast mineral sands, and comparing the size and shape of gold grains in beach leads to those lost to tailings from recovery plants.

Having identified the characteristics of gold lost by current recovery methods, NZIMMR is now investigating ways of minimising gold losses and plans to test these at its Waimatuku minerals processing laboratory.

West Coast alluvial gold. Photo: NZIMMR.
The cost of building new housing rises as population increases in a city. Photo: Chris Gray on Unsplash.

New research by Stuart Donovan, Dr Arthur Grimes, and Dr David Maré uses census data to reveal the drivers that influence urban development in New Zealand. The modelling looks at data from 132 New Zealand towns and cities over a 37-year period. It highlights the relationship between local amenities that benefit firms and/or benefit residents, availability of wages and jobs, and the cost and supply of housing.

"Consistent with what we find in many countries around the world, New Zealand firms are attracted to locate in our larger cities," says Arthur, a Senior Fellow at Motu Economic and Public Policy Research and a Building Better Thriving Regions Principal Investigator.

"In contrast, it seems that residents are attracted to smaller places: as cities grow, factors such as increased congestion make the larger cities less appealing to residents."
Lincoln Agritech is collaborating with Ngāti Whare's Minginui Nursery, near the Whirinaki Te Pua-a-Tāne Conservation Park, on a five-year Ministry of Business, Innovation and Employment funded nitrogen-fixing research programme. They are helping to identify and collect Trichoderma, fungi that live in symbiosis with plant roots, which Lincoln Agritech researchers are using to increase plant resilience and health.

The Minginui Nursery, which officially opened almost two years ago, has ramped up capacity to grow over 1,000,000 plants per year, supplying cold-hardy natives, such as tōtara, rimu, and kahikatea, on a commercial scale. The nursery is merging the old and the new to build a new sustainable indigenous forestry industry.

Conidiophores of Trichoderma harzianum. Image: US Department of Agriculture, Agricultural Research Service, Systematic Botany and Mycology Laboratory.
Land & Water Science, based in Invercargill, has been using a physiographic approach to several key research projects on New Zealand's water quality. The physiographic approach is an integrated or 'systems view', which links landscape attributes and the key processes governing water quality outcomes in surface and shallow groundwater. For example, the relationship between soil drainage (attribute) and redox (process - reduction of oxygen and oxidation) can be used to predict soil denitrification potential.
Unlike other mapping and classification approaches, the physiographic approach incorporates water quality, hydrochemical, and/or hydrological response signals into a spatial format to identify, select, combine, and classify those landscape gradients that drive variation in water quality outcomes.
Land & Water Science Director Dr Clint Rissmann says that physiographic science offers an increased understanding of the landscape processes, which then allows for implementing management practices within the local and catchment-scale.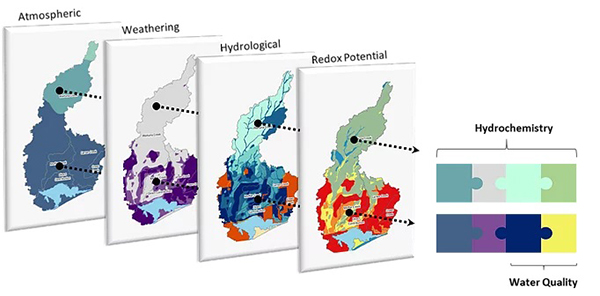 Example of the physiographic mapping undertaken for the Waituna Catchment, Southland. Image: Land & Water Science.
Check out the IRANZ multimedia page for more.
RNZ: Nailing down the true cost of new build defects
RNZ Nine to Noon. Michael Bealing from the NZ Institute of Economic Research (NZIER) and Matthew Curtis from BRANZ talk with Kathryn Ryan from Radio New Zealand about the economic cost of quality defects.
A new report puts the cost of having to fix defects in new house builds at $2.5b each year. The figure's been hammered out by the NZIER in an analysis of direct costs to the construction industry of quality defects, as well as the indirect effects on productivity and housing supply.
So when and where do the defects occur? And what would be the benefits of eliminating them?
Te Karere TVNZ – Simplified asthma pump considered particularly beneficial for Māori, Pasifika
A new analysis of a study on treating asthma has found a simplified "2 in 1" asthma pump is particularly beneficial for Māori and Pasifika, who suffer greatly from the respiratory disease. Te Karere TVNZ's Eruera Rerekura reports on research by the Medical Research Institute of New Zealand (MRINZ).
| | |
| --- | --- |
| IRANZ has gone social. For up-to-date information about the activities of our member organisations and same-day notification of updates to the website follow us on the link below. | |
WHO WE ARE
IRANZ is an association of independent research organisations. Its members undertake scientific research, development or technology transfer. Members include Aqualinc Research Ltd, Bragato Research Institute, BRANZ, Cawthron Institute, Heavy Engineering Research Association (HERA), Land & Water Science, Leather & Shoe Research Association (LASRA), Lincoln Agritech Ltd, Mackie Research, Malaghan Institute of Medical Research, Medical Research Institute of New Zealand (MRINZ), Motu Economic and Public Policy Research, New Zealand Institute of Minerals to Materials Research, PlantTech Research Institute, Titanium Industry Development Association Ltd (TiDA Ltd), Transport Engineering Research NZ Ltd (TERNZ), Verum Group, WSP Research, and Xerra Earth Observation Institute.
Contact: Dr Rob Whitney, Executive Officer, mobile: +64 27 2921050, email: information@iranz.org.nz
Copyright © iranz