The Hon Dr Ayesha Verrall highlights the importance of investing in science to boost Aotearoa New Zealand's economic advantage. IRANZ strongly endorses this. Budget 2023 positions the New Zealand economy for a low-emissions, high-wage future with a major investment into our science, digital, and horticultural technology sectors. It includes provision for:
Three new multi-institution hubs to increase collaboration in research and science;

Major investment in science and scientists; and

Fellowships and funding to develop more than 260 future science leaders.
IRANZ commends this investment in the Future Growth of Research Science and Innovation in the budget.
In particular, we support the new Science and Innovation hubs. When they are established, we expect them to include investment in Māori research infrastructure and support Mātauranga-led research.
The Wellington-based hub focused on health and pandemic readiness already involves IRANZ member the Malaghan Institute, in addition the Gillies McIndoe Research Institute and the Medical Research Institute of New Zealand are also centrally located in the Newtown - Te Aro - Kelburn Health Research Corridor.
Independent Research Organisations involved in Environmental and Infrastructure such as Cawthron, BRANZ, Te Tira Whakamātaki, WSP Research and Innovation, and Mackie Research look forward to participating in the Climate Change and Disaster Resilience Centre.
Budget 2023 positions the New Zealand economy for a low-emissions, high-wage future with a major investment into our science, digital, and horticultural technology sectors. Photo: Towfiqu barbhuiya.
Interns get chance to shine at Lincoln Agritech
Scarlatti: Internships a win-win for interns and business
NZBRI: Grant to investigate Parkinson's hallucinations
$715k donation to Mātai as QET winds up
Verum Group's William Porter on NZOHS council
HERA's new 2023 Whanake Scholarship recipient: Brock Colson
Aqualinc: Future Focused Freshwater Accounting
Bragato Research: Hearing from New Zealand's winemakers
Gillies McIndoe Research Institute: New chapter
Follow the link for more details on the June 2023 news briefs from our Independent Research Organisations.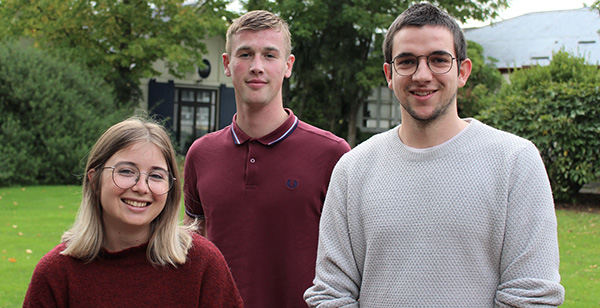 Interns Léa Cabrol (left), Tijmen Krijen (centre), and Josselin Blanchard are enjoying being able to put their knowledge to work at Lincoln Agritech. Photo: Lincoln Agritech.
A recent Guardian article by Tess McClure examines research by Mātai tracing signs of healing in the brains of a group of former addicts.

"Every few months, Cohen "Coey" Irwin lies on his back and lets the walls close in. Lights move overhead, scanning over the tattoos covering his cheeks. He lies suspended, his head encased by a padded helmet, ears blocked, as his body is shunted into a tunnel. The noise begins: a rhythmic crashing, loud as a jackhammer. For the next hour, an enormous magnet will produce finely detailed images of Irwin's brain. Irwin has spent much of his adult life addicted to smoking methamphetamine – or P, as the drug is known in New Zealand.

"He knows its effects intimately: the euphoria, the paranoia, the explosive violence, the energy, the tics that run through his neck and lips."

Cohen Irwin has spent years addicted to smoking methamphetamine. Now, he's working with scientists to understand how it's affected his brain, and try to stop. Photo: Tess McClure/The Guardian.
A ground-breaking study, published in the New England Journal of Medicine, conducted by researchers from Aotearoa New Zealand, Australia, and Germany, has raised a challenging question — In the event of severe injury, would individuals want to receive a treatment which reduced their probability of dying but also increased their risk of surviving severely disabled?
The Pre-hospital Antifibrinolytics for Traumatic Coagulopathy and Haemorrhage (PATCH-Trauma) Study focused on the use of tranexamic acid (TXA), a readily available drug known for its ability to limit bleeding during surgery. The research examined TXA's effectiveness as a pre-emptive measure for patients at risk of life-threatening bleeding following trauma, an area of ongoing controversy.
The PATCH-Trauma Study, coordinated in New Zealand by the Medical Research Institute of New Zealand (MRINZ), is a large trial in which treatment was administered at the scene of an accident or injury, or in an ambulance. Over the course of eight years, 1310 severely injured patients received treatment from 15 ambulance services and 21 trauma centres across New Zealand, Australia, and Germany.
The PATCH-Trauma Study, coordinated in New Zealand by the Medical Research Institute of New Zealand (MRINZ), is a large trial in which treatment was administered at the scene of an accident or injury, or in an ambulance. Photo: Mat Napo.
| | |
| --- | --- |
| | Dr Andrew Wilson. Photo: Malaghan Institute. |

Dr Andrew Wilson is bridging the gap between research and clinical laboratories, paving the way for advances in diagnostics and cancer therapy.

Andrew conducted his PhD with the University of Otago in the Weinkove Laboratory at the Malaghan Institute. His goal was to forge connections between academic research and techniques used in clinical diagnosis. In doing so, he has developed a new method to ensure the safety of cell and gene therapies, including the CAR T-cells used in the Malaghan Institute's own clinical trial programme.

"My PhD aimed to merge academic and clinical practices, tapping into the potential of molecular biology to advance the safety of cancer therapy," says Andrew.

Armed with advanced molecular biology techniques, Andrew sought to understand the process of converting a patient's own immune cells, called T-cells, into CAR T-cells. This involves inserting genes that allow the T-cells to be able to target cancer cells.
Motu, along with Victoria University of Wellington, recently published research analysing the types of people who benefit most from freedom of speech. The research found people with more resources place greater priority on freedom of speech. However, people with fewer resources (i.e., lower incomes or education levels) benefit most from free speech. The results support the hypothesis that free speech empowers those with fewer resources than those with greater resources.

The researchers write that the two results are not incompatible: people with fewer resources may need to prioritise basic needs more than 'luxuries' such as free speech but, being in marginalised populations, they may still benefit most from having freedom of expression.

The researchers conclude that even though survey evidence for stated preferences indicates that free speech is a luxury good, regimes which increase freedom of speech (on average) simultaneously raise the subjective wellbeing of more marginalised members of society relative to those with greater resources.
Slowed down by roadworks, most drivers' first thought is 'how annoying'. Rarely, if ever, will they stop to consider the safety of workers holding the Stop / Go sign or placing orange road cones. But they should, because new research from WSP has revealed a concerning number of speeding, near miss, and abuse incidents at roadworks sites.
Carried out as part of a project for Waka Kotahi NZ Transport Agency, a WSP research team surveyed 316 temporary traffic management (TTM) workers about their experiences on site.
It's no secret that working on or near roads is a high-risk activity. Safe flow of traffic through roadworks involves measures like signage, barriers, and reduced speed limits. At times, those on the frontline are exposed to the risk of passing traffic.
Over half of survey respondents experienced aggression or abuse from drivers. And the consensus view from TTM workers is that drivers aren't following temporary speed limits.

New research from WSP has revealed a concerning number of speeding, near miss, and abuse incidents at roadworks sites. Photo: WSP Research.
| | |
| --- | --- |
| | Science with Impact – Annual Report 2022. Photo: Lincoln Agritech. |

Lincoln Agritech's Annual Report for 2022 highlights the impact its science is having in areas such as climate change, fresh water and groundwater, and environmental sustainability.

Titled Science with Impact, the report details a trial to slash herbicide use in vineyards, ground-breaking work on understanding the dynamics of braided rivers, and a trial showing real-time information on groundwater nitrates, among other research projects.

Chief Executive Peter Barrowclough said the company undertook some "amazing research".

"Concerns about climate change, food security, and the environmental impact of farming, horticulture, and forestry are growing, showing we need to redouble our research efforts to address these existential issues."

Lincoln Agritech Chairman Bruce Gemmell said the report gave a glimpse into the national and global impact the company's research was having.
Ever wonder exactly how the environment in Central Otago makes Pinot Noir taste different to that grown in Martinborough, even though the vines are the same before they're planted? If all cells in a plant have the same DNA, how do some form leaves, some roots, and others berries? A big part of the answer is 'epigenetics': signals from within the plant, and from the environment, change which of the tens of thousands of genes in a cell are turned on at any time.
"Tuned Vines" is a two-year research project run by Bragato Research Institute's Grapevine Improvement team. The project aims to demonstrate ways to manage grapevines by turning specific genes 'on or off'.
The potential outcomes from this project could help vineyards adapt to the changing climate. Some of the hypothetical ways that this knowledge could be used include, priming grapevines to increase their hardiness ahead of a drought, or delaying sugar ripening of the grapes if temperatures were sweltering.
The Grapevine Improvement team is working on identifying epigenetic markers of environmental stress in grapevines – such as which genes react when the grapevine is in drought conditions or very cold weather. Photo: Bragato.
HERA reports that it has received $150K funding from BRANZ, funded by the building research levy, to support the $772K project titled "Circular design for a changing environment: a design framework to reduce construction waste, lifecycle embodied carbon, and to enhance the circular economy for construction materials, with a pilot for low-rise buildings".
HERA reports that there is significant confusion in the market about the embodied carbon at the different stages of a building's life. "Carbon calculators are emerging prolifically, but they only tell a one-dimensional story about CO2 equivalent emissions per mass of particular products, with a focus on either the Cradle to Gate or Cradle to Practical Completion
This is in spite of MBIE's commitments to consider and target opportunities to realise the whole of life carbon reductions and announcements that relate to the Building Act being modified for better reporting. By having a better understanding of the source and contribution of the embodied carbon from each Module and consideration of how design influences choice of material and vice-versa, it may be possible to design a truly carbon efficient sustainable building.
Image: HERA.
BRANZ Principal Social Scientist Casimir Macgregor writes about the first National Adaptation Plan (NAP) in the latest edition of build magazine. The plan sets a path forward as to how to develop resilience to climate change, but he says it could be more inclusive of the construction industry and consider the impact of climate change on human behaviour.
New Zealand has recently experienced the impact of a changing climate with the devastation caused by Cyclone Gabrielle and the associated flooding and storm damage in Hawke's Bay, Gisborne, Coromandel Peninsula and Auckland.
"The IPCC's 2023 report highlighted that rising greenhouse gas emissions due to human actions have created a rise in global surface temperature that was 1.09°C [0.95°–1.20°C] higher in 2011–2020 than 1850–1900.
"While changing the way we do things to emit less greenhouse gas emissions and limit global warming is a critical step, we must also accept that there are uncertainties that come from our changing climate that must be addressed."
Casimir says a greater understanding of human behaviour can influence the success of the NAP's implementation. Photo: Jonathan Ford.
In the May issue of Canterbury Farming Newspaper, Aqualinc's Director Dr John Bright explains "it's time to talk about water storage development."
The variability of water supply from week to week, month to month, and year to year means that many parts of New Zealand have a mismatch between supply and demand in most summer months.
For most parts of Canterbury this hasn't been an issue for the past two irrigation seasons, but we know well from past drought years that it will be a challenge we will face in the future. Climate change projections show the challenge becoming even greater due to increasing water demand, lower river flows in summer months, and increasing month-to-month variability.
Strategic water studies over the past 20 years consistently show that water storage is a key strategy to address this water supply reliability problem. Improvements in irrigation efficiency, alone, will not solve it.
Dr Bright writes that water storage of the capacity required is not without controversy. Lake Wanaka. Photo: Eyrie Photography.
Dragonfly Data Science's work with the Social Wellbeing Agency produced an interactive map of cyclone impacts overlaid with infrastructure and demographic data.
The map demonstrates the crucial role that data has played in identifying the land and community characteristics of areas impacted by adverse weather in early 2023. It's the first time these two approaches have been combined for New Zealand. The map is also supporting planning for the response and recovery.
Aphra Green, Deputy Chief Executive, Policy, Data and Insights of the Social Wellbeing Agency (SWA) Toi Hau Tāngata says the agency had built a demographic explorer with community information, but being able to combine this with geospatial data was a big advantage.
Screenshot of the interactive map showing impacts on Meeanee and Awatoto in the Hawke's Bay. Image: Dragonfly Data Science.
Aqualinc Hydrologist Dr Helen Rutter writes about the rules for small drinking water suppliers in the June issue of Canterbury Farming Newspaper.

"If you own or operate a water supply that is being used as drinking water by people outside your home (for example, a farm property with multiple dwellings supplied by a single source), you are a drinking water supplier and will have responsibilities to meet the Drinking Water Quality Assurance rules.

"These create new responsibilities for huge numbers of small suppliers who have previously not had any formal rules to follow.

"The new regulations have caused a great deal of concern for many people who are, understandably, worried about responsibilities and costs. Whilst there are definitely new responsibilities, complying with the new regulations is actually going to be simpler than many people realise.

"The new drinking water regulator, Taumata Arowai, has worked with many water users and suppliers, as well as with industry bodies such as Irrigation New Zealand, to come up with solutions for small suppliers that are practical to implement."

Aqualinc Hydrologist Dr Helen Rutter writes that complying with the new regulations for small drinking water suppliers is actually going to be simpler than many people realise. Photo: Kob Agency.
A study conducted by Motu highlights the need for improved environmental reporting to help deliver urban water supply security.

It's near impossible to get good data on water use in New Zealand. This raises questions about public accountability, write Motu Research Analyst Thomas Benison and Julia Talbot-Jones (Motu Affiliate) in a recent issue of The Conversation. The article is based on their own experience of collecting data from the local councils for a Motu Research project on urban water pricing use in Aotearoa.

"As New Zealand's new Prime Minister Chris Hipkins embarks on reprioritising policies to focus on 'bread and butter issues', the details of the contentious Three Waters reforms remain unclear.

"The reforms represent a radical reshaping of water, wastewater and stormwater management, with the aim of building a new integrated system across New Zealand. The legislation passed in December last year, but the PM has promised a 'reset'."

Whatever the final details, a study conducted by Motu highlights the need for improved environmental reporting to help deliver urban water supply security.
As passengers on the Kāpiti rail line north of Wellington admire the view from their carriages, they may not be aware that the line's steep coastal cliffs are now under constant real-time monitoring for potential slips - no matter the weather.
Instrumentation experts from design and engineering firm WSP have worked with KiwiRail over the past eighteen months to install a network of geotechnical sensors. It's all to help the notoriously slip-prone stretch of line run as smoothly and effectively as possible.
Twenty sites have been equipped with monitoring equipment along a 25-kilometre-long section of the North Island Main Trunk between Paekākāriki and Plimmerton. The system combines slope movement and debris sensors, rain gauges, soil moisture metres, and night vision cameras. It monitors 'over-slips', where debris from above can fall onto the track, and 'under-slips', which can occur below the track.
The sensors have all been set with an alert threshold. If triggered by slope or debris movement, a notification is sent to KiwiRail field engineers, train controllers, and WSP.
Night vision camera image from the sensing set-up. Photo: WSP.
New Zealand has 26,559 hectares of Sauvignon Blanc vines, and the way grapes are propagated renders the vast majority of these vines genetically the same - potentially any new pest, disease, or environmental change that affects one vine could affect them all.
Bragato Research Institute and its partners, Lincoln University and Plant & Food Research, have begun a seven-year research programme to produce diverse variants of Sauvignon Blanc to help New Zealand's $2 billion wine industry become more resilient.
This growing season, the programme has produced 6,000 new variants.
"Plants have the natural ability to become more genetically diverse in response to environmental stress, and this knowledge was used to produce a population of vines with unique traits," says Principal Scientist Dr Darrell Lizamore. "Since this doesn't involve crossings with other vines, the plants are still Sauvignon Blanc, and the new variants are fully formed at the first generation."
Photo: Bragato Research Institute.
Motu's Arthur Grimes appeared on a recent CNBC documentary on the origins of a 2% inflation target. If you're curious about the current economic landscape and want to stay informed, this is a must-watch.
The 2% inflation target is key to the Federal Reserve's vision for stable prices. But, where exactly did this 2% inflation goal originate? Aotearoa New Zealand. In the late 1980s, the country faced high inflation when one economist proposed, 'Why don't we just have an inflation target?"
U.S. declared its 2% inflation target in 2012. According to the International Monetary Fund, Canada, Australia, Japan and Israel are among the many economies that include 2% in their inflation rate targets.
In the documentary, some economists argue for changing the target, lower or higher, and predict whether it may change anytime soon.
Inflation, the rising cost of goods and services over time, is a topic that affects us all. It influences our purchasing power, savings, and even investment decisions.
Motu's Arthur Grimes appeared on a recent CNBC documentary on the origins of a 2% inflation target. If you're curious about the current economic landscape and want to stay informed, this is a must-watch. Image: CNBC Screenshot.
Prostate cancer is the most common cancer for men in Aotearoa and Tairāwhiti has adopted a global best-practice method to perform prostate biopsies.
A prostate biopsy is a procedure to remove samples of suspicious tissue from a man's prostate. The tissue is then looked at under a microscope to check for cancer.
Through a new clinical partnership between Te Whatu Ora and Mātai Medical Research Institute, since November last year more than 21 Tairāwhiti men have had MRI-guided, transperineal, prostate biopsies under local anaesthesia in an outpatient setting.
Dr Daniel Cornfeld, head of radiology at Te Whatu Ora in Tairāwhiti and Mātai Clinical Lead, said Tairāwhiti was the first site in Australasia to use this specific Koelis Trinity system technology to perform the procedure in an outpatient environment.
"The new technology will provide an equitable service which will uplift prostate outcomes for our local men, especially Māori and men living rurally," Dr Cornfeld said.
Mātai Clinical Lead, Dr Daniel Cornfeld. Photo: Paul Rickard/Mātai.
Dr Bibek Yumnam is a Senior Research Officer working in Professor Graham Le Gros' lab investigating the interplay between parasites and our immune system. He uses his background in conservation of endangered species to offer unique insights into parasites and what they represent to our global ecosystem and health.

The basis of Malaghan's hookworm therapy programme is the concept that having hookworms in our body may dampen down overactive immune responses typical of allergic and inflammatory diseases. Specifically, Bibek is working on the Malaghan's hookworm clinical study to develop the methodology to produce therapeutic hookworms in a safe and standardised way.

"To really understand why we are doing this research we have to look into the life cycle of hookworms in the natural, pre-industrialised world," says Bibek. "Their life cycle is inextricably intertwined with us humans."

"Our bodies are an ecosystem and until recently, parasites have always been a part of this ecosystem," says Dr Bibek Yumnam. Image: Malaghan.
Our immune system protects us from infection and disease throughout our life. Like us, it grows and evolves as we encounter new and familiar infectious organisms. In a similar vein, as we age, the immune system also ages, becoming less efficient and effective.
One of the most significant changes is that the older immune system responds less effectively to vaccines, producing fewer protective antibodies, offering less protection to disease. Why this happens is only just starting to be understood, with Cambridge's Babraham Institute leading global research into the fundamental biological changes of an ageing immune system. And in a new research collaboration with the Malaghan Institute, funded by the UK's Biotechnology and Biological Sciences Research Council, there is hope that the ageing immune system can be revitalised. The partnership aims to hone in on 'germinal centres', a unique immunological structure that forms in response to an infectious organism, and use RNA technology to improve its performance.
Dr Theresa Pankhurst (left) and Dr Michelle Linterman. Photo: Malaghan Institute.
Cawthron Laboratories, the analytical testing arm of Whakatū Nelson's Cawthron Institute, has announced it will open a new analytical testing laboratory in Tāmaki Makaurau Auckland in mid-2023.
Cawthron Laboratories offers customers a broad spectrum of food testing and product analysis services.
Located in Māngere, the new facility expands Cawthron Laboratories' service capacity and supports existing efforts to provide a full spectrum of testing services to customers in any part of the country.
Cawthron Laboratories Manager Paul Parker says this expansion builds on the strong relationships Cawthron already has with customers in the North Island and creates opportunities for new customers by increasing confidence in the accessibility and reliability of their testing services.
"Opening a North Island laboratory is an exciting new chapter for us and one that will help us forge new relationships in the North Island."
A laboratory technician watches a sample being analysed by machine. Photo: Cawthron Institute.
| | |
| --- | --- |
| | "We have double the load and stroke-bearing capabilities of our previous facility," says Simon. "It means we can shake buildings harder and faster than ever before." Photo: BRANZ. |

What happens to a building and its individual components when subjected to the kinds of extreme stress, impact and vibration that an Aotearoa New Zealand home might face during its lifetime? BRANZ can now answer that and similar questions more efficiently and in greater detail with the opening of a new structures laboratory at its Judgeford campus.

BRANZ's structural tests assess whether building systems and products are fit for purpose and comply with the Building Code.

The new lab allows BRANZ to build complex structures as large as a 3-storey building and exert forces on it from two different directions simultaneously, as might occur in an earthquake. The bigger space also means more tests can run concurrently.

"It gives us the flexibility to assess a wide variety of new building materials, systems and products as they are developed," says BRANZ Structural Testing Team Leader Simon Faulkner.
Check out the IRANZ multimedia page for more.
Mātai: Study hopes for meth impact reversal in the brain – RNZ
A Gisborne-based research project by Mātai Medical Research is using MRI scanning to study the impacts of methamphetamine in the brain. RNZ Nine-to-Noon presenter Kathryn Ryan speaks with Lead Principal Investigator at Mātai Research Associate Professor Miriam Scadeng.
NZBRI: Parkinson's research focussing on patient's hallucinations - RNZ
Dr Kyla-Louise Horne from the New Zealand Brain Research Institute has been awarded an $180k Emerging Researcher Fellowship by the Canterbury Medical Research Foundation to support her two year research project investigating hallucinations experienced by those with Parkinson's disease.
Dragonfly Data Science: New mapping tool to aid equitable disaster response - TVNZ 1News
This TVNZ 1News item features mapping tool work by Dragonfly Data Science.
| | |
| --- | --- |
| IRANZ has gone social. For up-to-date information about the activities of our member organisations and notification of updates to the website follow us on the link below. | |
WHO WE ARE
IRANZ is an association of independent research organisations. Its members undertake scientific research, development or technology transfer. Members include Aqualinc Research Ltd, Bragato Research Institute, BRANZ, Cawthron Institute, Dragonfly Data Science, Gillies McIndoe Research Institute, Heavy Engineering Research Association (HERA), Land & Water Science, Leather & Shoe Research Association (LASRA), Lincoln Agritech Ltd, Mackie Research, Malaghan Institute of Medical Research, Medical Research Institute of New Zealand (MRINZ), Mātai Medical Research, M.E Research, Motu Economic and Public Policy Research, New Zealand Brain Research Institute, New Zealand Institute of Minerals to Materials Research, Scarlatti, Taiuru & Associates, Takarangi Research Group, Te Tira Whakāmataki, Verum Group, WSP, and Xerra Earth Observation Institute.
Contact: Dr Rob Whitney, Executive Officer, mobile: +64 27 2921050, email: information@iranz.org.nz
Copyright © iranz