11 February marked the International Day of Women And Girls In Science. At IRANZ we hope that one day such celebrations will no longer be necessary, as the science systems throughout the world normalise using the currently untapped talent of women scientists.
Globally, a significant gender gap persists throughout all levels of science, technology, engineering and mathematics (STEM) disciplines. Women have made huge strides in undertaking higher education, but they remain under-represented in many fields.
According to reports from the United Nations, women are typically given smaller research grants than their male colleagues and, while they represent 33.3% of all researchers, only 12% are members of national science academies.
In cutting edge fields such as artificial intelligence, only one in five professionals (22%) is a woman. Despite a shortage of skills in most of the technological fields driving the Fourth Industrial Revolution, women still account for only 28% of engineering graduates and 40% of graduates in computer science and informatics. Female researchers also tend to have shorter, less well-paid careers. Their work is underrepresented in high-profile journals and they are often passed over for promotion. So, this issue of Connections is dedicated to all the amazing women we have working across the spectrum of independent research in Aotearoa New Zealand. We celebrate you, not just for one day, but throughout your career. Below you will find a selection of interviews and research articles which highlight some of the brilliant women we have as IRANZ researchers in this country.
IRANZ supports the Innovative Young Minds (IYM) programme
IRANZ is once again supporting the Innovative Young Minds (IYM) programme. IYM is a programme to inspire young women in years 11 and 12 to explore science, technology, engineering, mathematics, and high-tech manufacturing. Rotary Hutt City and Hutt City Council have partnered to provide two programmes: 'IYM Online', open to young women from all over New Zealand, and 'IYM Residential', a six-day residential course open to young women in the Greater Wellington Region.
To help IYM inspire a new generation of female innovators and industry leaders, IRANZ is again offering, for the third year, a range of subject matter experts to discuss their research and careers through IYM Online. This year, IRANZ will be running an IYM panel session on Thursday, 20 April which will be led by Te Tira Whakamātaki co-founder Melanie Mark-Shadbolt (Ngāti Kahungunu, Rangitane, Ngāti Porou, Te Arawa, Ngāti Raukawa, Tūwharetoa, Whakatōhea, Te Ātiawa). IRANZ also sponsors candidates to the IYM residential programme, and IRANZ member WSP Research hosts a session for the candidates at their Research and Innovation Centre in Lower Hutt.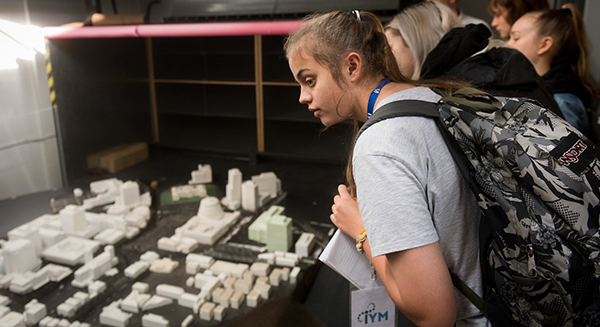 IYM residential course participants on tour at WSP Research. To learn more about the 2023 Innovative Young Minds programme, click on the image above. Photo: WSP Research.
Speaker's Science Forum: Food security in the face of global challenges
Motu: Covid-19's impact on the economy
Changes at the helm for Verum Group
Lincoln Agritech: Clearing a research path for rangatahi
Cawthron: Floods destroy aquatic life in Nelson's Maitai River
Bragato: Ground wētā in the Awatere
Malaghan visiting researcher: Dr Michelle Linterman
BRANZ: Supporting better mental health
Dragonfly Data Science: In-house innovation creates more useful, beautiful maps
Mātai Interns & Turanga FM Interview
. . . and more.

Follow the link for more details on the February 2023 news briefs from our Independent Research Organisations.

Motu Economic and Public Policy Research's Senior Fellow Isabelle Sin is speaking at a Manatū Wāhine - Ministry for Women Zoom webinar on 28 February exploring the difficulties to accessing childcare and the effects on mothers' labour market outcomes, and the wider issues and barriers that women experience when it comes to finding, and staying in, employment. The discussion is based on recent research reports by Motu Economic and Public Policy Research. Photo: Motu.
To mark the International Day of Women And Girls In Science on 11 February, Cawthron Research hosted a group of 24 students from Nelson College for Girls, Waimea College, and Nayland College. The group shared lunch, listened to science presentations from Cawthron's researchers and took a tour of the laboratories. It was a great opportunity for some of the incredible women who are leaders and scientists at Cawthron to share their passion for STEAM (Science, Technology, Engineering, the Arts, and Mathematics) with a younger generation of curious minds.

Students from Nelson College for Girls, Waimea College, and Nayland College at the Cawthron Institute. Image: Cawthron Institute.
| | |
| --- | --- |
| | Research Scientist Dr Jin-Hua Li is a plant pathologist for Lincoln Agritech. Her work involves lab work, office work, nursery work, and fieldwork – including sometimes working in a forest. "Mainly I work on beneficial micro-organisms that fix nitrogen, or make phosphate soluble in soil, or help to control some plant pathogens." Photo: Lincoln Agritech. |

When research scientist Jin-Hua Li was a child she didn't know what scientists did, but thought it seemed interesting.

"When I was growing up, I wanted to be a scientist. I was in year 5 in my primary school, and one day our teacher asked every child what we wanted to do when we grew up. Most children said they wanted to be a teacher, but I said I wanted to be a scientist. I knew what kind of work teachers do, but didn't know at all what kind of work scientists do, and I could see teachers every day, but had never seen a scientist. I was just curious about what scientists looked like, and what they did every day."
Verum Group's Dr Laura Molles is a behavioural ecologist with a particular interest in animal communication. She has worked on several field-based projects around the US and in Costa Rica before moving to New Zealand in 2000. Here in New Zealand she has studied kōkako, kakapo, little blue penguins, bellbirds, tūī, and great spotted kiwi, including working on reintroductions and other projects that integrate behaviour and conservation biology.

"I'm originally from Southern California, where I grew up in a neighbourhood bordered by three freeways and a river with concrete banks. But nature is everywhere! There are always interesting critters to watch, even in the middle of a city. I've also had the good fortune to study animals in deserts, forests, and grasslands in the US, tropical dry forests in Costa Rica, and in several amazing places around New Zealand since I moved here more than 20 years ago. Before joining Verum Group and the Atarau Sanctuary team I was a postdoctoral researcher at University of Waikato, a Senior Lecturer at Lincoln University, and a Natural Environment Advisor at the Christchurch City Council."

Working with Dr Carol Bedoya at Verum Group, Dr Laura Molles has successfully developed machine learning approaches for individually identifying roroa – great spotted kiwi by their calls. Photo: Verum Group.
| | |
| --- | --- |
| | Dr Rebecca McKenzie works in the Hugh Green Cytometry Centre at the Malaghan Institute. Photo: Malaghan Institute. |

The recent pandemic has heralded advancements in RNA technology and as the Covid storm calms, we are left with a clear sight of the potential this technology has in our future. Dr Rebecca McKenzie works in the Hugh Green Cytometry Centre at the Malaghan Institute. As the powerhouse of the institute, the Hugh Green Cytometry Centre houses state-of-the-art research technologies, among these is New Zealand's first end-to-end preclinical RNA therapeutics platform.

"Thanks to significant donor funding and capability built as part of Vaccine Alliance Aotearoa New Zealand, we can now carry out all the steps to develop an RNA-based therapy – from designing a template for a unique target, synthesising the RNA molecules and packing them for safe delivery to the body. We can then do the preclinical testing to understand if an appropriate immune response is triggered," says Rebecca.
Marine Biologist Dr Bailey Lovett writes about why biosecurity matters.
"When I tell people I'm a marine biosecurity scientist, the response I get is often something along the lines of "marine biosecurity huh, that's a niche area…" (I understand of course – it's a bit of a mouthful. The description of what the role involves isn't necessarily in the name, unless you know what you're looking for).
"However, if you've seen any of the recent news headlines about international cruise ships being stopped from visiting certain parts of New Zealand because they were carrying oysters, snails, and various other hitchhiking critters, you might begin to understand why I don't think that marine biosecurity is niche at all. In fact, you probably encounter biosecurity issues a lot more than you think."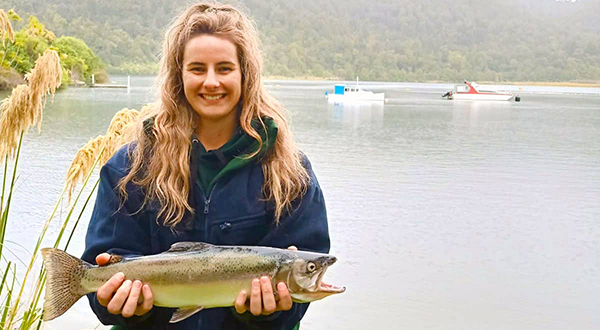 Marine Biologist Dr Bailey Lovett. Photo: Cawthron Institute.
HERA again hosted the 2023 Rotary National Science and Technology students at HERA House to kick off the new year.
As part of their commitment to inspire future engineers to work in the metals industry, this student event showcases and highlights the real opportunities that exist within the sector.
This year's cohort consisted of 22 students who are seeking further insight into potential future career pathways.
Despite Covid-19 bringing a halt to things for a short while, HERA has been hosting this event for a few years now, and their general approach is to invite their technical team to deliver concise presentations on their role at HERA, how they got there, and what it entails.
2023 Rotary Students using the 3D Scanner under the supervision of Research Engineer Hafez Taheri. Photo: HERA.
Flooding from Cyclone Gabrielle has devastated regions of Hawke's Bay. Satellite data allow for an indicative assessment of the extent of the flooding at the time of image collection. Dragonfly Data Science has released Hawke's Bay flooding data derived from a Copernicus Sentinel-1 satellite.

An interactive map of the flooding from Cyclone Gabrielle in Hawke's Bay, involving input from Dragonfly was published by The Herald, and is available on the Dragonfly website, along with the underlying data.

The imagery was processed in Google Earth Engine, using methods based on those recommended by the United Nations Platform for Space-based Information for Disaster Management and Emergency Response.

SAR (synthetic aperture radar) imagery is well suited for mapping floods since the data acquisition is possible regardless of the cloud cover and SAR images can be captured day and night.

Image: Dragonfly Data Science.
Photo: Kwon Junho, Unsplash.

Motu Fellow Phoebe Taptiklis has come up with some life-saving, evidence-based information for people in cyclone-ravaged areas of Aotearoa New Zealand.

Accidental carbon monoxide poisoning kills several people a year in New Zealand. Deaths increase during long-term electricity outages, such as the current outages after Cyclone Gabrielle, as people often bring gas-fuelled appliances (like barbeques and generators) inside for cooking. Burning fuel indoors with bad ventilation can mean a dangerous build-up of carbon monoxide – a colourless, odourless gas. The gas, though slightly lighter than air, diffuses throughout the room.

BBQs are designed for outdoor use and are not as well sealed as other indoor appliances. Generators immediately underneath an open window can also cause carbon monoxide poisoning.
Researchers at Nelson's Cawthron Institute welcomed aquaculture technicians from the Pacific Islands last month for a four-week knowledge exchange project funded through a joint Pacific Island government initiative.

Tuaine (Tutu) Turua, from the Ministry of Marine Resources in Rarotonga, Cook Islands, and Rennie Reymond, from the Ministry of Fisheries and Mineral Resources Development in Kiribati were recently hosted at the Cawthron Aquaculture Park in Glenduan, Nelson, for four weeks.

Tutu Turua and Rennie have backgrounds in mariculture (marine farming) and hatchery production of various native species of commercial and cultural interest for the Pacific communities (e.g., pearl oysters, sea-cucumbers, giant clams, seaweed, freshwater prawns).

"The aim of our visit was to learn from Cawthron researchers' shellfish hatchery expertise and take that knowledge back home to support our local shellfish industries."

Tutu and Rennie in the Cawthron Aquaculture Park labs working on their microalgae feed trial. Photo: Cawthron Institute.
Researchers at Gillies McIndoe Research Institute have recently published two new open-access papers in international journals. The first paper, by Matt Munro and published in 'Organoids', Applications for Colon Organoid Models in Cancer Research, outlines methods for generating colon organoids from patient-derived normal and tumour tissues. The researchers also discuss organoid biobanking, applications of organoids in disease modelling, and a range of platforms applicable to high-throughput drug testing, including apical-out/reverse-polarity colon organoids.
The second paper, with research lead by Dr Freya Weth, was published in 'Cells' in December. The paper, Utility of the Cerebral Organoid Glioma 'GLICO' Model for Screening Applications, reviews the recent literature on the use of patient-derived glioblastoma organoid models and their applicability for drug screening, as well as provide a potential workflow for screening using the GLICO model. Glioblastoma is an aggressive and virtually always fatal brain tumour. The GLICO model, or glioblastoma cerebral organoids, is a mini brain which provide an opportunity to study the disease.
Photo: National Cancer Institute.
CRISPR-Cas9 is an exciting new addition to the Malaghan Institute's repertoire of tools to investigate the immune system.
"There will always be new technologies that allow you to expand your research or even unlock knowledge that we had no way of accessing previously. CRISPR-Cas9 is one of those technologies," says Dr Olivier Lamiable.
Olivier, a member of the Ronchese Lab at the Malaghan Institute, is a team leader using revolutionary CRISPR-Cas9 technology to understand how allergic diseases develop on a cellular and molecular level.
"It allows us to precisely modify, add or remove specific parts of the DNA of live cells in a way that is faster and easier than any method before."
Dr Olivier Lamiable is working to understand which genes are involved in the function of a molecule that might be involved in conditioning T‑cells to react and drive allergic responses. Photo: Malaghan Video.
Mātai Medical Research Institute has farewelled 16 summer interns back to their tertiary studies. The Gisborne Herald interviewed some of the students and took a look at what they had achieved over the course of the programme, from learning new skills to forming lasting relationships.
The research undertaken at Mātai supports kaupapa Māori and the community on a journey towards a better understanding of a healthy brain, heart, and body. The interns participated in a cutting-edge research programme and had presentations from local and world leaders in their fields, both in person and online.
"Having the opportunity to listen to researchers who are world leaders in their fields was a highlight. It's incredible and speaks to the level of work that is going on here at Mātai," says intern Katie Blackburne, a neuroscience PhD candidate.
Some of the 16 2022/23 Summer Interns at Mātai Medical Research Institute. Photo: Mātai Medical Research Institute.
The future's looking brighter for a new generation of kauri trees. Working with scientists, rongoā Māori practitioners say they're close to finding a cure for kauri dieback disease.
Journalist Te Rina Kowhai from TV3's Newshub interviewed scientists Dr Amanda Black (soil scientist) and Dr Nick Waipara (plant pathologist) from Te Tira Whakamātaki (TTW) about mātauranga Māori solutions in the battle against Kauri dieback disease.
"I'm optimistic that it's there, we are not there yet but we are getting there," says Nick.
But Nick cautions that more research is still needed to validate whether the soil-pathogen phytophthora agathidicida has been eradicated from the sick kauri trees treated with rongoā.
Amanda explained how the kahikatoa spray used on the soil to treat the sick kauri, uses a mix of mānuka and kānuka and scientists have found that flavonoids from kānuka do inhibit phytophthora - the microorganism which causes kauri dieback.
The item aired on 10 January 2023.
About 10 minutes is all it takes for the air in a room to be exchanged with fresh air if you open windows on different walls. This helps remove or reduce particles that may be carrying viruses. This advice from the Indoor Air Quality Research Centre, which BRANZ helped establish, led to teachers ventilating classrooms as part of the COVID-19 response.
There are invisible dangers harbouring in the air inside some buildings that mean people might not be as safe indoors as they believe. Assembling the best minds in the country on 'all things indoor air quality' is helping to propel research in the field. This is in a bid to better understand the health effects and to find solutions to improving poor indoor air quality.
Experts from seven leading research organisations came together to form the Indoor Air Quality Research Centre (IAQRC): BRANZ, GNS Science, NIWA and the universities of Canterbury, Massey, Otago, and Victoria.
Horticulture feeds our country and is a vital part of the New Zealand economy. Those in the sector have a reputation for taking on hard work and getting it done, often in challenging conditions.
Between 2016 and 2020, the number of ACC claims in horticulture remained relatively steady, however, there was a spike in 2021. In partnership with Horticulture New Zealand, Mackie Research is working with industry experts to look at how work is done in horticulture, the patterns of harm that are emerging, what is already in place to manage harm and support wellbeing, and what further system capabilities could be built within the sector.
Mackie Research have recently published a report Building Systems Capability to Reduce Harm in the Horticulture Sector.
Harm hotspots identified from system analysis. Graphic: Mackie Research.
As vineyards age and succumb to trunk disease, there is an urgent need for information to support replanting decision-making. The selection of rootstock is one of the most important decisions in the development of a vineyard. To address this issue, the Bragato Research Institute recently started a rootstock research programme. A new research trial was planted in October 2022 in the Wairau Valley of Marlborough. It includes 14 rootstocks combined with three levels of irrigation, with the goal of identifying rootstocks that will prepare us for a warmer and drier future.
Dr Carmo Vasconcelos reports that climate change has impacted viticulture in almost all wine regions in recent decades, primarily due to rising temperatures, changing precipitation patterns, and an increase in the frequency of extreme events, affecting grape yield and quality.
She writes that the water footprint of agriculture is also under increased scrutiny, and industries need to be prepared for future restrictions on water available for irrigation.
Photo: Bragato Research Institute.
Aqualinc's Ross Hector studies septic tank systems and is continually looking for ways to improve them. He says it's common for rural landowners to dispose of wastewater via septic tanks or similar wastewater systems as the distance to a reticulated network is just too great.
But he says that many people with these types of systems may know little about it - exercising an 'out of sight, out of mind' policy. He says this is largely because visible on-site issues rarely occur.
"However, should a system not be functioning correctly, then concentrations of contaminants entering the environment, and groundwater in particular, may be more significant than expected."
This is especially concerning if systems are installed with close proximity to drinking water bores.
Ross writes that recent research has shown that as much as 30% of New Zealand's septic tank systems may have issues.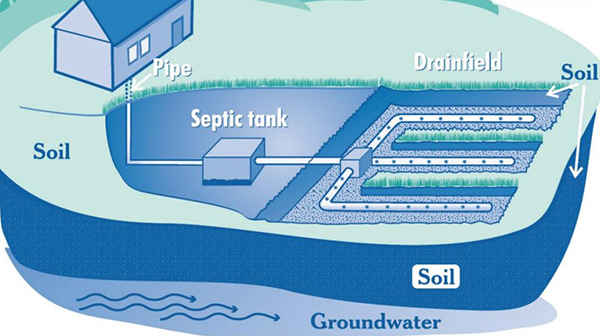 Image: Aqualinc.
We often hear the terms collaboration and co-design as we plan and undertake projects, but what do these mean in practice? Scarlatti's Senior research manager Denise Bewsell explores the topic.
"Let's say you have a project with input from over 240 researchers, extension personnel, farmers, and growers. How do you empower everyone? How can people be equally heard? How can people be enabled to make important decisions collaboratively?"
Denise writes that the IAP2 Spectrum of Public Participation is a framework used internationally to help determine the level of participation required for the public's role in a public participation process. IAP2 - International Association for Public Participation - seeks to promote and improve the practice of public participation / community engagement globally through targeted initiatives that are guided by culturally adaptive standards of practice and core values.
Graphic: Scarlatti.
A long-term study of the sustainability of new homes shows not a lot has changed in the past decade. While there has been significant growth in sustainability services, most homes are still built to basic Building Code requirements. It seems that sustainable housing won't increase until the Code requires it says BRANZ Building Scientist James Sullivan.

Since 2012, BRANZ has been tracking the sustainability indicators of new detached housing constructed in Aotearoa New Zealand. A study is carried out every 4 years, most recently in 2020 and focusing on random samples of newly consented detached houses in Auckland, Hamilton and Christchurch.

James writes that of the 210 houses examined in 2012, none could generously be classified as high performance with multiple elements having significantly above Code R-values. In the 2016 and 2020 samples, there were a few (7 and 5) – all in Christchurch.

Solar panels fitted on a roof. Photo: BRANZ.
The Ka Mātau, Ka Ora study is the largest evaluation of COVID-19 vaccine immune responses in New Zealanders, focusing on some of the populations at higher risk from COVID-19, such as Māori, Pasifika, the elderly and those with comorbidities.
The latest data shows a first booster dose significantly improves the ability of vaccine-induced immune responses to neutralise viral variants, including Omicron, across all demographic groups, following a period of waning immunity after a second dose.
"The results are a clear call to action to the nearly one million New Zealanders eligible but yet to get their first booster," says Dr Maia Brewerton, Clinical Director of Vaccine Alliance Aotearoa New Zealand – Ohu Kaupare Huaketo (VAANZ) which led the study.
"Vaccination continues to be one of the best tools we have for protecting ourselves and our whānau from getting really sick from COVID-19. But two doses isn't enough – at least one booster dose is key against Omicron, particularly for people vulnerable to more severe COVID-19 disease, including our Māori and Pasifika populations."
Bragato Research Institute is gearing up to 'evolutionise' Sauvignon Blanc, thanks to six scientists and a newcomer called PromethION.
Dr Darrell Lizamore leads the Sauvignon Blanc Grapevine Improvement Programme (Sauvignon Blanc 2.0) out of a laboratory at Lincoln University. He says the programme isn't traditional breeding, crossing or genetic modification, but a mission to sequence the DNA of New Zealand Sauvignon Blanc, looking for patterns of increased natural mutation that may help vineyards respond to future challenges. "Plants have an innate ability to change their own genetics when confronted with an environmental shock. If we can use this response to produce vines with different traits, then we could select those better suited to future viticulture."
From left, Dr Jessica Rivera Perez, Dr Ellie Bradley (epigenetics), Dr Bhanupratap Vanga (genotyping and phenotyping), Dr Solomon Wante (tissue culture), and Dr Darrell Lizamore (absent: Dr Annabel Whibley - bioinformatics). Photo: Bragato.
| | |
| --- | --- |
| | Former military man and now film-maker and correspondent Mikey Kay in Gisborne to film a piece on Mātai Research Institute for the GE Healthcare series 'On the Frontlines'. "There's amazing work happening at Mātai," he said. Photo: Mātai Medical Research Institute. |

International film-maker and journalist Mikey Kay says it has been "an honour" shooting an episode of the latest season of On the Frontlines docuseries in Gisborne.

Kay left the city "with a full heart" after filming a piece on the Mātai prostate cancer project and concussion research.

In the early months of the Covid-19 pandemic, GE Healthcare launched the On the Frontlines series to capture the efforts and response of the healthcare industry around the world.

Over two years later the series continues to tell stories about the greatest global health challenges and innovations, and the patients, clinicians and technology involved.
Dr Kyuhan Kim visited his home town in September and October 2022 for the first time in nearly three years. Not only was it an opportunity to see his family again, but also to share his research in best-practice fisheries science.

Kyuhan presented part of his PhD research at the annual meeting of PICES. PICES is an intergovernmental science organisation that coordinates marine research in the North Pacific. Member countries include China, Japan, Russia, US, Canada and South Korea. This year the meeting was conveniently held in his hometown of Busan.

"I spoke about the stock assessment models I developed at university and in my work at Dragonfly. I suggested some possible improvements for the current methods. About 30 people were in my session, and there was quite a lot of interest in my work."

Kyuhan also spent time sharing his knowledge with the staff and marine biology students at Pukyong National University, where he studied for his masters degree.

Kyuhan presenting a talk at South Korea's National Institute of Fisheries Science. Photo: Dragonfly Data Science.
Society depends on services and benefits provided by ecosystems. Yet, many of our actions affect ecosystems in ways that undermine long-term human well-being. Although ecosystems provide many services to society, many of these services are not accounted for in land-use decisions.

Motu Economic and Public Policy Research reports that one of its most popular papers published in the last 12 months was Valuing forest ecosystem services in New Zealand.

The paper, authored by researcher Hannah Kotula, describes several ecosystem service frameworks and outlines how these frameworks can inform land-use decisions, focusing on those involving forests. She also describes methods for valuing ecosystem services and gives examples of forest ecosystem services and draw conclusions based on existing valuation studies in Aotearoa New Zealand. The paper conveys how an ecosystem service approach could be used to capture benefits from ecosystems not often accounted for in land-use decisions.
Check out the IRANZ multimedia page for more.
RNZ/Malaghan: How our immune systems change as we age
Kiwi-born renown immunologist Michelle Linterman, currently based at the Malaghan Institute, talks about her research into how our immune system changes as we age on Radio New Zealand's Nine to Noon show.
HERA Podcast: Ep. 83 - Closing the loop
In this episode of Stirring the Pot HERA talks with Kelly McClean. Kelly is a Senior Consultant for Circular Economy at Aurecon with a background in materials, design and research. She is tasked with helping clients design and implement circular economy strategies.
TTW/NewsHub: Leading kauri dieback scientists back indigenous knowledge to restore Aotearoa's kaurilands
The future's looking brighter for a new generation of kauri trees. Working with scientists, rongoā Māori practitioners say they're close to finding a cure for kauri dieback disease.
| | |
| --- | --- |
| IRANZ has gone social. For up-to-date information about the activities of our member organisations and same-day notification of updates to the website follow us on the link below. | |
WHO WE ARE
IRANZ is an association of independent research organisations. Its members undertake scientific research, development or technology transfer. Members include Aqualinc Research Ltd, Bragato Research Institute, BRANZ, Cawthron Institute, Dragonfly Data Science, Gillies McIndoe Research Institute, Heavy Engineering Research Association (HERA), Land & Water Science, Leather & Shoe Research Association (LASRA), Lincoln Agritech Ltd, Mackie Research, Malaghan Institute of Medical Research, Medical Research Institute of New Zealand (MRINZ), Mātai Medical Research, M.E Research, Motu Economic and Public Policy Research, New Zealand Brain Research Institute, New Zealand Institute of Minerals to Materials Research, Scarlatti, Takarangi Research Group, Te Tira Whakāmataki, Verum Group, WSP, and Xerra Earth Observation Institute.
Contact: Dr Rob Whitney, Executive Officer, mobile: +64 27 2921050, email: information@iranz.org.nz
Copyright © iranz