Firstly, Season's Greetings to all our readers in the science community and beyond. We hope that you all take some much-needed time off to spend with family and friends this festive season and recharge your wellbeing cup to make ready to tackle the challenges laid before us in the coming year.
The past couple of months has provided interesting times for our Independent Research Organisations (IROs): the Government's Te Ara Paerangi - Future Pathways White Paper was released on 6 December; IRANZ has welcomed a couple of new member organisations; several members have been successful in the recent Marsden Funding round; and we say goodbye to one of our members – PlantTech, who unfortunately has had to shut its doors.
PlantTech Research was formed to apply cutting edge artificial intelligence and machine learning to the scientific challenges in New Zealand's horticulture industry, with the company attracting some of the best and brightest from around the world, and already they had been making headway in a number of research areas. Image: PlantTech
Motu Seminar: Data to understand structure of research organisations – & bias against women in science
Malaghan: Professor Mike Berridge - A journey through the frontiers of the biological sciences
Lincoln Agritech: Science on a stamp
Bragato welcomes new General Manager - Research & Innovation
Dragonfly: Pāua abalone science update
HERA: University of Auckland final year students' project presentations and awards
Verum Group looking after the littlest kiwi
Cawthron: Fostering a pipeline of future scientists and scientific leaders
BRANZ: National Construction Pipeline Report 2022
. . . and more.

Follow the link for more details on the December 2022 news briefs from our Independent Research Organisations.

Science on a stamp: Lincoln Agritech's Dr Adrian Tan developed the snow radar, and was in the back of the helicopter controlling the EM-bird when the photo the stamp is based on was taken. Image: NZ Post.
| | |
| --- | --- |
| | Associate Professor Justin Fernandez, Auckland Bioengineering Institute and Principal Investigator at Mātai Medical Research, demonstrates an MRI. Photo: Mātai Research. |

Auckland Bioengineering Institute Associate Professor Justin Fernandez (Principal Investigator), and Associate Professor Samantha Holdsworth, Chief Executive and Director of Research at Mātai (Associate Investigator), were successful in a Marsden Fund bid for $870,000 to research using ultra-fast functional MRI scans to reveal differences in the way the brain responds between people who are neurotypical and people who have ADHD.

Professor Holdsworth says, "Justin's project is using super-fast functional MRI methods (called 'hyperband fMRI') to look at the brain in a different dimension. This exciting study may help us get closer to better understand the role of fidgeting in ADHD, and provide a more reliable tool to diagnose ADHD."

Professor Fernandez says hyperband fMRI opens a window into fast sub-second dynamic brain networks not observed before in Attention Deficit Hyperactivity Disorder (ADHD).
Takarangi Research has successfully competed in the latest Marsden Fund round, winning $870,000 for a new research project to rediscover hidden narratives from Māori oral historical perspectives where kūmara are central threads.

Takarangi Principal Professor Paul (Paora) Tapsell says there is significant potential to unlock and rediscover hidden narratives from Māori oral historical perspectives - in this case around the cultivation of kūmara.

"We aim to uncover new or customary narratives about settlement, histories, and kōrero of Aotearoa and reconsider the potential wealth of kūmara culturally and economically in today's terms."

Pre-European contact, kūmara was a staple root crop for marae communities, with origins from South America.

Mātauranga kūmara specialists inspecting crops in Hokianga. Photo: Pā to Plate Project/Takarangi Research.
How much sea ice is there, how much does it drive climate change, how much is it affected by climate change, and what does that mean for the future of our planet?
The answers to these questions should become clearer as a result of a $929,000 Marsden Fund award to devise new ways of measuring sea ice.
Lincoln Agritech researcher Dr Adrian Tan is part of the team, led by Assoc. Professor Wolfgang Rack of the University of Canterbury, that will measure the largest stretches of Antarctic sea ice in history, and shed light on its role in a warming climate. They are both Principal Investigators in the research.
Antarctic sea ice acts as a giant solar reflector covering up to 90% of the Southern Ocean. But it's been difficult to estimate how much is gained or lost each year, as satellites could only measure the area of sea ice, but not its thickness. Photo: Lincoln Agritech.
Cawthron Institute is celebrating the 3 November announcement by the Royal Society Te Āparangi that three new research projects that involve or are led by Cawthron researchers have received grants through the Marsden Fund.
Cawthron freshwater scientist Dr Simon Stewart will lead a project that aims to understand the link between īnanga (whitebait) and tuna (longfin eel) populations in rivers and consider whether rewilding might be the key to restoring the ecosystems that support them.
Cawthron Institute freshwater scientist Dr Laura Kelly will co-lead a project alongside Dr Kim Handley at the University of Auckland which will investigate a new theory of evolution within the field of ecology known as the 'Black Queen Hypothesis', by studying how and why some cyanobacteria (blue-green algae) have evolved to produce toxins and others haven't.
Longfin eel (tuna) in the Hutt River/Te Awa Kairangi. Photo: Louise Thomas.
A new study has its sights set on better understanding the far-reaching consequences for a person's health and wellbeing of nurturing a growing immune system.

Funded by the High-Value Nutrition Ko Ngā Kai Whai Painga National Science Challenge, the SUN (Seeding throUgh FeediNg) study is investigating whether introducing dietary fibre to babies as they first start to eat solids can promote good gut and immune health.

The study involves researchers from the University of Auckland, AgResearch, Plant & Food, Massey University's Riddet Institute, the University of Otago and the Malaghan Institute.

In the first months and years of life, the immune system is learning to recognise what is good, what is harmful, and what's needed to keep healthy. How the immune system develops in these formative years, in particular how the environment (such as diet) and gut bacteria (or microbiome) shapes the profile of immune cells, can set a person up for life.
A groundbreaking clinical trial has shown that early initiation of active exercise in adults receiving life support in the Intensive Care Unit (ICU), does not improve patient outcomes and significantly increases the risk of adverse events.

The Trial of Early Active Mobilisation, TEAM study, was published on 27 October 2022 in the prestigious New England Journal of Medicine (NEJM).

Senior study author, MRINZ Deputy Director and Intensive Care Medicine Lead, Professor Paul Young, says, "The notion that exercising patients soon after starting life support might prevent development of muscle weakness was very appealing but previous clinical trials evaluating this strategy were small and inconclusive. We were surprised to find that this practice was not just ineffective but also potentially harmful."
| | |
| --- | --- |
| | In Heather's case, the tumour was growing inside and outside her nose, and was interfering with her feeding. The strawberry birthmark reacted very quickly to treatment, beginning to reduce within six months and disappearing completely within 18 months. Photo: Gillies McIndoe. |

Stuff reporter Melanie Carroll covers research on developing a topical treatment for strawberry birthmarks. The article covers early work by the team from Gillies McIndoe, and new research coming from a partnership of Gillies McIndoe, Massey Ventures, and AFT Pharmaceuticals.

The article examines the case study "Heather". When Heather was born, she looked just like any other baby. Within days, a strawberry birthmark started to appear on her nose and within seven weeks it grew so quickly it was affecting her breathing.

Heather was one of the first children to access revolutionary treatment using beta-blockers in a clinical trial from Dr Swee Tan and his team at Gillies McIndoe Research Institute (GMRI).

Strawberry birthmarks are benign but fast-growing vascular tumours, appearing mostly around the head and neck. However, they can put children at risk depending on where they develop.
Some of New Zealand's native plants are critically endangered. In this RNZ interview Te Tira Whakamātaki Māori biosecurity researcher and policy advisor Marcus-Rongowhitiao Shadbolt says we need to get serious about seed banking, to protect them for future generations.

"We have one-in-13 native plants currently at risk of extinction," says Marcus-Rongowhitiao.

"On our nationally critical list - which is the most endangered a plant can be - there are 37 species. To get onto this nationally critical list, there has to be less than 250 mature individuals left in the wild."

Shadbolt says Aotearoa currently doesn't pay enough attention to seed banking as a practice - his work at Te Tira Whakamātaki is dedicated to helping design a more effective way of safeguarding our native plants.
| | |
| --- | --- |
| | Verum Group's senior environmental scientist and occupational hygienist William Porter. Photo: Verum Group. |

Too many people in Aotearoa New Zealand die or suffer from work-related ill-health and disease. Estimates from the Ministry of Business, Innovation and Employment (MBIE) show 600 to 900 people in New Zealand die each year from work-related diseases, with thousands more suffering serious ill health.

Verum Group's Occupational Hygienist William (Billy) Porter says the problem is often insidious.

"If someone falls through a skylight, it's a highly visible and easily categorised event. Work-place illness actually kills far more people. Work accidents kill about 50 people a year in New Zealand; you are more than six times more likely to die from a work-related disease than from an accident at work. Yet work-place disease seldom makes the news," says Billy.
Rootstocks are an essential but poorly understood component of winegrowing in New Zealand. Rootstocks can confer favourable properties on the grafted plant, including insect resistance, tolerance of soil biotic and abiotic conditions, and other impacts on the scion. However, the industry does not have robust knowledge relevant to local conditions in order to make informed choices about the best rootstock options for a particular planting situation.

The Bragato Research Institute (BRI) has developed a trial to generate this knowledge to support rootstock choice, and earlier this month the BRI team planted a trial block of 15 different rootstocks. The trial is a split-plot of three different irrigation levels.

Focusing on Sauvignon Blanc, the trial aims to identify rootstocks that will confer drought tolerance and maximise the productive water use efficiency while maintaining high productivity and the characteristic style of Sauvignon Blanc that consumers expect.

Photo: Bragato Research Institute.
In the recent Irrigation New Zealand Spring Magazine, Aqualinc's Senior Environmental Engineer Neal Borrie talks about Dairy Farm Effluent management with AgVice Ltd founder Debbie Care.
Neal has been involved with the design and consenting of "dirty" water projects for over 30 years - projects that involve the irrigation of effluent or wastewater onto land for beneficial reuse.
Neal says there is a growing understanding by farmers of the importance of Farm Dairy Effluent (FDE) systems and the need for the system to be compliant with regional council consent conditions and permitted activity rules. He says he's seen a few changes over the years in the way things are done, including the lining of effluent ponds with synthetic liners so that contaminants can't leach into the ground water.
| | |
| --- | --- |
| | Climate change predictions suggesting wind speeds could increase by up to 10 percent in some parts of the country. Photo: WSP Research. |

New research commissioned from WSP by the Building Research Association (BRANZ) has found Aotearoa New Zealand's light-framed timber building designs are well placed to withstand higher wind speeds due to climate change.

With climate change predictions suggesting wind speeds could increase by up to 10 percent in some parts of the country, WSP researchers set out to understand how this could impact the design and construction of houses and timber-framed buildings.

A four-strong team of technical experts analysed the effect of increasing wind speeds by five, 10, and 15 percent on design solutions from several key building standards.

Results showed minimal design changes at five and 10 percent. This is because most of the building design standards used in New Zealand are conservatively designed for use in all wind zones. At 15 percent some minor changes to building design may be needed.
In what's understood to be a world-first study, scientists from WSP Research are about to start investigating an environmentally friendly way of recycling chip seal and re-using its ingredients in new road surfacing.
WSP Petone-based research manager for transport Matt Sharp is confident that lab trials will result in a sustainable recycling process that brings Aotearoa New Zealand a step closer towards a circular economy in road surfacing.
"When a chip-sealed stretch of road reaches its use-by date, it's usually milled up and disposed of in clean fill. That's hardly a win for roading sustainability. In this feasibility project, we're looking at whether we can extract, and re-use, bitumen and aggregate from old chip seal in a way that doesn't harm the planet and preserves usability," says Matt.
The project is being funded through Waka Kotahi's Hoe ki angitū Innovation Fund.
Photo: WSP Research.
Mackie Research are partnering with Auckland Transport, Massey University, and local Māngere bike hub and training provider Triple Teez (Time-To-Thrive) to better understand what is needed to encourage e-bike uptake in lower income communities. The team will provide skills training and an e-bike for day-to-day use to Māngere residents, community organisations, and workplaces. Mackie Research and Massey University will work with participants and training providers to identify the opportunities for e-bike use, barriers to accessing, using, maintaining, and retaining e-bikes, and low-cost options for facilitating e-bike uptake.
Blessing of the ebikes to be used in the Māngere ebike trial. Photo: Mackie Research.
HERA has recently released a series of articles around their Endeavour-funded Construction 4.0 research outlining the details of their three main sub-programmes: Circular design, led by Dr Michail Karpenko; Smart construction, led by Dr Alice Chang-Richards; and Monitoring 4.0, led by Professor Babak Moaveni.

Construction 4.0 is an international collaboration led by HERA to improve productivity for the construction sector, with key outcomes including better economic performance, building and infrastructure affordability, and a larger workforce which is more skilled, innovative, and digitally literate.

The project includes researchers from AUT, Massey University, Tufts University, University of Michigan, University of Miskolc, University of New Hampshire, Universities of Auckland, Canterbury, and Waikato, as well as BRANZ, HERA, and others.

Project Lead for Monitoring 4.0 research, Tufts University (USA) Department of Civil and Environmental Engineering, Professor Babak Moaveni. Photo: HERA.
BRANZ Chief Executive Chelydra Percy. Photo: BRANZ.

As the increase in extreme weather events demands changes in where and how we build our homes, we can turn to nature for answers, says BRANZ CEO Chelydra Percy.

"There is no question that the building and construction industry in Aotearoa New Zealand has largely met the challenges of the environment to date. We build strong and resilient structures that often outlast their nominal required life. But if you're the owner of a solid, well-built home that's been flooded three times in 12 months, chances are you're questioning whether that's enough.

"We must look at resilience through a different lens and build with nature, rather than try to fight against it. Climate change and its associated weather events require us to shift our thinking about where, what, and how we build."
Maximiliano Hernandez, a PhD student at the Institute of Marine and Coastal Research in Argentina, recently spent two weeks at Dragonfly Data Science to begin the first seabird risk assessment for species from his country.
Since Dragonfly Environmental Data Scientist Dr Yvan Richard published his first risk assessment for New Zealand seabirds in 2011, he's shared the methods with international teams, including Japanese and Chilean fisheries scientists. Extending the cooperation to Argentina through Maxi's PhD research was a welcome next step.
Yvan says international collaboration is in everyone's best interests. "Seabirds fly all around the world, so it's really important that every country can do these kinds of analyses. Then we can find out where the risks are and work together to reduce fisheries bycatch."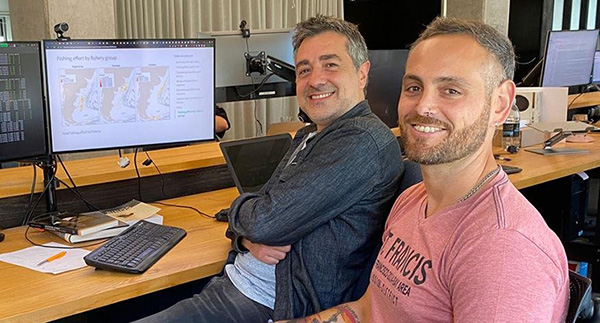 Yvan, left, and Maxi working together at Dragonfly. Photo: Sarah Wilcox, Dragonfly.
Motu Research Fellow Dr Lynn Riggs recently published research on the distributional effects of carbon policy - she says that the work was to bring together the guidance from two typical streams of literature on the subject - the effect carbon policy might have on households and the effects on production sectors, such as employment.

Lynn writes that there are two common arguments against carbon policies – that these polices disproportionately affect lower income households and that the overall effect on jobs and businesses will be negative, and that much of the existing literature has arisen around one of these premises.

However, she writes that the research finds that well-designed carbon policies are consistent with growth, development, and poverty reduction, and both literatures provide guidance for policy design in this regard.
An effective wellbeing programme involves a lot more than encouraging people to move and eat their veggies.

Scarlatti's senior research manager Dana Carver writes that for the past two decades, organisational wellbeing programmes have mostly consisted of step challenges and green smoothies. "But how many people are really excited about strapping on a Fitbit and powering up the juicer? Well, we can tell you: less than 20%."

Dana says modern wellbeing programmes are an integral part of a business strategy.

"The New Zealand Health and Safety Act states that, 'workers and other persons should be given the highest level of protection against harm to their health, safety, and welfare from work risks as is reasonably practicable.' Regulation of psychosocial hazards has already started in other countries. It won't be long until New Zealand businesses will be required to have robust wellbeing measures in place."
What if dairy farmers could know a paddock's pasture cover and how much dry matter per cow it contained, just by looking at it? Or if they could access information about a cow's body condition score the same way?
Working with DairyNZ, Lincoln Agritech is investigating augmented reality to see what difference it could make on dairy farms, including its potential benefits and limitations.
Augmented reality (AR) is a fast-growing technology that adds information to what people can perceive with their senses. For example, using a headset, special spectacles, or earphones, it may provide data about an object or animal a person is looking at, such as the health or performance data of a cow.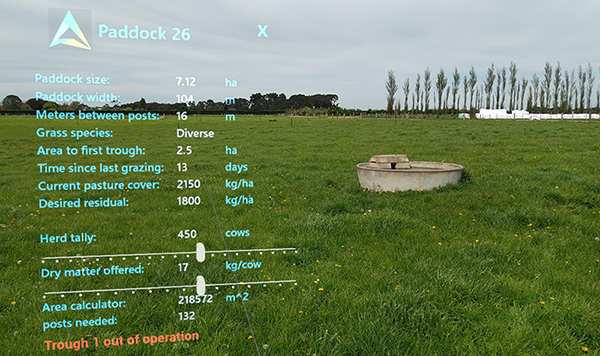 Example of paddock data shown in the AR headset after the farmer has looked at the paddock's QR code at the gate (development: J. Scholten, 2022; example: Dairy Farm, Canterbury). Photo: Lincoln Agritech.
The national Lakes380 research programme led by GNS Science and Cawthron Institute has released a new documentary film featuring world-renowned limnologist Emerita Professor Dame Carolyn Burns of the University of Otago.
Produced by Cawthron Institute social scientist Dr Charlotte Šunde with funding support from the New Zealand Freshwater Sciences Society, the interview with Dame Carolyn includes reflections on her decades long career as a scientist with expertise in the field of limnology, or the study of inland aquatic ecosystems.
Dame Carolyn has been a freshwater conservation advocate for most of her life, serving in leadership roles for the International Union for Conservation of Nature (IUCN), as Chair of the Nature Conservation Council from 1978 to 1983, and as President of the International Society of Limnology from 1995 to 2001.
Photo: Cawthron Institute.
Check out the IRANZ multimedia page for more.
RNZ/Te Tira Whakamātaki: Banking the seeds of our precious plants
Some of New Zealand's native plants are critically endangered and one researcher says we need to get serious about seed banking, to protect them for future generations. RNZ's Emile Donovan, co-host of The Detail, interviews Te Tira Whakamātaki Māori biosecurity researcher and policy advisor Marcus-Rongowhitiao Shadbolt.
Malaghan Institute: Transforming our immune cells into cancer killers
Kirsty Wakelin and her team are the people who manufacture CAR T-cells from the cells of cancer patients on the Malaghan Institute's CAR T-cell trial. She talks about what is most rewarding about working behind the scenes to provide treatments that patients otherwise would not have access to.
| | |
| --- | --- |
| IRANZ has gone social. For up-to-date information about the activities of our member organisations and same-day notification of updates to the website follow us on the link below. | |
WHO WE ARE
IRANZ is an association of independent research organisations. Its members undertake scientific research, development or technology transfer. Members include Aqualinc Research Ltd, Bragato Research Institute, BRANZ, Cawthron Institute, Dragonfly Data Science, Gillies McIndoe Research Institute, Heavy Engineering Research Association (HERA), Land & Water Science, Leather & Shoe Research Association (LASRA), Lincoln Agritech Ltd, Mackie Research, Malaghan Institute of Medical Research, Medical Research Institute of New Zealand (MRINZ), Mātai Medical Research, M.E Research, Motu Economic and Public Policy Research, New Zealand Brain Research Institute, New Zealand Institute of Minerals to Materials Research, PlantTech Research Institute, Scarlatti, Takarangi Research Group, Te Tira Whakāmataki, Verum Group, WSP, and Xerra Earth Observation Institute.
Contact: Dr Rob Whitney, Executive Officer, mobile: +64 27 2921050, email: information@iranz.org.nz
Copyright © iranz