"Here in Aotearoa New Zealand two-thirds of our rare ecosystems are under threat of collapse, and from what we can see it's been getting worse. In fact, there is evidence to suggest New Zealand is losing species and ecosystems faster than nearly any other country," says Te Tira Whakamātaki co-founder Melanie Mark-Shadbolt.
At the Speaker's Science Forum on 10 August, MPs gathered to hear Māori academics Dr Shaun Awatere (Ngāti Porou) and Melanie Mark-Shadbolt (Ngāti Kahungunu, Rangitane, Ngāti Porou, Te Arawa, Ngāti Raukawa, Tūwharetoa, Whakatōhea, Te Ātiawa) discuss alternative forms of environmental governance.
As well as explaining alternative forms of environmental governance for disasters, disease, and climate change, the pair outlined the social problems associated with the growing issues around environmental degradation. On a positive note, they also shared examples of communities and new actors playing critical decision-making roles in how we conserve and sustainably use our natural resources, and how mātauranga (Māori knowledge) and Te Tiriti o Waitangi (The Treaty of Waitangi) are already guiding environmental policy and governance.
Endeavour Fund success for IRANZ members
Melanie Mark-Shadbolt keynote at TMBC Biosecurity Excellence Symposium
Takarangi Research: Professor Paora Tapsell to speak on "Crucial Decade" panel
Verum Group sponsors Christchurch Art Gallery Te Puna o Waiwhetū
Chamber of Commerce members go behind-the-scenes at WSP Research
Dragonfly contributes to global Covid response
Bragato Research Institute now offers Nanopore sequencing service
Lincoln Agritech helping out the Fairfield Project
Cawthron: Salmonid Ecology Scholarship launched in late Brian Weatherhead's name
Motu researchers win NZAE prizes
HERA: Lydia Frater recipient of HERA Whanake Scholarship
. . . and more.

Follow the link for more details on the September 2022 news briefs from our Independent Research Organisations.

Professor Paora Tapsell (Te Arawa, Tainui), Principal of Takarangi Research, author of Kāinga: People, Land, Belonging, and IRANZ representative on MBIE's Te Ara Paerangi / Future Pathways Advisory Panel is a guest speaker on the Crucial Decade panel to be chaired by broadcaster Kim Hill at the Nelson Art Festival on 23 October 2022. Photo: David St George.
| | |
| --- | --- |
| | Technician at the Cawthron Institute's Te Wero Aro-anamata aquatic biocontainment facility (PC2). Photo: Cawthron. |

The Cawthron Institute is celebrating the Government's announcement that two new research projects into emerging aquatic diseases and estuary health monitoring will receive support through MBIE's Endeavour Fund.

Cawthron's 'Emerging Aquatic Diseases' Research Programme has been funded for five years, assembling a project team of Cawthron researchers led by Drs Kate Hutson, Ian Davidson, and Patrick Cahill alongside expert partners from Aotearoa New Zealand and abroad to develop cutting edge diagnostic tools for aquatic disease.

Project Science Leader Dr Kate Hutson says 'Emerging Aquatic Diseases' aims to manage the threat of aquatic disease by developing better diagnostic frameworks and tools. "Harmful aquatic diseases have a destructive impact on New Zealand's marine and freshwater animals and plants and represent a significant ongoing risk."
The research arm of WSP has just received $9.1 million in funding from the Ministry of Business, Innovation and Employment's (MBIE) Endeavour Fund to investigate the use of biomass as a replacement for roading bitumen.

Biomass is organic material that comes from living organisms, such as plants. It offers enormous potential as a substitute for petroleum derived bitumen for road surfacing - in Aotearoa New Zealand and internationally.

WSP's five-year research programme – titled 'sustainable biomass-derived materials to replace bitumen for transport infrastructure' - will see chemists and materials researchers investigate new ways of converting woody biomass into a stable, permanent, and recyclable bitumen alternative.
HERA, the Heavy Engineering Research Association, has been awarded a grant of close to $10.3 million from the Endeavour Fund to support a four-year research project focused on transforming the construction sector in Aotearoa New Zealand using Construction 4.0 approaches. Fundamentally, it will improve productivity for the construction sector, with key outcomes including better economic performance, building and infrastructure affordability, and a larger workforce that is more skilled, innovative, and digitally literate. Informed by experts in Mātauranga Māori and its interface with engineering, and by specialists in sustainability and resilience in the built environment, it makes this research unique globally and aligned to social outcomes and intergenerational wellbeing.
HERA CEO Troy Coyle says, "Our research team is both excited and thankful that the Science Board, assessors, and the Minister of Research, Science and Innovation appreciate the significant contribution this project will make to the sector and the New Zealand economy. This programme not only addresses key challenges identified by our members and wider industry, but will be world-leading in creating data-driven decision-making for the future of construction."
Dr Garry McDonald of M.E Research is co-leader of the Adapting to climate change through stronger geothermal enterprises, five-year, $6,460,260 Endeavour Project. The project will be co-led by Professor Shane Cronin of the University of Auckland.
"The Taupo volcanic zone is a bit like Yellowstone in the US in which deep seated magma is heating groundwater to create geothermal features. In Yellowstone, these are major tourist attractions, in New Zealand they are both tourist attractions and a means of generating renewable baseload energy for electricity and industrial heat – our geothermal resources are critical for our economy and sustaining our electricity grid," says Garry.
The Wairakei Geothermal Power Station. Photo: Louise Thomas.
Daniel is working alongside University of Canterbury Professor Renwick Dobson and Associate Professor Volker Nock, as well as Dr Tanya Rutan from Bragato Research Institute in Marlborough. Photo: Bragato.

PhD student Daniel Mak, along with his University of Canterbury team, has been successful in receiving an MBIE Smart Ideas grant for his Winealyse technology that simplifies wine testing methods and cuts out traditional methods that require lab equipment. The technology will make it easy for winemakers to get lab-quality results right at the tank and will be cheaper than sending samples to a lab.

"Winealyse uses Lab-on-a-Chip (LoC) technology to replace lab-based testing methods. LoC uses microfluidics to miniaturise testing into small, hand-held devices. We are currently working on a device to test for glucose and fructose that will allow winemakers to do a quick, easy, and cheap test. We are also looking to expand the tests we can do for other analytes like malic acid, YAN, and alcohol," says Daniel.
Aqualinc are contributing to the success of the joint NASA - National Aeronautics and Space Administration / Air New Zealand/ NZ Space Agency Rongowai mission, being led by Professor Delwyn Moller from the University of Auckland.
In a world-first, Air New Zealand flight NZ8844 took off on Tuesday 13 September from Christchurch to Nelson carrying a NASA next-generation satellite receiver.
Using direct and reflected GPS and Galileo signals, the Global Navigation Satellite System (GNSS) receiver will collect unique environmental data to better predict storms and enable new climate change research.
Air New Zealand is the first passenger airline in the world to join a NASA earth mission, working together since 2020 on the design, installation, and certification of the receiver onboard one of its Q300 aircraft.
Aqualinc researchers are part of the team monitoring soil moisture in situ at multiple locations in Northland and Auckland regions. Aqualinc's Research Director, Dr John Bright, says ground-based data is critical for calibrating and validating models used to calculate soil moisture content from remote sensing data from Air New Zealand aircraft and NASA's CYGNSS satellites.
Dragonfly's Philipp Neubauer was part of an international team of scientists that researched how a nuclear war would affect the world's marine environments. Their work was published in July.

The team simulated the climate effects of nuclear wars in a global Earth system model. Several scenarios of India-Pakistan and US-Russia wars were simulated.

The report found that in all scenarios, firestorms would deliver soot to the upper atmosphere, block out the Sun and cause global cooling. The sudden drop in light and ocean temperatures would kill marine algae, which is the foundation of the marine food web. This would essentially create a famine in the ocean and halt most fishing and aquaculture.

"The consequences for marine ecosystems and all life on Earth are drastic," says Philipp.
A highly-educated population is a known key driver of local growth and prosperity, but one of the main challenges facing non-metropolitan regions is convincing highly educated young people to move into their area and then keeping them. In turn, losing the brightest from a community can lead to reduced business creation, innovation, growth, and community well-being in such regions.
What are the specific drivers that encourage graduates to settle in a particular place? What are the chances of students returning upon graduation? Is there potential to attract other graduates to the area?
Building Better Homes, Towns and Cities National Science Challenge (BBHTC) researchers at Motu Economic and Public Policy Research have analysed the locations of choice of university and polytechnic students in New Zealand.
Recent Science Graduates from Victoria University of Wellington at the May 2022 capping parade. Photo: Louise Thomas.
New research from Motu Economic and Public Policy Research shows parents are largely not to blame for economic inequality between men and women in Aotearoa New Zealand. Other factors in society, outside parents' control, are contributing more to ongoing harmful economic gender inequality, meaning men have better economic outcomes than women.
This research investigates if gender attitudes and inequality in Aotearoa are passed down the generations from parents to children. This research used data from children up to age eight and their parents who are part of the Growing Up in New Zealand long-term research project.
The researchers say that addressing society's norms would likely have positive effects, including helping parents to treat boy and girl children more equally without feeling constrained by social pressures.
This Stuff article and video by Geraden Cann covers the recent work by IRANZ member Xerra Earth Observation Institute using their Starboard Maritime Intelligence product, a maritime domain awareness platform using satellite data.
Kiwi startup Xerra has detected up to 100 possible "dark vessels" during an exercise to crack down on illegal fisheries around Tuvalu.
Xerra senior scientist Moritz Lehmann says the rate of detection was higher than expected, and the findings could indicate illegal fishing was a bigger problem than currently thought in the waters around the small Pacific nation.
The focus of recent exercises has been on illegal fishing, but the technology can also be used to detect smugglers and clandestine meetings at sea.
Moritz says there was awareness that illegal behaviour went on at sea, but dark vessels illegally fishing often went overlooked.
Sometimes a research project leads not just to new technologies, but also to new ways of working. This was the case with a project to develop workforce robots for primary industries, which began in 2017.
It was funded for two years with a $2m grant from the Ministry of Business, Innovation and Employment's National Science Challenge Science for Technological Innovations (SfTI) project. The interdisciplinary programme included scientists from Lincoln Agritech, Scion and the universities of Auckland, Canterbury, and Otago, as well as Massey University and Victoria University of Wellington.
They proposed developing self-learning robots that could work in harsh outdoor environments such as agriculture and forestry. These robots had to be able to detect and operate safely around human workers, as well as navigate rough terrain.
The prototype robot is put through its paces during a recent demonstration day. Photo: Lincoln Agritech.
| | |
| --- | --- |
| | Laura and Carol have expanded their research to other New Zealand species, including bellbird/korimako (Anthornis melanura). Photo: Louise Thomas. |

In August, Research Scientist Dr Carol Bedoya had the pleasure of presenting Verum Group's bioacoustic research to the Cornell Lab of Ornithology, which manages the global eBird site. Carol presented about deep clustering approaches for the individual identification and censusing of birds by their calls, a type of passive acoustic monitoring, that he and Behavioural Ecologist Dr Laura Molles have been developing.

Carol says the method had caught the attention of Cornell's Lab, leading to his invite to present at the Acoustic Methods seminar there.

"The scrutiny of experts that work in the same field is fundamental in scientific research. This seminar is important for us because it is probably the most technical audience we could ever have."
Te Tira Whakamātaki's (TTW) inaugural Māori Biosecurity Symposium, Te Wānanga Whakamātaki, was held over three days at the end of July in the rohe of Te Ātiawa, Taranaki.

Co-hosted by Biosecurity New Zealand, the wānanga showcased the work of local Māori biosecurity practitioners and initiatives led by hapū/iwi and Māori communities. The symposium was an opportunity for hapū/iwi and Māori communities involved in the biosecurity system to come together for the first time nationally, and it highlighted issues in the system, but also opportunities to ensure Aotearoa New Zealand's biosecurity system is connected, well-resourced, and Tiriti-led.

"Encoded in our culture and language are solutions for numerous environmental and social issues so we need to reclaim our culture and language to access those answers," says Te Tira Whakamātaki's co-founder Melanie Mark-Shadbolt.

With close to 300 people in attendance, in-person and on-line, the speaker line-up boasted an array of industry stalwarts including Stuart Anderson and Stu Hutchings from Biosecurity NZ, Te Ahukaramū Charles Royal, Aroha Te Pareake Mead, and panels of kaumatua and rangatahi. Photo: Te Tira Whakamātaki.
The Earthquake Commission (EQC) is celebrating a triumph of research that has helped New Zealand homes become stronger and could soon become part of many current building designs.

The engineering breakthrough stems back to the Canterbury earthquakes when BRANZ engineer Dr Angela Liu observed that new or architecturally-designed homes with mixed bracing had suffered significantly more damage than older traditionally built houses.

"You'd expect modern homes to be stronger, so it just didn't add up and EQC supported me to investigate why these houses were so badly damaged," says Dr Liu.

The results of her EQC-funded research identified bracing issues and led to design guidance for bracing systems in light timber-framed residential buildings.
The team at the New Zealand Brain Research Institute is currently recruiting for a worldwide clinical trial of a new investigational treatment (gantenerumab) for people at risk for Alzheimer's dementia.
Alzheimer's dementia is thought to be caused by a combination of factors which trigger brain changes, with the subsequent accumulation of amyloid protein outside the brain cells (neurones) and tau protein tangles inside brain cells. This ultimately leads to the loss of brain cells and symptoms. Research show that amyloid accumulation may start up to 20 years prior to the start of clinical symptoms. This study plans to examine the effect of gantenerumab on people with normal cognition, but who are at risk of developing Alzheimer's dementia because they have increased level of amyloid in their brain. To be eligible for this study, participants have to be 60-80 years old, have normal cognition, and have elevated level of amyloid protein in the brain - which can be evaluated by screening. To enquire about being part of the trial, please call 0800 114 903 or email trials@nzbri.org.
A collaboration between the University of Auckland's Auckland Cancer Society Research Centre (ACSRC) and the Malaghan Institute aims to address Aotearoa New Zealand's leading cause of cancer death by improving immunotherapies that target lung cancer.
More than 1000 Kiwis die from lung cancer each year according to Lung Foundation NZ Tupapa Pūkahukahu with survival rates well below international norms. Māori are 3.5 times more likely to die from the disease than non-Māori.
Funded by the Health Research Council of New Zealand and the Maurice Wilkins Centre for Molecular Biodiscovery, the collaboration aims to create new immunotherapeutic tools or stimulants that boost the effectiveness of existing anti-cancer immunotherapies.
Dr Regan Fu, left, with Professor Ian Hermans. Dr Fu will be screening different hypoxia-activated immunostimulants to determine which candidates might be suitable for clinical trials. Photo: Malaghan Institute.
The Gisborne Herald, in an article by Andrew Ashton, recently showcased the work of Gisborne-based Mātai Medical Research Institute.

Mātai researchers recently got the call-up to the medical science equivalent of the All Blacks. Andrew Ashton takes a look at why the recent publication of their latest project is such a big deal

The team have published a new study in the medical journal Quantitative Imaging in Medicine and Surgery that hopes to make it easier to spot conditions like multiple sclerosis and long Covid.

Andrew writes that the research changes the way clinicians think about MR image contrast and has the potential to transform the way neuro-inflammatory diseases of the brain and other conditions are imaged.

Dr Daniel Cornfeld, Mātai clinical lead, and his colleague Paul Condron produced proof-of-concept images to support concepts just published in an eminent medical journal. Photo: Paul Rickard.
The first clinical trial looking at the topical use of kānuka oil for eczema relief, has shown that a cream containing oil derived from native kānuka is an effective emollient for treatment of moderate-to-severe eczema in adults.

Results published in the prestigious Lancet Group's eClinicalMedicine Journal have shown adding kānuka oil to an emollient cream made it more effective at reducing eczema symptoms than the cream alone.

This landmark trial, led by the Medical Research Institute of New Zealand (MRINZ), was conducted in partnership with Aotearoa New Zealand enterprises Hikurangi Bioactives Limited Partnership (HBLP) and TRG Natural Pharmaceuticals. HBLP is a social enterprise committed to creating jobs and economic development for Māori communities in the Tairāwhiti region, working in partnership with the indigenous guardians of natural resources, and TRG Natural Pharmaceuticals, based in Tauranga, develops innovative, scientifically proven products from natural sources.
A review of data from various clinical studies has found that children born to mothers who take antibiotics during pregnancy are at higher risk of developing asthma and other inflammatory or allergic diseases.
The findings, published in Allergy, highlight the need to better understand what's behind this relationship, and the importance of responsible antibiotic stewardship throughout the prenatal period.
"A meta-analysis is an analysis of analyses," says Malaghan Institute Postdoctoral Fellow Dr Alissa Cait, who led the study. "We synthesised results from 11 prospective and 16 retrospective studies to determine a statistically significant increased likelihood of children developing wheeze, asthma, dermatitis, allergic rhinitis and food allergy if antibiotics were used during pregnancy.
Malaghan Institute Postdoctoral Fellow Dr Alissa Cait. Photo: Malaghan Institute.
A unique vaccine targeting specific breast cancer antigens has been shown to delay tumour growth and prevent breast cancer metastasis in preclinical models in a study led by the Malaghan Institute of Medical Research.

The research, Glycolipid-peptide conjugate vaccines elicit CD8+ T cell responses and prevent breast cancer metastasis, published in Clinical & Translational Immunology, shows promise for future development of an effective therapeutic vaccine against high-risk breast cancer.

In collaboration with the Ferrier Research Institute, the Malaghan Institute has been working on developing stimulatory molecules that act as 'vaccine adjuvants'. An adjuvant works alongside a vaccine targeting specific breast cancer markers (antigens) to boost the immune system's natural response to the cancer antigen.

Dr Olivia Burn. Photo: Malaghan Institute.
Photo: Steve Harvey, UnSplash.

How does persecution affect who migrates? Motu Economic and Public Policy analyse migrants' self-selection out of the USSR and its satellite states before and after the collapse of Communism using census microdata from the three largest destination countries: Germany, Israel, and the United States.

The researchers found migrants arriving before and around the time of the collapse (who were more likely to have moved because of persecution) were more educated and had better labour market outcomes in the destination than those arriving later.

This change is not fully explained by the removal of emigration restrictions in the Communist Bloc. Instead, the researchers show this pattern is consistent with more positive self-selection of migrants who are motivated by persecution.

When the highly educated disproportionately forgo migrating to enjoy the amenities of their home country, persecution can induce them to leave.
The relationship between forests and fires has changed. Fires are a natural part of the growth and renewal of some forest ecosystems, such as in Australia, the western United States and Mediterranean Europe. In these places, the landscape usually includes patches of burned forest and scorched trees.
Urban and rural development in the last 100 years, however, has led to fires being suppressed to protect houses, infrastructure, and commercial timber. This suppression has reduced the diversity of plant species in forests, caused readily burnable fuels to build up under larger trees, and prevented the natural cycling of nutrients and carbon.
Dragonfly Data Science has been producing data for Vibrant Planet to develop tools for land management planning and monitoring to help increase the resilience of forests around the world. The Dragonfly team has been contributing expertise in machine learning, forest ecology, remote sensing data (information collected from satellites, drones, or aircraft) analysis, and project management.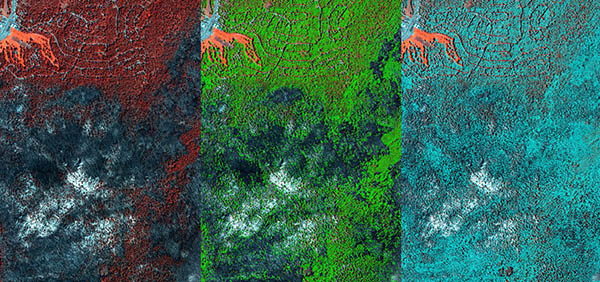 Photo: Dragonfly.
Having video cameras on fishing boats to detect accidental captures of seabirds isn't a new idea. It's potentially a very useful, cost-effective way to supplement or replace the use of human observers on vessels, and increase coverage across a fleet.

Dragonfly, with Pisces Research Limited and the support of members of the fishing industry, has been involved in researching and developing this technology in Aotearoa for more than a decade.

David Middleton, director of Pisces, describes the many challenges of collecting footage. "We need to get good quality footage, at an appropriate frame rate and then manage data storage and retrieval. That's on top of keeping water out of the cameras, managing lighting and making sure they are recording at the right times."

There had been early trials to automate the video review, but for the six years the programme has been in operation, detecting seabirds has relied on human review
Cawthron's Dr Tom Wheeler, with a typical blade of karengo. Photo: Cawthron Institute.

Are New Zealand native Pyropia and Porphyra seaweeds (karengo), an opportunity for creating high-value foods from alternative proteins?

In today's changing world, the sustainability of conventional approaches to food production is increasingly being questioned, and consumers are looking to make better ethical choices without compromising their eating experience. Alternative sources of protein and novel foods are entering the mainstream as consumers look for choices that tantalise their taste buds while also saving the planet. So, will the future of food be chowing down on a delicious juicy steak or burger that has all the consumer appeal and nutritional profile of the real thing without your meal having seen the inside of an abattoir? Could certain varieties of seaweed native to Aotearoa New Zealand be part of the answer to this challenge? Maybe so, suggests a collaboration of researchers.
Cawthron Institute recently hosted a delegation of researchers from Kochi University (Shikoku Island) as part of a collaborative research project into the effects of climate change on harmful algal blooms in Japanese and New Zealand waters.
The project has been running since 2021, however this is the first time the two groups of researchers have met in person to discuss their work and the results so far.
Dr Kirsty Smith, Manager of the Molecular and Algal Ecology Group at Cawthron Institute is co-leading the project with Professor Masao Adachi of Kochi University. Dr Smith says the focus of the joint research is to understand how predicted climate change conditions, including seawater warming, is likely to affect harmful algae blooms in Japanese and New Zealand waters.
Researchers from Cawthron Institute and Japan's Kochi University at Cawthron Institute in Nelson, August 2022. Photo: Cawthron Institute.
New Zealand's soils are the foundation of our wine industry, and maintaining the integrity of our soils is one of the most important areas of focus. Viticulturists and winegrowers have important relationships with soil because of its influence on the style, quality, and character of resulting wines.
Cloudy Bay in Marlborough has set a goal to eliminate its use of herbicide in the vineyard. The application of herbicides to kill weeds and maintain bare soil in the undervine area is currently a common practice in vineyards, as it reduces competition for water and soil nutrients. Cloudy Bay's Technical Viticulturist Alex Easton explains that over the last three years Cloudy Bay has been investigating alternatives to herbicides and how that affects the vines and resulting fruit. "We've been looking at mowing, cultivation, living mulch, and weed mats."
Sometimes a research project leads not just to new technologies, but also to new ways of working. This was the case with a project to develop workforce robots for primary industries, which began in 2017.
It was funded for two years with a $2m grant from the Ministry of Business, Innovation and Employment's National Science Challenge Science for Technological Innovations (SfTI) project. The interdisciplinary programme included scientists from Lincoln Agritech, Scion and the universities of Auckland, Canterbury, and Otago, as well as Massey University and Victoria University of Wellington.
They proposed developing self-learning robots that could work in harsh outdoor environments such as agriculture and forestry. These robots had to be able to detect and operate safely around human workers, as well as navigate rough terrain.
The prototype robot is put through its paces during a recent demonstration day. Photo: Lincoln Agritech.
The steep cliffs that lie between coastal villages on Wellington's Kāpiti Coast have a history of slipping and instability. In heavy rain, that can spell trouble for the rail line beneath. Now, thanks to instrumentation experts from WSP Research, KiwiRail is set to benefit from the latest in slope monitoring technology.
A system combining solar-powered tilt sensors, extensometers, rain gauges, and timelapse cameras is in the process of being installed. It will monitor slope movement in real-time – 24 hours a day, seven days a week.
Initially, sensors and cameras will be sited on poles next to known slip sites. Over the next few months, the rest of the 25-kilometre-long Paekākāriki to Plimmerton stretch of rail will be kitted out.
The aim, says Petone-based WSP Principal Instrumentation Engineer Mike Lusby, is for KiwiRail to see what's happening "in the here and now" with the slopes, and get a better understanding of slope movement along the rail corridor over the long term.
Maintaining footpaths can be a challenging and time-consuming task at the best of times. Now, thanks to power of artificial intelligence (AI), WSP is helping make the job a little safer and easier.

WSP's eye-catching spatial fault collection buggies have been trundling up and down the nation's footpaths surveying cracks, potholes, and trip hazards with pinpoint accuracy. In an innovation for WSP, the buggy fleet has just been equipped with sophisticated AI technology to speed things up.

Using a field of AI known as computer vision, footpath defects are identified and classified from the buggies' on-board video cameras. These defects are automatically registered against GPS locations and stored in a database for further analysis.

Adding computer vision to the buggies' existing software setup is set to be a gamechanger in efficiency, and health and safety, says WSP asset and information engineer Shahaanan Arulgnanapragasam.
As the push for more timber construction continues because of its low carbon attributes, further research into the fire safety of timber products is important. Recent BRANZ projects added to the available knowledge.

As countries around the world strive to achieve carbon emissions reduction targets, timber is increasingly being used in construction where historically concrete and steel would have been specified. However, unlike steel and concrete, timber is combustible and presents different fire safety challenges.

A BRANZ research project was established to address gaps in two particular aspects of fire engineering in timber construction – first, the spread of flame and associated fire growth with partially timber-lined compartments, and second, a look at the fire performance of mass timber in construction.
Check out the IRANZ multimedia page for more.
RNZ/Motu: Home insulation reduces respiratory illnesses, research confirms
Motu housing and health researcher, Caroline Fyfe, was on RNZ on 7 September talking about her University of Otago research that confirms insulating older homes reduces the risk of chronic respiratory diseases (such as asthma).
TVNZ/Malaghan: Breast cancer research shows promise for future vaccine development
Dr Olivia Burn talks to TVNZ Breakfast's Jenny-May Clarkson about early-stage breast cancer research from the Malaghan Institute which shows promise for future vaccine development.
| | |
| --- | --- |
| IRANZ has gone social. For up-to-date information about the activities of our member organisations and same-day notification of updates to the website follow us on the link below. | |
WHO WE ARE
IRANZ is an association of independent research organisations. Its members undertake scientific research, development or technology transfer. Members include Aqualinc Research Ltd, Bragato Research Institute, BRANZ, Cawthron Institute, Dragonfly Data Science, Heavy Engineering Research Association (HERA), Land & Water Science, Leather & Shoe Research Association (LASRA), Lincoln Agritech Ltd, Mackie Research, Malaghan Institute of Medical Research, Medical Research Institute of New Zealand (MRINZ), Mātai Medical Research, M.E Research, Motu Economic and Public Policy Research, New Zealand Brain Research Institute, New Zealand Institute of Minerals to Materials Research, PlantTech Research Institute, Takarangi Research Group, Te Tira Whakāmataki, Verum Group, WSP, and Xerra Earth Observation Institute.
Contact: Dr Rob Whitney, Executive Officer, mobile: +64 27 2921050, email: information@iranz.org.nz
Copyright © iranz