| | |
| --- | --- |
| | Image: Tara Winstead, Pexels. |

The Government's Te Ara Paerangi – Future Pathways Programme wants to create a modern, future-focussed research system for Aotearoa New Zealand that is adaptable for a rapidly changing future, resilient to changes, and connected; to itself, to industry, to public sector users of research, and internationally. In the call for submissions on their Green Paper, IRANZ offered the collective response of this country's Independent Research Organisations (IROs) to how such a system could operate to achieve these aims.

Not being Government-owned, the IROs provide important targeted research and expertise in specific economic, environmental, and social areas not adequately covered by Crown Research Institutes and universities and are frequently part of "the best teams" required for important research programmes.
New Trustee announced for Cawthron Institute Trust Board
Charles Eason appointed to MBIE Science Board
Te Tira Whakamātaki CEO awarded 2021 Women of Influence: Public Policy
Aqualinc: Karl Emil Hilgard Hydraulic Prize awarded to Jane Alexander
Motu Research Doctoral Scholarship awarded to Livvy Mitchell
BRI welcomes Irene Tozzi and Jessica Rivera-Perez
PlantTech welcomes Rajasheker Pullanagari
Summer of labs and learning at Lincoln Ag
Dragonfly Data Science: Pūhoro intern digs into data analysis
Mātai: Unlocking Curious Minds
HERA joins SoMAC CRC programme
. . . and more.

Follow the link for more details on the March 2022 news briefs from our Independent Research Organisations.

Cawthron has announced the appointment of Danette Olsen as a new Trustee to the Cawthron Institute Trust Board. Image: Cawthron.
In October last year, the Minister of Research, Science and Innovation the Hon. Dr Megan Woods, launched a 'state of the nation' report on the performance of New Zealand's research, science and innovation system.
Dragonfly Data Science worked closely with staff from the Ministry for Business, Innovation and Employment (MBIE) to produce the report, helping the Ministry to present the report in a digital format for the first time.
The report is based on data from a range of sources, including Stats NZ, Tertiary Education Commission, government investment and OECD data. It features a commentary on the data, dual language section headers, information panels and case studies. Responses made to the COVID-19 pandemic from MBIE and from scientists are highlighted throughout.
Producing the report involved a team of four staff from MBIE as well as front-end development, design, data science and content writing from Dragonfly.
See The Research, Science and Innovation Report - 2021.
Image: Dragonfly Data Science.
| | |
| --- | --- |
| | Photo: Michelle Ding, Unsplash. |

A study by Rowan Ropata Macgregor Thom and Motu Research/Victoria University's Arthur Grimes has found iwi whose land was confiscated in the New Zealand Wars have the highest smoking rates among Māori.

The researchers also found iwi least affected by raupatu (land confiscation) were more likely to speak te reo and visit their marae.

Arthur says the trauma hadn't gone away with time. "These effects don't just effect that generation, they can linger on for many many generations in the future."

He said the findings should help shape government funding and policy decisions.

The study "Land loss and the intergenerational transmission of wellbeing: The experience of iwi in Aotearoa New Zealand" was initiated by a Motu Research grant for Rowan Thom's Motu Research internship. It is published in the prestigious journal Social Science and Medicine - the journal in which Sir Mason Durie first published his Te Whare Tapa Wha model of Māori wellbeing, which the authors refer to.
The first large-scale national study to compare health outcomes for Māori and European patients admitted to New Zealand intensive care units (ICU) was published in Febraury in the New Zealand Medical Journal.

The Medical Research Institute of New Zealand (MRINZ) compared and analysed data from more than 50,000 patients admitted to all major hospital ICUs over a 10-year period, finding that Māori patients were more likely than European patients to die within 180 days of ICU admission.

The study found that Māori are 13 years younger on average when admitted to ICU than European patients. Despite this, Māori patients have more chronic underlying conditions when they are admitted to ICU, including diabetes and kidney disease, and are, on average, more severely unwell and have a higher risk of dying.

Professor Paul Young, MRINZ Deputy Director, Intensive Care Specialist, and study senior author says, "Importantly, when we accounted for underlying conditions and how unwell patients were on hospital arrival, there was no difference in survival rates between Māori and European patients. This implies that differences in health outcomes are unlikely to be related to the care being delivered after patients get to the ICU."

Compared to European patients, Māori were markedly more likely to be admitted to the ICU after trauma or with sepsis. Despite Māori being on average 13 years younger at ICU admission than their European counterparts, they had more co-morbidities, higher illness severity, and a higher risk of dying within 180 days (about 6 months). Photo: Natanael Melchor, Unsplash.
New Zealand's ability to make its own mRNA vaccines like the Pfizer COVID-19 vaccine is a step closer with the arrival of cutting-edge nanoparticle technology, the first of its kind in New Zealand.
The NanoAssemblr Blaze is designed to produce lipid nanoparticles to encapsulate mRNA to safely deliver it to cells – the scientific breakthrough that thrust mRNA vaccines to the fore at the start of the COVID-19 pandemic.
Funded by private donors to the Malaghan Institute of Medical Research, the $1m Blaze landed in Timaru this month where it is being installed at South Pacific Sera, a biotech that is part of Vaccine Alliance Aotearoa New Zealand – Ohu Kaupare Huaketo (VAANZ).
Professor Graham Le Gros, Director of the Malaghan Institute and VAANZ Programme Director, says the arrival of the technology marks a significant step towards New Zealand producing its own mRNA vaccines and other RNA therapeutics in the future.
Photo: Malaghan Institute.
Recently Tūranga FM Breakfast co-hosts Rāhia Timutimu and Mātai Smith visited Mātai Research as part of their regular weekly filming for their popular 'Parakuihi' online show, which showed Rāhia getting an MRI scan done on her brain.
Mātai Smith, who had an MRI in September 2020, said that Rāhia had always wanted to get one done. "She's been amping to see if she too has the 'grey matter' that matters to try and match me, so when the opportunity came to film it, she was literally ready to MRI – or 'move-run immediately' so as to ascertain the results of her brain!"
Ably assisted by Taylor and Paul from Mātai, Rāhia was made to feel at ease and they also explained in detail what she was to expect when she's in the machine being scanned, she even had the choice of listening to Tūranga FM if she so wished, but instead opted for an episode of 'Friends' on Netflix.
After approximately 30 minutes, it was all done and Rāhia was surprised at how quick it was, including her results which were almost instant.

Tūranga FM Breakfast co-hosts Rāhia Timutimu and Mātai Smith. Photo: Mātai Research.
| | |
| --- | --- |
| | Cawthron Institute Algal Biotechnologist Dr Mike Packer in the laboratory. Photo: Cawthron Institute. |

An interdisciplinary collaboration between Nelson's Cawthron Institute and researchers at Durham University has found that nanocoatings for surfaces could be developed into versatile and environmentally-friendly anti-fouling solutions in a variety of areas including aquaculture and especially for algae production. Biofouling is the build-up of microorganisms, plants, algae, or small animals where it is not wanted on surfaces in the water and it is a big issue for marine industries including aquaculture.

The researchers, led by Cawthron Institute algal biotechnologist Dr Mike Packer working together with Prof Jas Pal Badyal FRS, a world-leading expert in the chemistry of functional surfaces from Durham University, explored coatings that attract and repel water differently for their use in algal production in an aquaculture setting.

Dr Packer says the results of their experiments reveal that some of the coatings work very well to prevent biofouling of surfaces of algae culture systems and are non-toxic to algae used in aquaculture.
When you hear birds calling, you're listening to a conversation. Often, the birds you hear might know each other as individuals, and they may recognise one another based on song alone. Conservation can benefit from this voice recognition too. Being able to identify individual birds from their song could allow us to monitor individuals, neighbourhoods, and populations with minimal disturbance.

Researchers at Verum Group have successfully developed machine learning approaches for individually identifying roroa – great spotted kiwi (Apteryx haastii) by their calls. In the Paparoa Range, they collected and analysed hundreds of roroa calls from thousands of hours of recordings during the 2020/21 roroa breeding season, and have confirmed that individual adult roroa can be distinguished acoustically. Studies are ongoing, but they have also successfully applied their methods to the songs of riroriro – grey warblers (Gerygone igata) collected with directional microphones in the Christchurch and Banks Peninsula areas.

When you hear a riroriro/grey warbler singing they might be discussing their territorial boundaries with their neighbours or arranging a meet and greet - now a deep learning method developed by Verum Group researchers is also able to distinguish the call of individual birds. Photo: Louise Thomas.
Photo: BRANZ/build magazine.

Substantial moves to address building and construction industry workforce issues are under way, including the establishment of a Consortium to share knowledge and be well placed to meet evolving needs say BRANZ social scientists Dr Casimir MacGregor and Orin Lockyer.

"The building and construction industry is undergoing great change. The global COVID-19 pandemic has impacted supply chains, workers' health and wellbeing and company finances.

"Further, the spectre of climate change and regulatory change to address the transition to a net-zero carbon economy presents some of the greatest challenges the industry has seen. Despite these challenges, one of the biggest changes facing industry started in 2018 – the reforms of construction skills education.

"In 2018, the government unveiled its Construction Skills Action Plan to address the skill and labour shortages in the building and construction industry. The vision of the action plan is to drive a rapid but sustainable shift that delivers the right people with the right skills to meet New Zealand's current and future construction demands."
A wero (challenge) that HERA has recently taken up, is to view their work through the lens of the United Nations Sustainable Development Goals (UN SDGs).
The output of this review was a report authored by International Institute of Welding (IIW) Fellow Chris Smallbone and HERA CEO Dr Troy Coyle, which assessed the initiatives HERA has undertaken to achieve sustainable heavy engineering.
Troy writes that there are many examples of heavy engineering initiatives that have been executed that have direct correlation to the SDGs. "Some examples for HERA are the improvement of national welding capability and our relationship with national and international networks, such as the IIW, which enable us to collaborate to progress the SDGs collectively.
"This work has also highlighted how the SDGs align with other key initiatives that both HERA and our industry support."
The 17 United Nations Sustainable Development Goals (UN SDGs).
When light rail starts rolling in the City of Sails, stations and stops should be safe and accessible for everyone - not just those who fit the average, able-bodied 'mould'. The design should be future proofed using behavioural science techniques that consider everybody's needs. WSP Technical Principal for Behavioural Science Jared Thomas and People Research Manager Louise Malcolm explain.

"For many people living with a disability, for those who are older and less mobile, or who may be larger than average, public transport can be a less-than-ideal way of getting from A to B. Our current public transport systems are designed to fit the needs of the many - at the most times. But with much needed investment being funnelled into the development of new public transport systems, we're hopeful all that might be about to change."

The WSP researchers write that the planned light rail development presents a real opportunity for those at the drawing board to design from scratch with safety and accessibility for all at the core of the blueprint.
| | |
| --- | --- |
| | Using the latest-generation DNA sequencing technology, Bragato can study the rates at which grapevines change in response to stress, and exactly what DNA changes have occurred. Photo: Bragato Research Institute. |

The vast majority of Aotearoa New Zealand's Sauvignon Blanc vines are genetically identical. This means that a new pest, disease, or environmental change that affects one Sauvignon Blanc vine could affect every one of them. If New Zealand had a large, diverse collection of our premier Sauvignon Blanc plants available, we could choose from them whenever we needed, selecting appropriate traits to respond to a changing environment, market opportunities, and biosecurity threats.

The Bragato Research Institute is working on new vines, produced by accelerating a natural system that plants have that triggers new diversification in response to environmental stress. Since this doesn't involve crossings with other vines, the plants are still Sauvignon Blanc, and the new variants are fully formed at the first generation. Using latest-generation DNA sequencing technology, Bragato can study the rates at which the vines change in response to stress, and exactly what DNA changes have occurred, even before the plants are mature enough to express those changes as new traits. Plants with promising new traits will be observed in vineyard trials towards the end of a 7-year programme.

Researchers at Bragato are using the newly installed Oxford Nanopore PromethION sequencer to carry out the work. The sequencer is also available for other projects to support research in grapevine improvement and other fields.
Working with the Wool Research Organisation of New Zealand (WRONZ), Lincoln Agritech scientists and engineers have developed a portfolio of new use product possibilities that capitalise wool's inherent performance benefits – such as moisture management (making it comfortable next to the skin), colour binding, absorption, and neutralisation of pollutants.

In 2021, WRONZ launched the subsidiary Wool Source to commercialise the first of the innovations. Lincoln Agritech supported the commercialisation by acting as project leader on the build of a pilot-scale manufacturing facility on the Lincoln University campus, to deliver the first products, Wool Source Particles, Wool Source Powders, and Wool Source Pigments.

"We delivered this multi-million-dollar manufacturing facility on time and on budget, with support from engineering consultancy DETA Engineering," says New Materials Group Manager Rob Kelly.

"This went well beyond the usual manufacturing prototypes and small-scale equipment our engineers would more commonly be involved in, and shows the scale-up expertise and practical process engineering capabilities within our team."

Wool Source Pigments. Photo: Lincoln Agritech.
| | |
| --- | --- |
| | Photo: Barbara Krysztofiak, Unsplash. |

Soil is the engine room of any primary industry, yet it is seldom mapped at the type of resolution necessary for farm scale decision-making.

The need for more resolved soil mapping underpins not just farm production, but irrigation and fertiliser use efficiency, soil GHG production and sequestration, and water quality.

Researchers at Land & Water Science have recently completed their first radiometric surveys for several cherry orchardists in Cromwell using their new gamma-ray spectrophotometer.

"The radiometric sensor, plus ground truthing soil samples, are being used to produce high resolution digital soil maps, including soil texture (clay, sand, or silt fractions), carbon, nitrogen, pH, and other chemistry, for the orchard owners as they seek insights on how to optimise their existing water rights, along with deploying water in a more spatially targeted manner to produce larger cherries more consistently across the orchard," says Director and Principal Scientist Dr Clint Rissmann.
Aqualinc researcher Matt Bubb has just published an article about water regulation in last month's Canterbury Farming newspaper. Over the last couple of years water regulations have been changing at lightning speed.
Matt writes that the next changes in the pipeline are to National Environmental Standards for Sources of Human Drinking Water, with the Ministry for the Environment having released a consultation document on 10 January, seeking feedback on the proposed changes.
He says that one of the major implications for the rural sector is how this fits with the recently passed Water Services Act 2021, which defines you as a Water Supplier if the water on your farm supplies more than just your household, for example, to workers' cottages, etc. There could be around 75,000 properties that meet this criteria, which would be required to register and comply with water supply standards, including providing proof.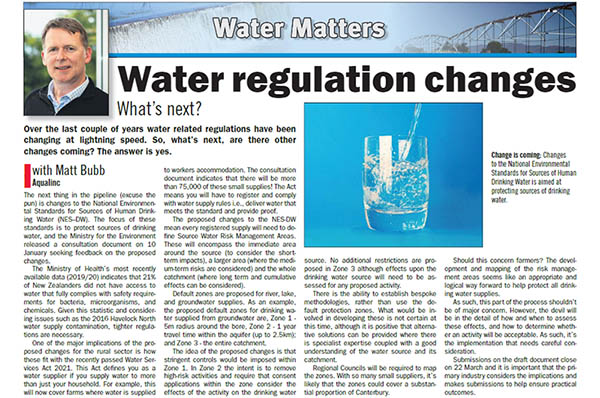 Matt's article in the Canterbury Farmer, February 2022.
A collaborative study between the Malaghan Institute of Medical Research and the National Institutes of Health (NIH) has found that a vaccine commonly used to treat tuberculosis – BCG – is also effective at preventing lethal infection from COVID-19 in mice when administered intravenously. The study, published in the Journal of Experimental Medicine, highlights the potential for novel methods for fighting respiratory viruses such as COVID-19 by increasing immune protection in the lungs.
BCG (Mycobacterium bovis bacille Calmette Guérin) is a live attenuated – or weakened – virus that is used as a vaccine to protect against childhood tuberculosis for over one hundred years.
"It's one of the most widely used vaccines in the world and is administered intradermally (through the skin) within the first few days of life," says International Research Fellow Dr Kerry Hilligan. Dr Hilligan is part of the Immune Cell Biology team at the Malaghan Institute and has spent the past several years at the NIH in Bethesda, USA.
Lung section from a K18-hACE2 mouse inoculated with BCG iv and subsequently infected with SARS-CoV-2. Image: Rose Perry-Gottschalk (NIAID, NIH).
With reports of whānau isolating in unsafe homes and Whakarongorau Aotearoa and Ministry of Health failing to conduct timely check-ins, South Auckland primary care professionals and their support teams stepped in to monitor and care for thirty-seven COVID-19 cases in their community at the end of last year.
An audit of COVID-19 case management at the Papakura Marae Health Centre during late 2021, co-authored by Professor Matire Harwood and research colleagues at the Medical Research Institute of New Zealand and published in the New Zealand Medical Journal on 4 February, outlines how the Papakura Marae Health Centre became the default provider of medical and welfare care for COVID-19 cases isolating in a Tāmaki Makaurau community during October and November 2021.
Professor Richard Beasley, Director of the Medical Research Institute of New Zealand says, "It is evident from this audit that the Papakura Marae Health Centre essentially undertook the role of the Ministry of Health's system. Furthermore, the level, quality, and continuity of medical care provided by the Papakura Marae Health Centre was clearly better than that which could ever be achieved by a system based on remote monitoring by non-medical personnel, guided by decision support tools."
Saline, a 200-year-old medical therapy given to millions of patients around the world each day, appears to increase the risk of death in patients who are acutely ill.

A landmark intravenous (IV) fluid study, and a comprehensive systematic review paper, both published on 19 January in the New England Journal of Medicine (NEJM), are of major significance for global public health, and set to change clinical practice worldwide.

Together the 'PLUS Study' and the 'The choice between balanced crystalloids and normal saline: a systematic review and meta-analysis' evidence paper provide compelling proof that for most people who are critically ill, using balanced crystalloids for intravenous fluid therapy rather than saline saves lives.

Saline, a 200-year-old medical therapy given to millions of patients around the world each day, appears to increase the risk of death in patients who are acutely ill. Photo: Anna Shvets, Pexels.
Recreational fishing is popular in Aotearoa New Zealand, but fishers sometimes accidentally catch seabirds, sharks, seals and other marine protected species. Photo: Dragonfly Data Science.

Dragonfly Data Science created a pipeline to collect, verify, manage, and visualise data about the accidental bycatch of marine protected species by recreational fishers. This data management system is helping DOC better understand interactions between fishers and protected species and informing management decisions.

DOC is working towards a national goal of zero bycatch in 2050. Finding out how and where recreational bycatch occurs and which species are most at-risk, is essential for informing conservation work to meet the goal.

Research with fishers in 2020 identified that most were open to reporting any bycatch. Dragonfly worked closely with the software development company Xequals to create an app. It allows fishers to report a bycatch event when they are out fishing or back on shore. The reports are anonymous.

The app was successfully trialled in the Marlborough Sounds in summer 2020/2021, then expanded to cover the whole country in 2021.
The National Exotic Forest Description (NEFD) details the area of land in plantation forests in defined wood-producing regions in New Zealand, including the species and age of the trees. It is a Tier 1 statistic – these important statistics are recognised as essential for national decision-making and monitoring.

The NEFD information is presented in 24 figures, 20 tables, and a high-level commentary, as well as the accompanying data in a downloadable form. While the report is updated with new information each year, the format is largely unchanged. Its compilation and release has been led by MPI since 1985.

Dragonfly Data Science have been working with the Ministry for Primary Industries to replace the manual production process with an automated system. New data can now be piped in to recreate each year's National Exotic Forest Description – Dragonfly says this is significantly faster, cheaper, and more accurate than building the report from scratch using Word, Excel and InDesign.

Photo: Dragonfly Data Science.
The Tūhoe Charitable Trust has been honoured at the ACE Awards for a roading project that incorporated engineering, science, and mātauranga Māori.
The Road to Nature project took out the ACE New Zealand Client Award at the event on Tuesday 22 February. The project involved a stretch of State Highway 38 in Te Urewera used by locals and tourists that was becoming dangerous due to dust and potholes.
Ngāi Tūhoe, who are kaitiaki of Te Urewera, commissioned engineering consultancy WSP to investigate environmentally friendly and sustainable options for resurfacing and maintaining the road in keeping with Tūhoe values.
WSP conducted research, lab testing, and analysis to find a resin-based by-product of the wood pulping process that was effective in binding gravel and keeping it in place. The substance replaces the usual bitumen used on roads and can be recycled on-site without additional aggregates. The world-first solution also suppresses dust – an issue on gravel roads as it obscures visibility – with waterproofing attributes that reduces the occurrence of potholes and corrugations.

Photo: WSP.
As part of the BRANZ-led Transition to a zero-carbon built environment programme, WSP has received Building Research Levy support to identify evidence-based effective emissions reduction approaches that can also deliver benefits for well-functioning communities. Good evidence empowers and enables community decision makers to make beneficial decisions about emissions reduction on behalf of their communities and environments.

Working with local authorities and their communities, central government, and key urban development agencies, the project will look at real-world examples and practice internationally and domestically.

In an article published in build Magazine in February, Dr Vivienne Ivory, Technical Principal at WSP Research and Innovation, writes that the research is particularly timely, as there are important discussions both locally and nationally about emissions reduction alongside new measures to accelerate infrastructure development and construction in communities.

A combined effort from all New Zealanders is required to reduce emissions and transition to a low-carbon future. Photo: build Magazine.
Motu Research senior fellow Dean Hyslop says he is two minds about the Government's proposed income insurance scheme. Photo: Motu.

Dean Hyslop, a senior fellow at Wellington economic and public policy research institute Motu, was recently interviewed in Stuff on the Government's plans for an ACC-style Income Insurance Scheme. He said research suggested that people who had access to such schemes took longer to rejoin the workforce after being made unemployed.

He also said there was little evidence such schemes improved employment outcomes, at least when that was measured by the pay rate of the jobs people later landed

Higher pay was not the only measure of a better job, Hyslop said, "but it's a quantifiable one that labour economists often focus on, and my reading is there is very little evidence of that".
It turns out that fidgeting is a good strategy to develop if you have ADHD says researcher Gina Waters from Mātai's Attention Deficit Hyperactivity Disorder (ADHD) team.
This Gisborne Herald article by Avneesh Vincent discusses a collaborative study between researchers at Auckland Bioengineering Institute (ABI) and Mātai Medical Research Institute in Gisborne.
Three years ago ABI associate Professor Justin Fernandez and project leader formed a hypothesis that increased blood flow to the frontal lobe and increased neurotransmitter activity caused by fidgeting might help people with ADHD to concentrate.
Now, researchers from Mātai are using fMRI scans to investigate whether fidgeting, often seen in people with ADHD, might improve activation in the decision-making region of the brain.
Gina Waters is part of a ground-breaking Attention Deficit Hyperactivity Disorder (ADHD) research team at Mātai Medical Research Institute. Gina talks to Avneesh Vincent from the Gisborne Herald about her role in the study, changing careers, and the need for advanced medical technology. Photo: Liam Clayton.
Brain Research Institute: Parkinson's and the battle within (video)
Neurologist Professor Tim Anderson discusses Parkinson's and some of the Brain Research Institute's recent research findings. This video is the final installment for 2021 Te Papa Hauora Research Talk series.
This and other videos are available on the IRANZ multimedia page.
| | |
| --- | --- |
| IRANZ has gone social. For up-to-date information about the activities of our member organisations and same-day notification of updates to the website follow us on the link below. | |
WHO WE ARE
IRANZ is an association of independent research organisations. Its members undertake scientific research, development or technology transfer. Members include Aqualinc Research Ltd, Bragato Research Institute, BRANZ, Cawthron Institute, Dragonfly Data Science, Heavy Engineering Research Association (HERA), Land & Water Science, Leather & Shoe Research Association (LASRA), Lincoln Agritech Ltd, Mackie Research, Malaghan Institute of Medical Research, Medical Research Institute of New Zealand (MRINZ), Mātai Medical Research, M.E Research, Motu Economic and Public Policy Research, New Zealand Brain Research Institute, New Zealand Institute of Minerals to Materials Research, PlantTech Research Institute, Takarangi Research Group, Te Tira Whakāmataki, Titanium Industry Development Association Ltd (TiDA Ltd), Verum Group, WSP, and Xerra Earth Observation Institute.
Contact: Dr Rob Whitney, Executive Officer, mobile: +64 27 2921050, email: information@iranz.org.nz
Copyright © iranz