As Cawthron, arguably Aotearoa's longest established Research Organisation, celebrates 100 years, it is timely to consider the possible near future of our science ecosystem. The Government has recently suggested that our science system may be overhauled on a scale "not seen since the 1990s". The comment was prompted by the long-awaited review of the National Statement of Science Investment focusing on the impact of science, the recommendations made in the CRI Review Te Pae Kahurangi, the PCE review of the funding and prioritisation of environmental research, and the current debate about Science Excellence initiated by MBIE's Departmental Science Advisors.
Aotearoa New Zealand's Independent Research Organisations believe that any review of our Research, Science, and Innovation (RS&I) investments should focus on investments that will provide value for our country from the best teams including IROs, CRIs, and universities supported by iwi, businesses, and national, regional, and local government agencies. It is important that the system is more equitable and focuses on removing costly barriers to participation by iwi, minorities, and independent applied research organisations not owned by the state.
Officially established in 1921 by the last will and testament of Nelson philanthropist Thomas Cawthron, Cawthron Institute is now New Zealand's largest independent science organisation with 300 staff from 35 countries, working across multiple sites in Nelson. Image: Cawthron.
PM Opens Cawthron's new research centre
Malaghan Institute head recognised for world-class contribution
Wolfgang Scholz awarded Honorary Officer of the New Zealand Order of Merit
Developments at Bragato
Malaghan cytometry expert appointed to international leadership programme
MRINZ trials win five Australian Clinical Trials Alliance (ACTA) 2021 Awards
Cawthron Institute exhibition opens at Nelson Provincial Museum
TTW CEO Melanie Mark-Shadbolt – Changing governance systems: Biodiversity Instruments Launch
Te Pūtahitanga: A Tiriti–led science-policy approach for Aotearoa New Zealand
PlantTech machine learning talk at Tauranga Techweek
New recruits at Aqualinc
Inaugural Mātai intern helps with concussion study
. . . and more.

Follow the link for more details on the June 2021 news briefs from our Independent Research Organisations.

The Prime Minister Jacinda Ardern opened the new Cawthron National Algae Research Centre on 27 May. Image: Cawthron.
Check out the IRANZ multimedia page for more.
NZ Brain Institute on Parkinson's research advances
New Zealand Brain Research Institute Director Dr Michael MacAskill was recently interviewed by RNZ's Jesse Mulligan on their latest research into Parkinson's.
Michael says some people's Parkinson's disease progresses very rapidly while others have a more benign course of Parkinson's and they want to find out why it happens faster or slower for different people.
Samoa Capital Radio - interview with Prof Graham Le Gros
In the first of a monthly science series, Malaghan Institute of Medical Research Director Professor Graham Le Gros talks to Samoa Capital Radio's Afamasaga T Moresi and Alo Brian Duffy about immunology, COVID vaccines, and research underway at the Institute.
Recorded 18 May 2021 at Samoa Capital Radio in Porirua, New Zealand. Interview in English and Samoan.
| | |
| --- | --- |
| | BRANZ Chief Executive Chelydra Percy asks how do we create a housing model that enables renters to grow and extract their personal equity? One with the underlying goal of affordability, stability and wealth creation. Image: Louise Thomas. |

BRANZ Chief Executive Chelydra Percy says it's time for a fresh perspective on the housing crisis – for us to think about changing the entire paradigm of housing ownership versus renting. That's how we will find innovative models and bring real change.

"New Zealand's uniqueness has been sheeted home in various ways over the past year, not least our response to the COVID-19 pandemic, which sees us living relatively normal lives. Paradoxically, what has often seemed a disadvantage – being a small island nation far removed from the rest of the world – has proven to be an asset. It's a reminder as to why perspective is so important.

"Recently, I've been reflecting on how useful it can be to challenge the status quo. To walk in someone else's footsteps to see what they see. To re-evaluate what we take for granted with a fresh perspective," writes Chelydra.
A clinical study getting underway in Rotorua and Christchurch will provide valuable information on how our unique population responds to the Pfizer-BioNTech COVID-19 vaccine.
The study, 'Ka Mātau, Ka Ora' (from knowledge comes wellbeing), is being led by Vaccine Alliance Aotearoa New Zealand – Ohu Kaupare Huaketo (VAANZ) and is being undertaken to inform the national COVID-19 strategy and ultimately enhance vaccine effectiveness and confidence.
"While the Pfizer-BioNTech vaccine has demonstrated efficacy and safety in pivotal clinical trials and real-world studies, it has not yet been studied in New Zealand," says the Malaghan Institute's Dr Fran Priddy, VAANZ Clinical Director. "We want to understand how New Zealanders' immune systems respond to the vaccine, particularly in populations likely at higher risk from COVID-19, such as Māori, Pasifika, and the elderly."
A study of more than 2000 eight year-olds has found nearly half are sleeping in bedrooms that are too cold, some slept in temperatures below 10°C. The world-first research was a joint project between the building researchers BRANZ and the University of Auckland longitudinal study Growing Up in New Zealand.

It involved children in the Growing Up in New Zealand study collecting temperature and humidity data at home and school over two days.

This indoor environment information was linked to health information collected from the children.

BRANZ General Manager of Research, Dr Chris Litten, says the link between cold and damp indoor temperatures and poorer health is clear. He says that the study reflects previous research that shows children experiencing the greatest disadvantage are more likely to experience poor quality indoor environments and subsequently poorer overall general health.

A study of more than 2000 eight year-olds in New Zealand has found nearly half are sleeping in bedrooms that are too cold. Image: Annie Spratt, Unsplash.
| | |
| --- | --- |
| | Researchers from the Mātai Medical Research Institute, in New Zealand, and Stevens Institute of Technology — and others – report a new and enhanced method to visualise difficult-to-spot brain conditions. Image: Mātai Medical Research Institute. |

Magnetic Resonance Imaging (MRI) images are usually meant to be static. But now, researchers from Mātai Medical Research Institute (Mātai), Stevens Institute of Technology, Stanford University, the University of Auckland and other institutions, report on an imaging technique that captures the brain in motion in real time, in 3D and in stunning detail, providing a potential diagnostic tool for detecting difficult-to-spot conditions such as obstructive brain disorders and aneurysms – before they become life threatening.

The new technique, called 3D amplified MRI, or 3D aMRI, reveals pulsating brain movement which could help researchers to non-invasively visualise brain disorders and inform better treatment strategies for tiny deformations or disorders that obstruct the brain or block the flow of brain fluids.
A collaboration between researchers at the Auckland Bioengineering Institute (ABI) and Mātai Medical Research Institute in Tairāwhiti Gisborne have used MRI scans to demonstrate that fidgeting, often seen in people with Attention Deficit Hyperactivity Disorder (ADHD), might improve activation of the decision-making region of the brain.
The research led by Associate Professor Justin Fernandez of the ABI was conducted at Mātai, an MRI research institute directed by Dr Samantha Holdsworth.
The results of an initial pilot study showed that MRI technology may have the potential to be a diagnostic tool and identify ADHD characteristics. Interestingly, the study suggests that fidgeting may help those with the disorder concentrate.
More specifically, the pilot study showed that fidgeting increased blood flow to the prefrontal cortex, the part of the brain involved in concentration during a decision-making task.
Associate Professor Justin Fernandez from the Auckland Bioengineering Institute, working out first-hand how to allow for fidgeting while in an MRI machine. Image: Mātai.
Immunology in the time of COVID-19

It's been roughly eighteen months since COVID-19 first appeared on our radars, and just over a year since New Zealand went into its first lockdown, grinding the country to a halt. Amid global social and economic upheaval, it has been a remarkable feat of international scientific endeavour and cooperation that we now have a safe and effective vaccine to the virus that has to date been given to over one billion people worldwide.

Hookworms to heal

Human hookworms show a remarkable ability to dampen down aggressive immune responses, offering an exciting potential for treating autoimmune or inflammatory diseases.

The Malaghan Institute's hookworm clinical therapy programme aims to explore the therapeutic benefits of the human hookworm Necator americanus. This Health Research Council-funded programme involves infecting volunteers with a controlled dose of hookworm, and monitoring how they affect their hosts' health and immune profile. The study has since moved onto working with patients with ulcerative colitis.

Dr Tom Mules, a gastroenterologist working with the Malaghan Institute, was recently interviewed on RNZ Nights to discuss the hookworm research programme. Image: Malaghan Institute.
| | |
| --- | --- |
| | Illustration: Dr Ciléin Kearns, MRINZ. |

An extra six minutes in heart surgery reduced the risk of stroke for years in one of the Medical Research Institute of New Zealand - MRINZ's latest trials published in The New England Journal of Medicine. Atrial fibrillation (AF) is a common condition where the upper chambers of the heart don't always beat in a coordinated way with the lower chambers. People can experience palpitations when this happens, and in a certain part of the heart — the left atrial appendage — this can lead to blood becoming stagnant and forming clots. These clots are at risk of dislodging and being pumped into the brain, where they can block vessels to cause a stroke.

The left atrial appendage can be surgically 'blocked off' in several ways to prevent clot formation, theoretically preventing this kind of stroke in patients with AF. However, until now, there has been no definitive evidence to prove whether this is effective.
International asthma recommendations from the Global Initiative for Asthma (GINA) have been changed to follow a similar approach to New Zealand's guidelines, which the Medical Research Institute of New Zealand (MRINZ) Director Professor Beasley led the 2020 update on for the Asthma and Respiratory Foundation NZ.

Evidence supporting these changes comes in part from findings of asthma research by the MRINZ. Two of the three large randomized controlled trials conducted on the safety and efficacy of a combined 2-in-1 reliever therapy were funded by the Health Research Council of New Zealand and are the only independent trials in the field.

Although leading the field in asthma research, asthma is a growing problem in Aotearoa with one in seven children and one in eight adults living with the condition. Māori, Pacific peoples, and those in more socioeconomically deprived neighbourhoods are disproportionately affected with higher rates of asthma, hospitalisation, and death, and lower rates of being prescribed standard care.

Illustration: Dr Ciléin Kearns, MRINZ.
Our oceans are becoming so noisy that it's negatively affecting marine mammals says Cawthron Marine Ecologists Dr Deanna Clement and Dr Simon Childerhouse.

"While we've known for more than 70 years that whales and dolphins use sound to communicate across the oceans, it's only been within the last few decades that we've had the technology to use sound as a means of studying them within their environment.

"At the same time, we are also beginning to realise just how noisy humans have made the oceans and the significant impact this has had on many marine mammal species including masking communication, displacing individuals from critical habitats, and even potentially causing strandings resulting in death," the pair write.

Radio New Zealand fisheries reporter Conan Young discusses the issue with Simon.
A new underwater acoustic recording network being established by Cawthron Institute marine ecologists is opening up a 'world of information' about the lives of New Zealand's marine mammals in order to better protect them.

Acoustic monitoring devices have been moored in a number of coastal locations around the South Island in order to track numbers, locations and movements of our marine mammal populations.

In a recent interview with Radio New Zealand, Cawthron research lead Dr Deanna Clement explained that with such a massive ocean estate, New Zealand remains largely in the dark as to the whereabouts of marine mammals.
| | |
| --- | --- |
| | Construction is now underway on the world's first full-scale vertical flow reactor to clean water of heavy metals at Reefton. Image: Dave Trumm, Verum Group. |

An innovative passive water treatment system, the world's first full-scale vertical flow reactor (VFR), is becoming a reality at OceanaGold's Reefton Restoration Project on the West Coast of New Zealand's South Island. Scientists from Verum Group were instrumental in the design and installation of the system for the treatment of mine drainage.

The system removes heavy metals from water seepages before the water is gravity fed into Devil's Creek. These metals, such as iron and arsenic, exist naturally inside the rock, but they could threaten the natural ecosystem if released at high levels into the environment.

Verum Group Senior Scientist Dave Trumm says the eyes of the mine-site environmental rehabilitation community around the world are now on New Zealand.
When you hear a dawn chorus of bellbird/korimako, the mid-morning song of grey warbler/riroriro, or kiwi calling in the darkness, you're listening to a conversation. Many of the singers you hear know each other as individuals, and they benefit from the ability to recognise one another based on song alone. Conservation can benefit from this, too. Acoustically identifying individual birds allows us to study their ecology and behaviour with less need for invasive methods and disturbance, particularly in species or populations where capturing and handling is difficult or unacceptable.

The Verum Group team has already developed successful artificial intelligence techniques for identifying individuals of roroa (great spotted kiwi) using solely sound. They now plan to extend their computational methods to study species with more call complexity, including rowi (Okarito kiwi), tokoeka (southern brown kiwi), fantails/pīwakawaka, riroriro, and korimako.

Verum Group is running a research project developing artificial intelligence techniques that will hopefully allow the future monitoring of the Great Spotted Kiwi and other bird population to be done in a non-invasive way, avoiding the need to capture the birds. Bellbird/Korimako in red flowering mistletoe, Mt Ruapehu. Image: Louise Thomas.
| | |
| --- | --- |
| | The adult Statutory Minimum Wage in New Zealand has risen substantially (75% in real terms) since 2000. The minimum wage now directly affects about 9% of all Kiwi employees, but has much greater impact on teenage workers (57% of 16-17 year olds and 43% of 18-19 year olds in 2020). |

New Zealand has seen dramatic changes in minimum wage policies since 2000. Motu researchers have investigated the motivations for minimum wages, the changes over time, and how they have affected workers' outcomes. Is a minimum wage policy as effective as claimed by its supporters, or as damaging as claimed by its critics?

"Surprisingly, it is hard to find a clear statement of what minimum wage policies actually aim to achieve," says Dr Dave Maré of Motu Research.

The team presented the results of their research at a seminar in Wellington on 3 June.
EECA has commissioned Motu Research to investigate the impact of heat pumps in homes with a heat pump installed under the EECA Warmer Kiwi Homes programme, which offers grants to lower-income homeowners for home insulation and/or an efficient heater.
Motu Research is working to determine if the health and wellbeing of the household improves because of using heat pumps. Their evaluation is also growing the public evidence base about what works best to make homes warmer, drier, and healthier.
Data collection began in early May 2021 and will end around 1 September 2021. Motu will publish the results in early 2022.
If you'd like to participate in this research, read more about it in the link below.
The aim of the EECA Warmer Kiwi Homes programme is to increase the number of people living in warm, dry, and healthy homes and to reduce avoidable hospitalisations and ill health due to housing-related conditions. Image: Motu Research.
European regional policy promotes "smart specialisation" by encouraging regions to expand into activities that build on local strengths. The idea is that bringing together people with complementary skills helps them generate new ideas that boost innovation and growth. But does this actually work in a New Zealand context?
Research, recently published in the international journal Regional Studies, by Building Better researchers Benjamin Davies and Dr David Maré, Motu Economic and Public Policy Research, examines the potential for this way of generating ideas to promote urban employment growth in New Zealand. They find that, in New Zealand, the presence of related industries in an area is not a strong predictor of local employment growth. But why is that?
Local job networks may promote growth in big cities, but not in small ones. Wellington docks. Image: James Coleman.
What happens to a steel-framed carpark if a car catches fire? Engineers who are interested in advanced calculations and an accurate prediction of the structural response of steel-framed carparks will find this HERA Report of interest, particularly in relation to structural fire design.

The report - R4-152, authored by Finite Element Analyst Nandor Mago, checks the validity of the simpler structural design methodology for steel framed carparks using detailed sequentially coupled thermal-stress analyses, which models a 17m x 30m composite floor system supported by steel framing.

The steel beams' plastic deformation, the largest deflections and internal forces in critical sections of the secondary beams are extracted over the duration of the applied single car fire loading. In this report, two car fire scenarios were investigated.
Detail of a vine with inflorescences identified by Lincoln Agritech's machine learning tool (highlighted in several bright colours). Image: Lincoln Agritech.

The MBIE-funded Grape Yield Analyser (GYA) research programme, now in its fifth year, is developing sensing technology and tools to support crop load management in grapevine production. The main focus for Lincoln Agritech's work is developing sensor use for counting grape bunches and a Bayesian model for accurately predicting grape harvest yields early in the growing period.

One tool they are developing is a camera-based method for counting inflorescences, which are young grape bunches before their flowers turn into berries, to support early in-season yield assessment. In some New Zealand vineyards, counting inflorescences in November has replaced counting grape bunches at the pea-size berry stage in mid-January. Leaf density is still low in November and allows the technology to quickly assess inflorescence numbers, which has shown to be a good proxy for grape bunches later in the season.
Geological investigations into silica deposits around New Zealand hold the prospect for a renewal of a local sand mining and processing industry for glass manufacture. The NZIMMR is looking to work with sand producers to create a high-value, New Zealand supply chain.

At one-time silica sand was mined in Northland, and supplied to glassworks in Auckland. That silica requirement is now imported from Perth, Western Australia, at 60,000 tonnes a year.

Sourcing silica from New Zealand instead of Australia would reduce the carbon miles of transport, and create New Zealand jobs.

NZIMMR's initial industry review has revealed several promising silica sand deposits in the North Island and the South Island, with further investigations underway.

Silica sand. Image: NZIMMR.
The durability, performance, and deterioration rate of polymers are influenced by their material composition and climatic conditions. Simply put, due to New Zealand's high ultraviolet (UV) levels, most commercial organic-based polymers used in construction degrade when exposed to the sun.
We're all aware that New Zealand has high levels of UV and that these can quickly burn our skin if we forget to apply sunblock.
Our absolute UV levels and UV index numbers are, on the face of it, a bit surprising given that similar latitudes on other continents are typically about 20% lower than the UV levels we have here.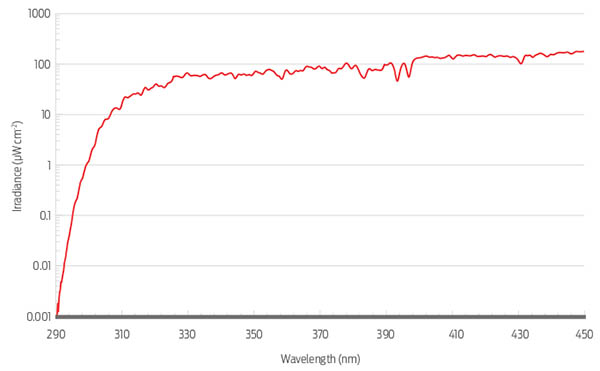 Spectral irradiance measured at Lauder, 12.45pm, 12 January 1991.
| | |
| --- | --- |
| IRANZ has gone social. For up-to-date information about the activities of our member organisations and same-day notification of updates to the website follow us on the link below. | |
WHO WE ARE
IRANZ is an association of independent research organisations. Its members undertake scientific research, development or technology transfer. Members include Aqualinc Research Ltd, Bragato Research Institute, BRANZ, Cawthron Institute, Heavy Engineering Research Association (HERA), Land & Water Science, Leather & Shoe Research Association (LASRA), Lincoln Agritech Ltd, Mackie Research, Malaghan Institute of Medical Research, Medical Research Institute of New Zealand (MRINZ), Mātai Medical Research, M.E Research, Motu Economic and Public Policy Research, New Zealand Brain Research Institute, New Zealand Institute of Minerals to Materials Research, PlantTech Research Institute, Takarangi Research Group, Te Tira Whakāmataki, Titanium Industry Development Association Ltd (TiDA Ltd), Verum Group, WSP, and Xerra Earth Observation Institute.
Contact: Dr Rob Whitney, Executive Officer, mobile: +64 27 2921050, email: information@iranz.org.nz
Copyright © iranz