New Zealander of the Year semi-finalist and CAR T-cell therapy
Cawthron scientists on TV
Red seaweed research attracts global attention
Handheld moisture meter winning awards
Intern at Lincoln Agritech presents Master's thesis
Malaghan launches Women in STEM video
2020 Rotary Forum at HERA
HERA's Stirring the Pot podcasts continue
Verum Group scientists to play key roles in international mine water congress
PlantTech sponsoring STEMfest
New members on Bragato Research Advisory Committee
Follow the link for more details on the February 2020 news briefs from our Independent Research Organisations.
The Government has an ambitious agenda for New Zealand to transition to a zero-carbon economy by 2050, to grow our regions, and at the same time preserve and protect our environment, create fulfilling and high-value jobs, and increase our wellbeing. The critical role that science and research plays is outlined in the Government's recently released draft RS&I strategy. Independent Research Associations throughout New Zealand undertake ongoing research that directly addresses these goals and are also adjusting the way they do business to embrace sustainability and render their own operations carbon neutral.
The Bragato Research Institute has opened its new research winery. Based at the Blenheim campus of the Nelson Marlborough Institute of Technology, the facility was officially opened on Thursday 27 February by Marlborough Mayor John Leggett.

The research winery will enable Bragato Research Institute (BRI) to trial new technology and innovation, ensuring the New Zealand wine industry is at the cutting edge of "modern grape growing and winemaking".

The institute itself is also a sustainability benchmark for the industry at large, targeting a
5 Green Star certified Built rating.

Check out the media coverage on TVNZ's One News, as well as a Stuff article in the link below.
| | |
| --- | --- |
| | A recently published study supported by the Building Research Association of New Zealand, introduces a science-based approach for setting carbon emission limits for individual buildings using a whole-of-life cycle perspective. Based on the Paris climate accord, it involves assigning a share of the 2°C global carbon budget for 2018-2050 to a country, its construction sector, and finally to each life cycle stage of a building. The bad news is, is that the current Kiwi house emits five times as much carbon dioxide during its lifetime as the limits suggest, but the researchers say they were expecting it to be worse, that we perform a lot better than many other countries, and that there are measures we can take to improve our building performance even more. |
A method developed by Cawthron scientists to detect toxins in seafood now has international validation and will help to set a world standard for the global seafood industry.

Cawthron, in partnership with the Centre for the Environment, Fisheries and Aquaculture Science in the UK, developed this new method to detect naturally-occurring toxins in shellfish which is more accurate and provides faster market access for shellfish industries worldwide.
Almost eight years of research by Dr John Bright and his colleagues at Aqualinc Research and the Marlborough District Council has been instrumental in creating the water management sections of the proposed Marlborough Environment Plan decision document, which was released during a special ceremony at Omaka Marae in late February.
Dr Bright says the plan incorporates key results from research on water allocation management conducted by Aqualinc and Marlborough District Council from 2008 to 2016, which he says also included considerable engagement with stakeholders.
"Our main goal has been to enable sustainable use of Marlborough's water resources, which means creating a framework for water use for the many industries that rely on it, while still maintaining or indeed enhancing the quality of that resource."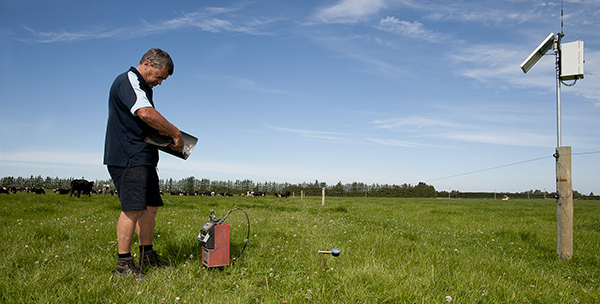 Irrigation monitoring. Image: Aqualinc.
Using satellite imagery collected in the infrared part of the spectrum, scientists can trace the fire-fronts in bushfires, despite the thick layers of smoke blanketing the area.
Images collected by the European Sentinel-2A satellite, and processed by Xerra scientists, over New South Wales show both the human-eye view and, more importantly, the short-wave infrared, or SWIR, which 'sees' through the smoke and detects the radiation being emitted from the fires. The annotated image, above, is the view that the human eye would see if looking down on the Earth from space. See the read more link to view the equivalent SWIR image. An incredibly useful tool to pin-point active fires.
Dr Dave Kelbe, Xerra's Principal Scientist, will be briefing MPs on this and other Xerra studies at the Royal Society Speaker's Science Forum on "Earth Observation" on 8 April in Parliament's Grand Hall.
A Sentinel-2A satellite image of part of the NSW coast on 3 January 2020 with a 'normal' colour mix. In this image, processed by Xerra scientists, the smoke obscures the fire-fronts that lie below. Image: Xerra.
Professor Richard Beasley, Director of the Medical Research Institute of New Zealand (MRINZ) recently published a commentary on advances in asthma care to celebrate 25 years of the Asian Pacific Society of Respirology (APSR) Journal.

He writes that the last 25 years have been a golden epoch for asthma globally. The 'anti‐inflammatory era', defined by the progressively increased use of inhaled corticosteroids (ICS), resulted in a more than 50% reduction in the asthma mortality globally. However, this trend of a progressive reduction in global asthma mortality has recently stalled, suggesting that to achieve a further sustainable reduction in global asthma mortality, novel strategies are now required.
The uptake of ultra-fast broadband (UFB) benefits the earning of some workers, but not others. Motu researchers Richard Fabling and Arthur Grimes examine the impact of UFB on workers and firms. Using longitudinal data on New Zealand firms' internet connection type they found that, following UFB adoption by a firm, the wages of certain skilled incumbent employees rise - particularly males with STEM qualifications and males with university level qualifications (and possibly Masters level female graduates) without STEM qualifications. Wages of male employees without qualifications and female employees with both lower level and no qualifications fell relative to those in firms that do not adopt UFB. The results are consistent with the existence of skill-biased technical change. The researchers say that more puzzling is why there are differential effects for incumbent male versus female workers.
One of New Zealand's newest research centres is working to fill in the information gap for winegrowers hit by extreme weather events.
Bragato Research Institute has started a two-year research project to work out how vineyard managers can best deal with hail storm damage on their vines.
The research has been driven by the experience of Hawke's Bay growers in October who had roughly 600 hectares of vines damaged by hail, as well as events in Central Otago and North Canterbury during November.
Te Ara Mua – Future Streets is a controlled before-after study of a neighbourhood street retrofit in Māngere, Auckland. With a focus on community well-being, the project aimed to make walking and cycling safer and easier, and also reflect cultural identity. Following substantial community engagement, changes included improved pathways, landscaping, crossings, traffic calming, cycle-lanes, and mana whenua design elements.

Dr Hamish Mackie, Director of Mackie Research, recently presented on the research at Trafinz, the New Zealand Local Authority Traffic Institute's conference on 'Smart, safe and accessible places' held in Hamilton.

He highlighted some of the key outcomes to date, the challenges that the project faced, and lessons for ongoing work to make suburban communities more user-friendly for a larger range of road users.
Alvaro Orsi, one of PlantTech's new Principal Scientists, reports on the challenges the blueberry industry faces and the role that PlantTech could play in helping solve them.
Prior to joining PlantTech, for more than 10 years Alvaro's career revolved around space and the nature of the cosmic expansion. He writes that the annual general meeting of Blueberries New Zealand last year was one of his first opportunities to get an insight into the real-life activities of growers and the horticulture industry.
As well as the management of pest and disease, he writes that a pressing concern for the industry is the increasing shortage of labour to address tasks such as pruning or fruit harvesting. As a result, innovative solutions are being developed in the automation of such tasks.
Check out the IRANZ multimedia page for more.
HERA: An indigenous approach to STEM engagement
In this episode of HERA's Stirring the Pot, HERA talks with Puhoro STEM Academy's Leland Ruwhiu who is responsible for Operations. As navigators their role is to better support Maori student engagement with STEM disciplines via mentoring, tutoring, and wananga.
They also interview the very first Whanake Scholarship Recipient and Mechatronical Student at Massey University, Sarah Lewis, who'll be sharing her perspective on STEM as an aspiring engineer starting out her career.
International Day of Women and Girls in Science 2020
At the Malaghan Institute more than 60% of their scientists are women. Women who are doing cutting-edge immunological research, making groundbreaking discoveries and working hard to find cures for diseases like cancer, asthma, allergy and MS.
From students to research officers, team leaders to department heads, these women are nothing short of amazing. This video asks some of them why they chose to become a scientist, and what makes them passionate about research?
| | |
| --- | --- |
| IRANZ has gone social. For up-to-date information about the activities of our member organisations and same-day notification of updates to the website follow us on the link below. | |
WHO WE ARE
IRANZ is an association of independent research organisations. Its members undertake scientific research, development or technology transfer. Members include Aqualinc Research Ltd, Bragato Research Institute, BRANZ, Cawthron Institute, CRL Energy Ltd, Heavy Engineering Research Association (HERA), Leather & Shoe Research Association (LASRA), Lincoln Agritech Ltd, Mackie Research, Malaghan Institute of Medical Research, Medical Research Institute of New Zealand (MRINZ), Motu Economic and Public Policy Research, New Zealand Institute of Minerals to Materials Research, PlantTech Research Institute, Titanium Industry Development Association Ltd (TiDA Ltd), Transport Engineering Research NZ Ltd (TERNZ), WSP Opus Research, and Xerra Earth Observation Institute.
Contact: Dr Rob Whitney, Executive Officer, mobile: +64 27 2921050, email: information@iranz.org.nz
Copyright © iranz