IROs meet Dr Parmjeet Parmar
Speaker's Science Forum "Food for Thought"
CRL Energy becomes Verum Group
Lincoln Agritech researchers present and discuss research in Denmark
BRI: Mealybug and Leafroll
BRI: Hawke's Bay hailstorm response
Two new team members join HERA
LASRA awards to top performing leather science students of 2018
Appointment recognises growing importance of functional foods
Malaghan Institute hosts Prof Katharina Gaus
MRINZ data management strategies on the world stage
Motu: A+ student wins Sir Frank Holmes Prize in 2019
Motu's John McDermott wins NZIER Economics Award
Follow the link for more details on the December 2019 news briefs from our Independent Research Organisations.
New Zealand's first clinical trial of CAR T-cell therapy, a revolutionary new approach to fighting cancer, is getting underway after receiving final regulatory approval.

The phase I safety trial, called ENABLE, is part the of the Malaghan Institute's research and development of a new version of CAR T-cell technology, in partnership with Wellington Zhaotai Therapies Limited. The trial will involve up to 12 participants with certain types of relapsed and refractory B-cell non-Hodgkin lymphoma who have exhausted other treatment options.

Malaghan Institute Clinical Director Dr Robert Weinkove says the production of CAR T-cells is a major step in the development of the Institute's cell therapy capabilities.

"For this early phase safety trial of a new type of CAR T-cell therapy, we'll be manufacturing the cells in the dedicated cell therapy suite at the Malaghan Institute in Wellington."

Photo: Malaghan Institute of Medical Research.
The High-Value Nutrition (HVN) National Science Challenge has announced funding for novel research to develop the innovation capacity of Māori food and beverage businesses. Cawthron Institute is leading the "He tipu moana he oranga tangata: Revealing karengo as a high-value functional food" programme in collaboration with Te Rūnanga o Ngāi Tahu and Wakatū Incorporation, and will investigate the potential of a modern high-value industry based around karengo, a type of native edible seaweed.
Research lead and scientist, Dr Tom Wheeler from Cawthron Institute's Analytical Science Group, is looking forward to learning more about the composition of this traditionally important kai and Māori dietary supplement, and says that he is excited by the opportunity this research represents for New Zealand.
Research lead and scientist, Dr Tom Wheeler, from Cawthron Institute's Analytical Science Group. Photo: Cawthron Institute.
| | |
| --- | --- |
| | Professor Richard Beasley. Photo: University of Otago, Wellington. |

His research helped halt an epidemic of asthma deaths in New Zealand and has gone on to change the way the world manages asthma, saving hundreds of thousands of lives in the process.

World-renowned asthma researcher Professor Richard Beasley was awarded the Health Research Council of New Zealand (HRC) Beaven Medal at the Royal Society Te Apārangi Honours event in October for the huge impact he has had on treating and managing asthma.

Professor Beasley founded and directs the Medical Research Institute of New Zealand (MRINZ) in Wellington.
MRINZ research may soon change how intensive care units use oxygen to support patients around the world.

The research found that ICU patients are being given unnecessary levels of oxygen that make no difference to their recovery, and in some specific groups less oxygen may actually improve recovery and survival rates.

The research team is now planning further investigation into these patients using more targeted trials.

A publication of the research is available in The New England Journal of Medicine (linked below).

MRINZ research may soon change how intensive care units around the world use oxygen to support patients. Image: Dr Ciléin Kearns, MRINZ.
The Malaghan Institute. Photo: Malaghan Institute.

Prostate cancer is one of the newest areas of cancer research at the Malaghan Institute. Professor Antony Braithwaite, who received a $11,000 grant from Research for Life in its latest round of funding, heads the University of Otago's Cell Transformation Laboratory. He joined the Institute as a visiting scientist in March 2019 to leverage Malaghan's unique research technology to investigate the underlying mechanisms behind prostate cancer, to better understand the genetic, environmental and immunological factors that contribute to this disease.

Research for Life grants not only cover the Institute's growing prostate cancer research space, they are also supporting two other young researchers to present their research at international conferences.
Figures released by the Coroner show over 685 New Zealanders died by suicide last year, the highest number on record. With rates in the construction industry high, action is being taken to bring change.

In the latest issue of build magazine, Chris Alderson, CEO of Construction Health and Safety New Zealand, writes about mental health in the construction industry with the launch in early December of the BRANZ pocket guide to mental health.

"BRANZ Study Report 411 Mental health in the construction industry was the first New Zealand-specific research on mental health in construction. Published in 2018, it opened an urgent conversation about the extent of suicide in the sector. On average over the last 10 years, three times more people have died by suicide than in workplace accidents. This has galvanised the industry into action."

The cover of the BRANZ pocket-guide "How to have a conversation about mental health". Photo: BRANZ.
Environment Southland's Waihopai River took out the Supreme Award for Most Improved River at the New Zealand River Awards 2019.
Two decades ago, Invercargill had turned its back on the Waihopai River and referred to it as 'the drain'. Its flat catchment had been drained to make way for intensive farmland and in the lower reaches the river was barricaded in to protect the city from flooding. The accumulated effects of steep and eroding drainage banks, nutrient losses from farming, stormwater discharges contaminated with sewage and other industrial contaminants led to a river in a poor state.
But, between 2006 and 2015 a Living Streams project led by Environment Southland worked with farmers to identify issues, prepare farm environment plans, and direct funding to specific initiatives. In addition, the upgrade of urban and industrial wastewater systems have had a marked positive impact on the health of the Waihopai River.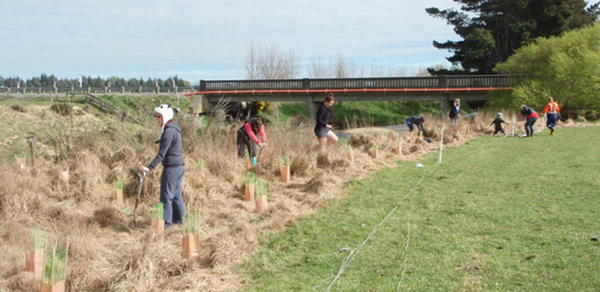 Riparian planting along the Waihopai River.
A new five-year research programme is aiming to help regional councils manage their water resources and meet the Government's freshwater quality standards by 2025.
Lincoln Agritech Ltd has been awarded almost $8m in New Zealand Ministry of Business, Innovation and Employment (MBIE) funding for the research programme, which will provide the first accurate information about how much water is lost from braided rivers into groundwater.
"Braided rivers are unusual worldwide, but very important in New Zealand because of their provision of natural habitat, sources of agricultural and drinking water, and their recreational use," said Programme Lead Scott Wilson, Lincoln Agritech Hydrogeologist.
Peter Davidson, left, Marlborough District Council Groundwater Scientist and Scott Wilson, Hydrogeologist, Lincoln Agritech. Photo: Lincoln Agritech.
| | |
| --- | --- |
| It has been a stellar year for New Zealand Leather and Shoe Research Association's (LASRA) Catherine Maidment, following on from winning this year's Young Scientist Leather Grant for leather research from the International Union of Leather Technologists and Chemists Societies Research Commission (IUR) for basic science, the young researcher has just finished her Master's thesis from Massey University. In her thesis, on 'Investigating the molecular building blocks of loose and tight cattle hide', she provided a clear, comprehensible and up-to-date description for loose and tight hides using powerful molecular and structural techniques including microscopy and high-resolution mass spectroscopy. | Catherine Maidment is currently investigating the collagen structure of different species. Photo: LASRA. |
Mark says from PlantTech's perspective, greater crop diversification in mosaic landscapes are all opportunities for further exploration. Photo: John Lambeth, Pexels.

PlantTech CEO Dr Mark Begbie recently attended Horticulture NZ's 2019 conference - contributing to the discussion about the emerging use of technology in horticulture and how the widespread application of drones, robotics, and imaging would become easier and more affordable over time.

"The pace of change has been described as being similar to the principle of Moore's Law, which states that the speed and capability of computers can be expected to double every 18 months. It would appear that these developing technologies are on a very similar trajectory."
In collaborative bids, Xerra has secured MBIE-funding to support what the government refers to as "excellent research proposals that will provide the highest impacts".

One proposal that got the green light is a $1M Smart Ideas project to help develop new 3D-change maps of New Zealand. Xerra's Principal Scientist, Dr Dave Kelbe, will be supporting the University of Otago, along with GNS Science, Land Information New Zealand and Meridian Energy.

The other proposal that Xerra will be supporting is the Forest Flows project, a $13.7M Research Programme led by Scion. Its aim is to figure out exactly how planted forests impact our water.

| | |
| --- | --- |
| | A new research programme involving Xerra will develop a fast and accurate way to measure how much water is used by, evaporates from, or flows through planted forests, leading to better management of our natural resources. Photo: Brandon Montrone, Pexels. |
The seaweed, Asparagospis armata, could reduce greenhouse gas emissions in livestock by up to 80 percent when used as an additive to their feed. Photo: Cawthron Institute.

Cawthron Institute, in collaboration with researchers from the University of Waikato and leading Australian macroalgal scientist, Professor Rocky de Nys, is researching whether a native red seaweed (Asparagopsis armata) could be a game changer for the agricultural sector.

The seaweed, Asparagospis armata, has already been proven in trials overseas to reduce greenhouse gas emissions in livestock by up to 80 percent.

The research carried out in Australia has shown that the seaweed, once harvested and dried, can be used as supplementary feed for livestock, and estimates that if just 10 per cent of global ruminant producers used Asparagopsis as an additive to feed, it would have the same impact for our climate as removing 50 million cars from the world's roads.
This latest podcast from HERA interviews Watkins Steel Managing Director Des Watkins about the changes his steel fabrication company has made.

"Steel fabrication by its very nature is a very traditional, very conservative industry. We're one step away from being a blacksmith - we cut, bend, and weld. Nothing much has changed. To separate ourselves from everyone else we had to do something different."

Des has gone through a transformative process in his steel fabrication business – developing a four-step end-to-end digital process utilising 3D scanning, digital twins, augmented reality, and automation.

This change has allowed him to achieve real world outcomes that have redefined his business.

Des will also to be a keynote speaker at HERA's Future Forum 20/20 VISION conference next year.

Watkins Steel Managing Director Des Watkins. Photo: HERA
TiDA's WAAM system printing a three-into-one pipe junction. The pipe junction used 14.5kg of steel wire and 20 hours of print time. Photo: TiDA.

TiDA in Tauranga can print big. Really big. Having recently commissioned New Zealand's first Wire Arc Additive Manufacturing (WAAM) system, which prints large metal parts from low-cost welding wire, TiDA Chief Executive Dr Mike Fry says what they can print now is only limited by the imagination.

"WAAM is for larger, heavier, less finely detailed objects than our other established 3D printing processes – stuff you wouldn't want to drop on your toe. WAAM offers new flexibility for manufacturing industrial, architectural and sculptural items," says Mike.

To prove the point they printed up an 11kg Roman amphora – the vessel is impressively beautiful and used only $33 worth of mild steel.

"In a display of the technology in Amsterdam, MX3D printed a stainless steel bridge last year for a canal crossing – 4,500kgs, 12.5m long and 6.5m wide. The thing is a work of art. It is literally a crossing into a new industrial age."
Between 2006 and 2016, non-use of seat belts accounted for up to 30% of motor vehicle road deaths in New Zealand. In addition to increased risk of death, there is also an obvious increased risk of serious injury for occupants who did not wear a seat belt in a crash. So who doesn't wear a seat-belt and why?

Newly published research by Lily Hirsch, Hamish Mackie, and Richard Scott from Mackie Research, John de Pont from TERNZ, and Simon Douglas and Dylan Thomsen from the AA Research Foundation looks at the profiles for non-users of seat-belts.

"In New Zealand, these potentially preventable deaths are not decreasing. It is important to understand the factors associated with crashes where seat belts are not worn," says Mackie Research Director Dr Hamish Mackie.

In New Zealand, potentially preventable deaths are not decreasing. IRANZ researchers from TERNZ and Mackie Research develop five distinct profiles of seat belt non-users. Photo: Pexels.
After two years of vision, planning and preparation, the new Bragato research winery building in Marlborough has come on in leaps and bounds in the past couple of months. The concrete has been poured, frames erected, and panel installation has just commenced.
In late October, the BRI Research Winery was registered with the New Zealand Green Building Council (NZGBC). Once certified, it will be the first in Marlborough to be sustainably-built to a five-star rated standard.
A five-star rating requires the building to adhere to certain sustainability and environmental standards. The research winery design was rated under building management, internal environmental quality, energy, transport, water, materials, land use and ecology, emissions, and innovation.
Villa Maria donated three tōtara cuves from their Esk Valley Winery in the Hawkes Bay to BRI. The timber from the cuves will be used to make a table for the research winery conference room. Photo: BRI.
The New Zealand Leather and Shoe Research Association (LASRA) recently learned that their bid to host the next Asian International Conference of Leather Science and Technology in 2022 was successful.
"Dr Sujay Prabakar made the pitch on our behalf to the organising committee in Dresden, and with a little help from Tourism NZ, we later were informed our bid was successful. We will be hosting the three-day conference in Queenstown in 2022 – seems a long way off, but there is much to be done between now and then," says LASRA Director Geoff Holmes.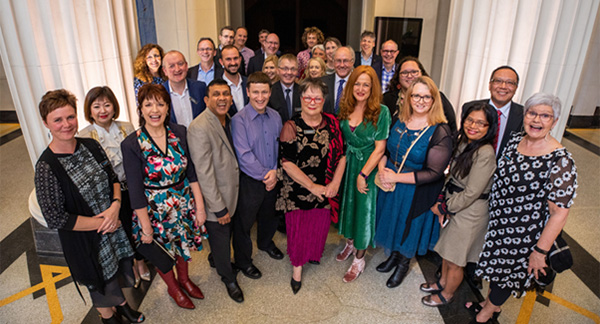 Tourism New Zealand Business Events National Awards Dinner. Photo: LASRA.
Research released earlier this month by the Productivity Commission shows how New Zealanders have experienced big changes in the jobs they do and where they do them.

The report, co-authored by Motu's Dave Maré, says these changes reflect changes in industries where people work. Between 1976 and 2013 employment in manufacturing declined from 25% to 10% of the workforce. In contrast, there was significant expansion of professional services, health and education, accommodation and hospitality, and financial services. Similar trends have been seen in most developing countries, with manufacturing employment declining from 32% of the workforce in 1950 to 9% in 2010 in the United States.

Service job increases saw a reallocation of jobs away from smaller centres to main cities. For smaller cities and towns, the presence of good amenities, such as good climate or attractive scenery, became more important as manufacturing and primary production became smaller shares of the economy.

Image: Productivity Commission.
Senior Fellow at Motu Research, Professor Arthur Grimes. Photo: Motu.

Senior Fellow at Motu Research Professor Arthur Grimes examines which groups have a lower likelihood of being digitally included in New Zealand. He also examines the impact of digital inclusion on waiora or wellbeing - it turns out there is a sweet spot, too little or too much internet access can reduce wellbeing.

Using four large-scale surveys of New Zealanders that include information on internet availability, researchers at Motu found that a number of identifiable groups are prone to relatively low access to the internet, including people living in social housing and those with disabilities.
In late November, Motu released research exploring how to go about measuring gig work. "Gig" once meant a live performance by a musician or group. It now refers to any work that is temporary or that has an uncertain future.

While there's no set definition of gig work, it can include people who drive for Uber, sell things on TradeMe, or rent out bedrooms on AirBNB, alongside other temporary workers.

The prominence of digital platforms and the apparent ease with which they allow gigs – short-term arrangements between those wanting to purchase labour and those wanting to sell it – has ignited concerns of a future in which gig work is more prevalent or even substantially replaces more traditional employment.

Traditional employment measures also do not necessarily capture gig work well and relatively little is known about its extent.

Is "gig" work on the increase? Photo: Robert Anasch, UnSplash.
Sentinel satellite image of farmlands and braided river.

In an amazing leap forward in satellite imagery access, anyone can access the Sentinel satellite imagery of New Zealand, which includes the satellite data archive, by visiting gateway.xerra.nz and creating a free login. From there it is easy to search and download images. Xerra Gateway is regularly updated with new imagery of New Zealand, often within six hours of the Sentinel satellite overpasses.

Dr Moritz Lehmann, Senior Scientist at Xerra, says the interface is easy to understand and that the large browse images provide an immediate impression of the suitability of the images. "One real advantage is that data from Xerra Gateway downloads way faster than from the Copernicus Hub hosted in Europe."

Dr Lehmann is using the Sentinel images to monitor New Zealand's lakes for water colour and the presence of cyanobacteria. This work is vital in helping councils increase the coverage and frequency of lake health monitoring.

Xerra Gateway is built in partnership with Geoscience Australia and the European Union's Copernicus Programme.
The BRANZ-hosted Building Better Homes, Towns and Cities (BBHTC) National Science Challenge has a research programme looking into what is working and what's not for residents of two medium-density housing developments. The findings are useful as this building type is becoming increasingly popular.

Building Better Director Ruth Berry reviews the research in the latest issue of build magazine. She asks what happens when the new home shine wears off? "What do residents who have moved to medium-density housing think about their new homes? What works well and what, with the benefit of hindsight, would they change or improve? What advice would residents give to designers and builders to allow them to deliver even better medium-density housing? And does living in medium-density housing deliver a high quality of life?"

Medium density housing development at Hobsonville Point. Photo: Errol Haarhoff, BBHTC.
HERA was a sponsor of the final year student project events for both the University of Auckland and Auckland University of Technology (AUT) this year – promoting new ideas in the field of engineering.
HERA Research Engineer Hafez Taheri was one of three judges assessing individual projects. Reviewing each category on established criteria including visual features, poster display, novelty of work, depth of content, significance, knowledge base, and accuracy of research.
"I was very impressed with the projects I was able to review as they were full of new and innovative ideas which reflected the students' great perception towards technology. The students' ability to utilise their knowledge during presentations was excellent and the two awarded projects for our HERA prize outshone others, as one had a great focus on advancing welding technology, and the other on improving environmental sustainability. These are two things that HERA is very committed to driving."
Engineering posters on display at the recently held AUT Engineering Student Project Exhibition and Awards. Photo: HERA.
Check out the IRANZ multimedia page for more.
HERA: Sustainable product development with EPDs
In this episode of HERA's Stirring the Pot, HERA talks with NZ Steel Environment Manager Claire Jewell and Fletcher Steel Marketing and Innovation Manager and Former Technical Manager, Scott Morrison.
NZ River Awards 2019 River Story Finalist: Tasman River, Canterbury
The Tasman River recovery project is the first of the Cawthron Institute's top three River Story Award finalists in the 2019 New Zealand River Awards.
Canterbury's Tasman River starts below the famous Tasman Glacier and flows into Lake Pukaki. It's a short, braided river seen from a distance by hundreds of thousands of visitors who travel to and from Aoraki Mt Cook each year.
For the past 15 years the Department of Conservation (DOC), power companies Meridian and Genesis, local landowners and other volunteers have been working to protect and restore the Tasman River's natural ecosystem.
| | |
| --- | --- |
| IRANZ has gone social. For up-to-date information about the activities of our member organisations and same-day notification of updates to the website follow us on the link below. | |
WHO WE ARE
IRANZ is an association of independent research organisations. Its members undertake scientific research, development or technology transfer. Members include Aqualinc Research Ltd, Bragato Research Institute, BRANZ, Cawthron Institute, CRL Energy Ltd, Heavy Engineering Research Association (HERA), Leather & Shoe Research Association (LASRA), Lincoln Agritech Ltd, Mackie Research, Malaghan Institute of Medical Research, Medical Research Institute of New Zealand (MRINZ), Motu Economic and Public Policy Research, New Zealand Institute of Minerals to Materials Research, PlantTech Research Institute, Titanium Industry Development Association Ltd (TiDA Ltd), Transport Engineering Research NZ Ltd (TERNZ), WSP Opus Research, and Xerra Earth Observation Institute.
Contact: Dr Rob Whitney, Executive Officer, mobile: +64 27 2921050, email: information@iranz.org.nz
Copyright © iranz