IRANZ applauds Government's ongoing commitment to increase, year-on-year, its research and development investment to drive growth in business investment in R&D and to create a thriving independent research sector. The funding increases announced in Budget 2016 will raise investment in science and innovation by 15% by 2019/20.

We are very pleased to see new funding of $113.8 million over four years to grow the "Endeavour Fund" because of the increased opportunity it provides for independent research organisations to compete for funding to pursue new research ideas and collaborations. Without this investment the amount of competitive funding would have continued to trend downwards.

There is a very real risk that under current investment settings, high-impact strategic environmental research based on established scientific methods will not be funded from competitive funding pools. We hope that the Strategic Science Investment Fund (SSIF) announced in Budget 2016 will provide opportunity for Independent and Crown research organisations alike, to obtain funding for such research. IRANZ is committed to working with MBIE officials on the detailed design of the SSIF to help ensure that programmes funded by it are genuinely strategic and backed by a sound, strong business case.

It is good to see that the existing $25 million for Regional Research Institutes will increase to $65m, with three proposals already shortlisted. The Independent Research Organisation model has been adopted as a basis for the new institutes, which will be great way of engaging the businesses and local communities in strategic research capabilities.

The Budget builds on the National Statement of Science Investment (NSSI) released last year. One of the NSSI elements was for the Government to support businesses in increasing their investment in R&D, with the aspirational goal of doubling business and enterprise research to well above one percent of GDP. IRANZ is keen to work with government and businesses to ensure a thriving independent research sector plays a key role in achieving this goal.

Dr John Bright
IRANZ Chair
The final National Science Challenge, Building Better Homes, Towns and Cities Cities: Ko ngā wā kāinga hei whakamāhorahora (BBHTC) has begun. The Challenge was launched by Science and Innovation Minister Hon. Steven Joyce on 5 May.
This last National Science Challenge is being led by IRANZ member, the Building Research Association of New Zealand, BRANZ. BRANZ CEO Chelydra Percy says it is a milestone for the organisation, and will help ensure the Challenge has a practical and applied focus. "BRANZ is an organisation at the interface between science and the building and construction sector. We are passionate about lifting standards, challenging the status quo and driving the sector forward."
MORE →
Following the launch of the challenge: Hon. Steven Joyce, Minister of Science and Innovation (centre left), then from left, BRANZ CEO, Chelydra Percy, BRANZ Board members; Alan Bickers, Richard Merrifield and Kevin Stanley, BRANZ staff Richard Capie, BRANZ Challenge Director Ruth Berry, and BRANZ staff Lynda Amitrano. Photo: BRANZ.
IRANZ would like to congratulate Dr Mike Fry on his appointment as CEO of TiDA (Titanium Industry Development ltd).

Mike is a Chartered Engineer with over 25 years of experience conducting and leading research and development, much of it in the European automotive industry. After gaining a PhD in Mechanical Engineering from University College London (UCL) - sponsored by Jaguar cars - and a post-doctoral engine R&D position at Lotus, Mike joined Cosworth in 1995 to lead road-engine research and became Chief R&D Engineer with Cosworth Technology under Audi ownership. An independent consultant since 2001, he has been active in auto, race, aero, low carbon and marine technology R&D for various international projects.

Dr Mike Fry, CEO of TiDA. Photo: Mike Fry.
Cawthron's Chief Executive, Professor Charles Eason, has been elected a Companion of the Royal Society of New Zealand (CRSNZ) for his far-reaching work in the areas of conservation and aquaculture. Companions are elected based on outstanding leadership or sustained contributions to promoting and advancing science, technology, or the humanities in New Zealand. His appointment was honoured at a ceremony at the RSNZ in Wellington on 27 June.
Professor Charles Eason (centre), now a Companion of the Royal Society of New Zealand. Image: Cawthron.
Science has now provided evidence for what many anglers have suspected for years: taking water from rivers is risky for some fish, and we may have been short-changing them and their food sources. For the past 15 years, Cawthron freshwater scientists have been investigating the stream flow requirements of trout, which drift-feed on small aquatic and terrestrial invertebrates (such as mayflies). Their research shows that these fish have higher flow requirements than present models allow for.
Dr John Hayes gets a closer look at a trout. Photo: Darryl Torckler
When Captain Cook set out to observe the Transit of Venus in the South Pacific, it was a part of Earth so poorly explored by westerners that European mapmakers couldn't agree if he would find a giant continent there or not. Cook steered across miles of open ocean, fighting storms and scurvy to reach Tahiti. These days there's similar trepidation awaiting those who try to map the future landscape of climate change solutions.
At an IRANZ-sponsored Royal Society Science Forum for Members of Parliament on 28 June, Dr Suzi Kerr discussed the Royal Society's recent report on Transitions to a Low-Carbon Economy. This report was informed in part by outcomes from the Low-Emission Future Dialogue – a programme convened by Motu Economic and Public Policy Research over the past two years, engaging a group of cross-sector stakeholders in their personal capacities to explore options for a successful zero-net-emission economy in New Zealand.
... MORE →
Dr Suzi Kerr, Senior Fellow at Motu and Adjunct Professor at Victoria University. Image: Motu.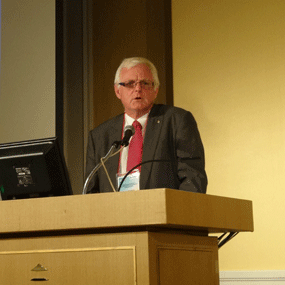 IRANZ Executive Officer Dr Rob Whitney was an invited speaker at the Asia Pacific Energy Research Centre (APERC) and The Institute of Energy Economics (IIEEJ) 50th Anniversary Conference held recently in Tokyo.
Rob is Emeritus Chair of the BusinessNZ Energy Council (BEC) and was Executive Chair of World Energy Council (WEC) Scenarios: Composing energy futures to 2050. He was asked to speak on balancing Market and Policy Drivers for addressing the Energy Trilemma "promoting an affordable, secure and environmentally sustainable energy system for the greatest benefit of all", and what was the best energy mix for Asia into the future.
... MORE →
Dr Rob Whitney speaking at the Asia Pacific Energy Research Centre (APERC) in Tokyo. Image: APERC.
Mounting international pressure has forced many countries to look again at their commitment to curbing climate change, and New Zealand is no exception. Recent statements made at industry associations' organised "Yes we can symposium" by the Minister of Energy and Resources and Associate Minister for Climate Change Hon. Simon Bridges confirm the government is taking the Paris Agreement seriously and wants to meet targets.
For the heavy engineering industry and HERA reacting to climate change is two-fold. "We're working hard to not only reduce our own carbon footprint in day-to-day operations, but drive research and development in renewable energy and clean heat processing technologies to enable others to make positive changes in the industrial sector," says HERA Director Wolfgang Scholz.
Marine energy has long been on HERA's radar as an R&D and business opportunity with real promise. Photo: HERA
CRL Energy has renewed its contract with the Ministry for the Environment to provide synthetic greenhouse gas accounting. For the past 12 years, CRL research scientist Wayne Hennessy has been providing this service to MfE as part of the New Zealand Greenhouse Gas Inventory, which is published every year. The programme requires detailed information gathering, gap filling for equipment retirement models and a close relationship with a range of industries in order to develop the quality dataset required by the UN Framework Convention on Climate Change.
Synthetic gases are used mainly in the refrigeration and electricity industries, Wayne says that some emissions are increasing at a concerning rate.
Testing blended biomass/coal fuels in pellet form. Image: CRL Energy.
TERNZ and Mackie Research have recently completed a study for the Ministry of Transport into the factors contributing to why people die in road crashes. The focus of this study was not on why the crash occurred but rather on why the outcome was a fatality. The findings of this research have in part informed Safer Journeys, Government's road safety strategy to 2020.

Photo: Ministry of Transport.
WHO WE ARE
IRANZ is an association of independent research organisations. Its members undertake scientific research, development or technology transfer. Members include Aqualinc Research Ltd, BRANZ, Cawthron Institute, CRL Energy Ltd, Heavy Engineering Research Association (HERA), Leather & Shoe Research Association (LASRA), Lincoln Agritech Ltd, Motu Economic and Public Policy Research, Opus Research, Titanium Industry Development Association Ltd (TiDA Ltd) and Transport Engineering Research NZ Ltd (TERNZ).
Contact: Dr Rob Whitney, Executive Officer, mobile: +64 27 2921050, email: information@iranz.org.nz
Copyright © iranz