Healthier urban transport
February 2016
Healthier urban transport. Photo: Hamish Mackie, Mackie Research and Consulting.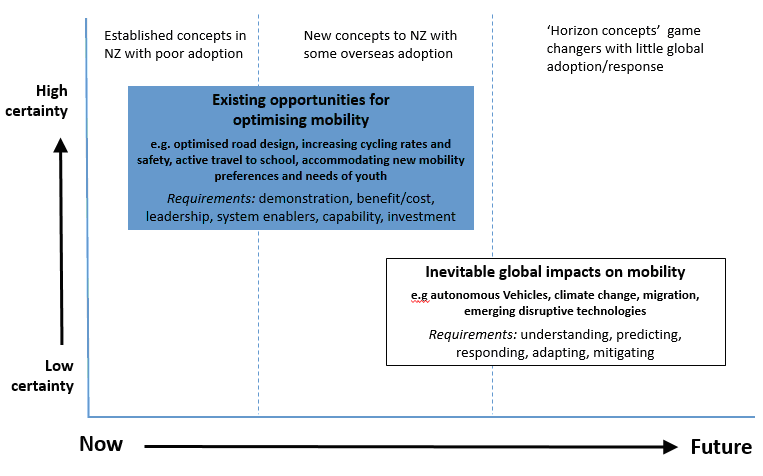 Graph: Hamish Mackie, Mackie Research and Consulting.
Healthier urban transport is the focus of a four year research programme, funded by MBIE, led by Mackie Research and Consulting and TERNZ (Transport Engineering Research NZ) in partnership with other researchers. Building on the successful Self Explaining Roads and current Future Streets projects, "Healthy Future Mobility Solutions" will explore how mobility systems in New Zealand can be future proofed to support health, and enhance social and economic wellbeing in cities and towns. Lead researcher Hamish Mackie says the research will "build an understanding of global mobility issues in the face of profound technological and societal change and the opportunities we can seize to maintain healthy, vibrant and productive communities".
There are four interconnected strands of research, and a synthesis workstream to draw out opportunities for healthy future mobility. The research aims to be highly connected with stakeholders who have the responsibility for planning and delivering New Zealand 's urban transport system.
Optimising Routes
This strand examines how health and wider societal wellbeing can be incorporated into optimised roads and routes in towns and cities; the long-term monitoring of Future Streets (Māngere) and other street improvement projects to understand change; and exploring the barriers and opportunities for embedding principles to make streets safer and easier for walking and cycling.
Future of the Bike
This strand examines how bicycle use in New Zealand can be encouraged, extended and accelerated, by exploring cost-effective ways to make roads safe and attractive for people cycling, and exploring the potential for e-bikes in New Zealand.
Active School Travel
This strand asks 'what is the recipe for maximising active travel to school?' Research will draw on a mixed method approach of existing data and success stories from around New Zealand and working with Auckland Transport to design and test enhanced school travel initiatives.
Youth mobility for education, employment or training
This strand examines the mobility needs of young New Zealanders, focussing on those not in education, employment or training (NEET) as an identified priority group. End-user workshops and peer-led research to explore NEET mobility choices, barriers and influences. GIS methods to build a spatially-linked base of narratives and images; and the role of parents and employers in building and reinforcing community norms around mobility practices for NEET youth.
Sharing knowledge
To turn research into practise, the research project will follow a rich dialogue process with key stakeholders from community, policy and transport practitioners to build shared knowledge of the available evidence and consensus on longer-term policy directions.
TERNZ is an independent research organisation that specialises in transport-related issues. For more information about the urban transport research project please contact Hamish Mackie on Ph. 021 067 0337. For more information about current transport projects, please see: Current Transport Projects