A Trans-Tasman success story for bridge design
November 2016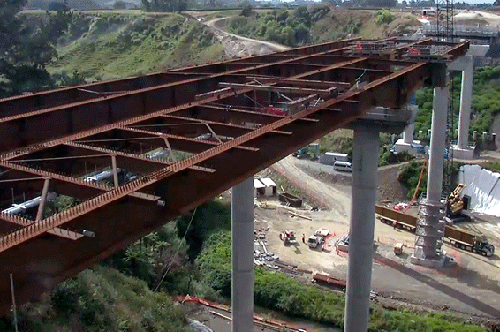 The Cambridge Bypass composite bridge. Photo: HERA.
The heavy engineering industry's decision to harmonize bridge design with Australia has been a five-year journey that has recently seen the announcement of the first joint New Zealand and Australian design standard for steel and composite bridges DR AS/NZS 5100.6 now available for public comment.
Chaired by the Heavy Engineering Research Association's (HERA) Structural Systems General Manager, Dr Stephen Hicks, DR AS/NZS 5100.6 provides greater alignment with international best practice and, in some cases, significant improvements for HERA's members involved in bridge infrastructure projects. Dr Hicks says he sees this collaboration as a way to increase New Zealand's trade flows with Australia and create more cost-efficient bridge designs that lead to market share growth and work opportunities for the industry.
Following international trends that call for using less natural resources, higher strength concrete with compressive strengths up to 100 MPa, and quenched and tempered steels with a yield strength of up to 690 MPa – it was clear New Zealand's existing standards needed improvement.
These higher strength materials went beyond the limits permitted in current international design standards, requiring many of the design provisions to be reassessed through structural reliability analyses to ensure the required margins of safety were maintained. Since 2011, HERA has worked extensively with the University of New South Wales and Western Sydney University to evaluate the reliability aspects.
At the same time, HERA's New Zealand Welding Centre General Manager, Dr Michail Karpenko, worked with the renowned specialist expertise of Prof Adolf Hobbacher from the Wilhelmshaven University of Applied Sciences in Germany to implement simplified fatigue design provisions. This work was also informed by the latest thinking from experts at the International Institute of Welding (IIW). This research work by HERA should enable New Zealand engineers to perform more cost-effective bridge designs for their clients.