Publications
Briefing for the Incoming Minister
November 2017: IRANZ briefing about Independent Research Organisations for the new Minister of Research, Science and Innovation. Briefing for the Incoming Minister (PDF 806KB)
Annual Review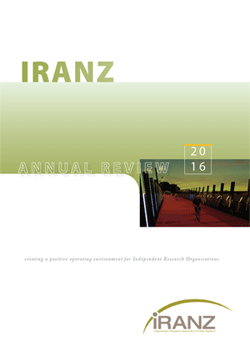 IRANZ Annual Review 2016 (PDF 1.7MB)
IRANZ Chair Dr John Bright from Aqualinc launched IRANZ's Annual Review on at a reception in Wellington on 24 November 2016. IRANZ's eleven IROs employ over 500 staff, have combined sales of $80 million, which includes $30 million of Government research investment, $30 million of stakeholder investment, and $20 million work for clients.
The Annual Review highlights how IRANZ Independent Research Organisations (IROs) are a vital and unique part of New Zealand's science ecosystem, they are all different and they are a great way of enabling New Zealand to increase high-impact research by business, economic sectors, and the community. IROs consistently provide quality science outputs that provide high-impact results for their stakeholders and New Zealand, several examples are featured in the Annual Review. The Annual Review also gives key information on each of the IRANZ IROs.
Connections eNewsletter
Connections aims to keep you in touch with what's happening in our member organisations, especially with some of the great research being conducted. Please click here if you would like to subscribe to Connections. It is usually published three times per year.
CSST space hackathon reimagines tech
Lincoln Agritech heralding workforce robots
The latest from BRANZ on YouTube
Too much oxygen can kill says MRINZ researcher
IRANZ welcomes Malaghan Institute
HRC commitment brings depth and breadth to independent health research
Cawthron innovation delivers more accurate results faster
24 times return on investment from HERA's Welding Centre
Aqualinc research shows groundwater's contribution to CHC liquefaction
TiDA fuels appetite for metal 3D printing
BRANZ research: Moving to medium-density housing
Motu: Coping in the face of climate change
Local students experience real life aquaculture science at Cawthron
Motu's Suzi Kerr appointed to Interim Climate Change Commission
New minerals institute CEO seeks industry input
Health and safety focus for HERA
Download previous issues of Connections:
Creating a better NZ through R&D tax credits
Research to optimise king salmon production
Malaghan securing medical discovery in New Zealand
CSST partnership to bring AIS data to the Pacific
HERA: Kaikoura earthquake challenges met by steel construction
Lincoln Agritech in Antarctica
LASRA's pioneering work on leather collagen
Young NZ researchers making an impact on the world stage
BRANZ: Learnings from Canterbury
Cawthron: Seafood safety
Motu: Migrants, productivity, and the construction sector
IRANZ welcomes new minister
IROs garner Endeavour funding for leading research
Monitoring NZ's road bridges and ports
IRANZ welcomes Centre for Space Science Technology
Mussel shells cleaning up mine sites capture international interest
Grads awarded MRINZ MD degree
Building Better Homes, Towns and Cities
Best practice for moving freight
IRO scientists recognised at RSNZ awards
Changing of the guard at HERA
Technology for aquaculture
New videos explain emissions trading
Production, protection and adding value
Impacts and implications of climate change
Pharmacy Research Network roll out
Rebuilding better neighbourhoods
Research to reduce rural nitrate discharge
NZ's marine biosecurity
New Water Allocation Management Framework
CNZM and an MPI Award for Cawthron's Dr Lesley Rhodes
Verified blind bolt meets industry need
Understanding leather tanning
Seeing into Pounamu
Public transport in growing cities
Active transport in growing cities
Groundwater – a mysterious resource
Aquaculture park world class
From medicine to marine science and back again
Air pollution in schools
Geothermal projects full steam ahead
Productivity in NZ's urban areas
CSST closer to launch
Improving survival for the critically ill
Launch of the IRANZ Annual Review
New Regional Research Institutes announced
Water research round-up / Printing our way to Olympic glory
Trans-Tasman success story for bridge design
Lincoln Agritech to lead research into better grape-yield forecasting
ORCID launched in NZ
Opus Research - Paving the way for Wellington's smart motorway
Beasley awarded Hercus Medal for health research
World Energy Scenarios 2016
BRANZ hosts last National Science Challenge
New Chief Executive for TiDA
Prof Eason elected Companion of RSNZ
Research has 'global implications' for water use
Charting a course for New Zealand's low-emission future
The Stone Age didn't end because we ran out of stones
Climate reform through R&D and industry leadership
Synthetic gases, carbon costs & NZ's core industries
Why do people die in road crashes?
Curbing pesticide spray drift
Small stuff is going big
Reducing flood damage to NZ homes
More muscle for NZ mussels
Freeing up water for others
Cities of the future
Healthier urban transport
Kiwi household emissions report
LASRA presents findings at the 2015 IULTCS Congress in Brazil
AGGAT Paper Wins Best Paper Award at NZGW 2015
Cawthron Foundation launched to address environmental challenges
The significant impact of New Zealand's first science organisation
New IRANZ Chair: Dr John Bright
Lincoln Agritech launches four new research projects
Waterproofing New Zealand roads
CRL Energy launches new CMER site
Printing bespoke furniture
Revolutionising the scampi fishery
Marsden Fund under the microscope
BusinessNZ Energy Council Energy Scenarios
The first Above Ground Geothermal Global Conference
Connections 12: September 2014
TiteNZ wins at KiwiNet Awards
Celebrating Lincoln Agritech's 50th
Opus New, Purpose-Built Wind Tunnel is Now Operational
Motu Partners in a new Centre of Research - The Centre for Complex Systems
MALDI Imaging
New CB3 Mine Services Ltd Spontaneous Combustion Test
Adaption of international fatigue provisions for new Australasian bridge design standard
CRL Energy Scoops National Environmental Award
Developing a natural pesticide solution
Aqualinc adds a new tool to New Zealand's Water Quality Limit setting toolbox
Science & Industry Partnership Strengthened
Changes at CRL
New Research: Introducing the Wheel of Water
Productivity of New Zealand Firms
Breakthrough in Didymo Research
Low Cost, High Precision Diagnostic Platform - A Golden egg for Menexis Ltd
Heel Shock Absorption
New Research leads to Revised Seismic Design Guide
Assessing the effects of Vibration
Testing Building Resilience
New Chief Executive for BRANZ
Networking Success: International Titanium Powder consolidation & Metallurgy Conference 2-4 December 2013
Lincoln Ventures is now Lincoln Agritech
Future Streets
Seismic Response of Underground Services
CB3 Mine Services Launch - Making Mining Operations Safer
Are a Country's Policies and actions sustainably increasing its wellbeing?
New investment a positive sign for New Zealand Oyster Industry
Fat-Liquor distribution in Leather
National Award recognises local leaders'ground breaking success
Building a better New Zealand: The research strategy for the building and construction industry
Changes at IRANZ
Motu makes climate change film
Earthquake Hydrology: Seismic Pumps or Broken Pipes?
Stretching the knowledge of leather
Mine Hazards
Transformational Research for Geothermal Energy & Waste Heat Plant
Rebuilding Canterbury
New Furnace Delivery
New Leader for Precision Agriculture
DNA Innovations for Aquaculture Monitoring
The Value of Prevention
Adding value to exported ovine skins
Cawthron Analytical Services concentrates efforts on supporting New
Zealand Exporters
Cawthron appoints Professor Charles Eason
Foreign language versions for IRRICAD irrigation design software
Introducing Motu
Managing quake-induced springs
Mobile phone apps for improved driving
Opus translates road surface research for industry
Sampling the sea floor's phosphate
The continued growth of laser sintering
WAVE goodbye to moisture problems!
Nelson citizens see science, education and industry in action
New filters for the gas industry
Lincoln Ventures adapts new technology for spray drift research
CRL Energy research programme earns gold rating from Government
Transport, Energy and Urban form: The future
Crash course for seismic performance in steel connections
First Super-B train hits Hawke's Bay roads
CRL Energy partnership awarded six year environmental monitoring contract
Happenings at BRANZ
Independent Research Organisations and New Zealand's Base of Science and Innovation
Precision agriculture collaboration for Lincoln Ventures
Carbon Capture and Storage: a key technology
Prestigious UNESCO award for Cawthron Institute scientist
European Integrated Fire Engineering and Response COST Action
Slowing down for safer roads
Building for the wind
Powder Processing, Consolidation and Metallurgy of Titanium Conference
Supporting Innovative Functional Food Exports
Aqualinc's Wheel of Water
Conference links Metals Research and Industry with the Market
New Manager for Lincoln
Ventures Groundwater Quality and Management
Upgrading BRANZ's research and testing capabilities
Nano-leathers create novel market opportunities
Recovery from Earthquake
Safer, Stronger, and Longer Lasting Road Surfaces
CRL Energy finalist in Wellington Gold Awards
CRL Energy opens new office in Westport
TiDA joins IRANZ
New nanofibre venture
Exciting prospects for merino skins
Alternative Stainless Steels
New Global Energy Scenarios
Examining urban densification and liveability
Many hands make light work of groundwater management
Fuel Efficient Driver Training
Fit for the Road
Thermal performance of light steel framing
WAVE of information
Directing the Spray - the science behind spray formation, deposition and drift
New Aquaculture R&D and Education facility
Applied research: Value for New Zealand
Earthquake tests New Zealand's steel construction standards
CRL Energy provides tools for environmentally sustainable mining
Sheep Leather Footwear Innovation
Aqualinc determines economic cost of irrigation regulations
Cawthron scientist honoured
IRRICAD: Setting the standards in irrigation design software
Heat pumps on the rise
Using road design to lower speeds
Funding New Zealand's research capability
New Zealand steel floor deck products achieve international standards
How research can change an industry
Smart technology delivers birdseye view for cricket
CRL Energy explores the potential of Coal Seam Gas
Be prepared to recover quickly
Water allocation and river health
Independent Research key to the nation's Science and Innovation capability
HERA fire research lowers building costs
New WAVE of BRANZ research
NZ/US collaboration brings robotic submarine to Tasman Bay
International award for paper on geosequestration
Biosensor and toxicity analyser commercialised through SciTOX